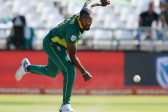 Do two bowling do all around one bowler specialist?
Proteas believes that there is some logic to this question after Andile Phehlukwayo and Dwaine Pretorius played a leading role in limiting Pakistan to fifth in the 240/8 and decided ODI in Newlands on Wednesday.
Potentially competing for one place in the perfect combination of the World Cup in South Africa, the duo did little to provide clarity.
Added to French teammate Beuran Hendricks, Pretorius showed skill and control in the 2/46 claim in 10 standing overs.
Highveld star Lions struck a key blow by postponing the dangerous Babar Azam (24) after the stylish machine went too far through its stump.
He followed it with the goal of Muhammad Rizwan.
Phehlukwayo, who reported the best career figures in the second ODI in Durban, also recovered from two lukewarm trips to boast numbers 2/42 in nine overs.
He seems to have had a more influential 22-year influence by scoring two rabbits, Fakharu Zaman – who had 70 points – as well as the experienced Mohammad Hafeez.
The total number of Pakistanis could be lower if protease capture did not escape again, and Hashim Amla dropped Fakhar on 20.
Overall, South Africa supported the decision of skipper Faf du Plessis to sit first, only with clear, unbeaten 47 out of 31 balls that helped add scores to honor.
To further sport your way, download Citizen for iOS and Android.