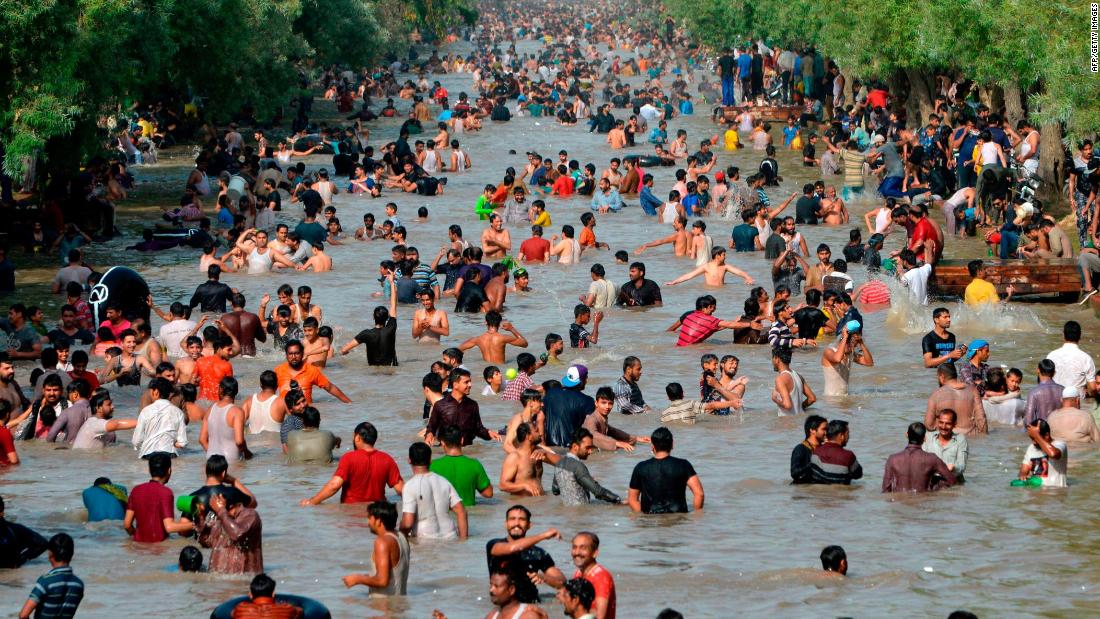 Older people in Europe and the eastern Mediterranean are the most vulnerable due to older ages and urban populations.
The latest report estimates 42% over 65 years in Europe and 43% in the eastern Mediterranean is already exposed to heat; 38% of this group is at risk in Africa and 34% in Asia.
The report identified current changes affecting public health, including lower productivity, reduced yields and the spread of diseases such as dengue and cholera, researchers from 27 global institutions, including universities and research centers, and the UN that compiled this study .
Current changes in heat waves and work capacity "provide early warning of the complicated and overwhelming public health effects expected when temperatures are still rising," said Hilary Graham, professor of medical science at the University of York in the United Kingdom, who attended the news.
In 2017, 157 million people were threatened worldwide, and 153 billion hours of work was lost due to exposure to heat.
The United States has seen more frequent and longer duration of wavelengths and an increase in vector-borne disease, whereas in 2004 and 2016, reported cases of mosquito-borne disease, ticks and flames, such as Lyme disease and West Nile infection control and disease prevention .
Dr. Nick Watts, Chief Executive Officer of The Lancet Countdown, stressed that this is not "something that is happening in 2050, but something we see today."
"Countries with high and low incomes are negatively affected," said Elizabeth Robinson, professor of environmental economics at the University of Reading, who was involved in the report. This is manifested in different ways, she added.
The second series, with its first release last year, analyzes 41 indicators that monitor the relationship between climate change and health in five areas: impacts of climate change, health resilience, mitigation measures, funding, and public engagement.
Robinson explained that "there is a lot of variability year after year," but "the trend seems to be up," which suggests even more hot wave events in the future. Similarly, the number of vulnerable people "is rising steadily".
Some progress, but far from that
There have been several promising trends, such as the growth of renewable energy, with jobs in the sector growing by 5.7% between 2016 and 2017, according to the report. But investing in renewable resources "is not something like it would have been if we were to reach the level of 1.5 degrees" – a commitment approved during the Paris Climate Agreement to limit the average global warming to 1.5 degrees Celsius predetermined values, the Industrial Revolution, said Paul Ekins, Professor of Resources and Environmental Policy at University College London, who participated in the report.
Some positive trends have also been identified in the form of phasing out of coal and cleaner and healthier transport methods. However, the use of coal must be 20% below 20% by 2040 in order to meet the targets, the report says.
Dr. Renee Salas, medical doctor at Massachusetts General Hospital, who wrote the American chapter in the Lancet report, said that it is reporting hope as the action is underway, but pointed out that "climate change is detrimental to the health of the country." This stems from the outcome of the Fourth National Report on Climate Assessment released on Friday by the White House.
This year saw a record summer in many parts of the world, with temperatures much higher than the majority of the population. Watts highlighted a recent study that suggests that Europe's temperature waves in 2018 were two times greater than the probability of climate change. "Assigning a contribution for each event is difficult, but it is clear that such events are examples of what could come if we do not react quickly to climate change," he said.
Research found that the global population was on average exposed to a temperature increase of 0.8 degrees Celsius between 1986 and 2017. The total change in surface temperature in this period was 0.3 degrees Celsius. This shows that "the population is aging, growing and migrating into areas most affected by climate change," Watts explained.
Salas said that "today we have to fight climate change to save thousands of lives each year along with hundreds of billions of dollars in public health by the end of the century."
Disease and death spread
Small changes in temperature and precipitation will also help spread infectious diseases, the report found.
E.g the capacity of dengue virus to expand since the 1950s has increased by 7.8%.
The seasonal capacity for the Aedes coma – the primary type of propagation of Zika, dengue and chikungunya – and its proliferation capacity is prolonging and strengthening, the report said.
In 2016, according to the report, the largest dengue transmission was recorded, and the margin is expected to rise in line with greenhouse gas emissions.
Kristie Ebi, professor of global health at Washington University, who also participated in the report, said that the geographical spread of mosquitoes that can make dengue, Zika and chikunguya have increased significantly with higher temperatures. She added that researchers do not see impacts individually, but have highlighted the wide-ranging impacts of climate change.
The level of global cholera bacteria is also worrying. The growing trend of increasing suitability for Vibrio, bacteria that can cause cholera and some other illness, has been observed worldwide. The United States witnessed a 27% increase in coastal areas that are suitable for Vibrio infections between the 1980s and the 20th.
"We can not ignore these challenges that we see," said Gina McCarthy, director of the Center for Climate, Health and Global Environment at Harvard T.H. Chan School of Public Health, who did not attend the news. She cited fires in California and the increase in vector-borne disease.
Death from pollution
Insufficient progress in reducing emissions continues to jeopardize the lives and systems of public healthcare, according to researchers.
Europe was the region with the most premature deaths for air pollution in the form of PM2.5 – a particle smaller than 2.5 micrometers in diameter – in 2015, followed by the Western Pacific and Southeast Asia.
Particles can settle in the airways and cause problems such as cardiovascular disease, respiratory disease and cancer, leading to premature death according to the World Health Organization.
Paul Ekins, Professor of Resources and Environmental Policy, University of London, who participated in the report, stressed that "any idea that we might have in Europe that we are trying better than other regions should be relocated."
Reduced productivity
Extreme heat as a result of climate change cost last year 153 billion hours of work, message found.
In China alone, 21 billion hours of extreme heat work was lost in 2017, equivalent to 1.4% of the country's labor force. Robinson said rising temperatures had a "direct impact on work".
Most hours of work have been lost in more vulnerable regions such as India, Southeast Asia and Sub-Saharan Africa and South America.
After decades of global food security, the report shows that crop yields are declining in 30 countries, including Cuba, the United Arab Emirates and Luxembourg.
In some countries, the difference between the actual yield of crops and the maximum yield of crops shows that the negative impacts of climate change are exacerbating technological improvements in the 2011 study published in International Nature Science.
Are we able to handle?
Watts warned that the report says more than half – 51% of the 478 world-wide surveyed cities said their public health infrastructure would be seriously threatened by climate change, massive services with new health threats or extreme weather events that directly threaten health services.
That means "system failure," Watts said, as a hospital shutdown.
Worldwide climate change spending for health is 4.8% – too little to comply with the Paris Climate Agreement.
Europe and Southeast Asia are the largest spending mechanisms, with low-income countries funding too little to meet their needs.
The report has increased shares for faster progress, Ekins said.
He believes the findings are "a worse outlook because we did not move fast enough to 2 degrees", as agreed at the Copenhagen Climate Conference in 2009, "and we are certainly not fast enough to move to 1.5 "degrees.
Watts noted that the Lancet Countdown report is incapable of telling where the world is heading, but "no matter what we are going, the health profile of the countries for the next century is finally formed."
Source link