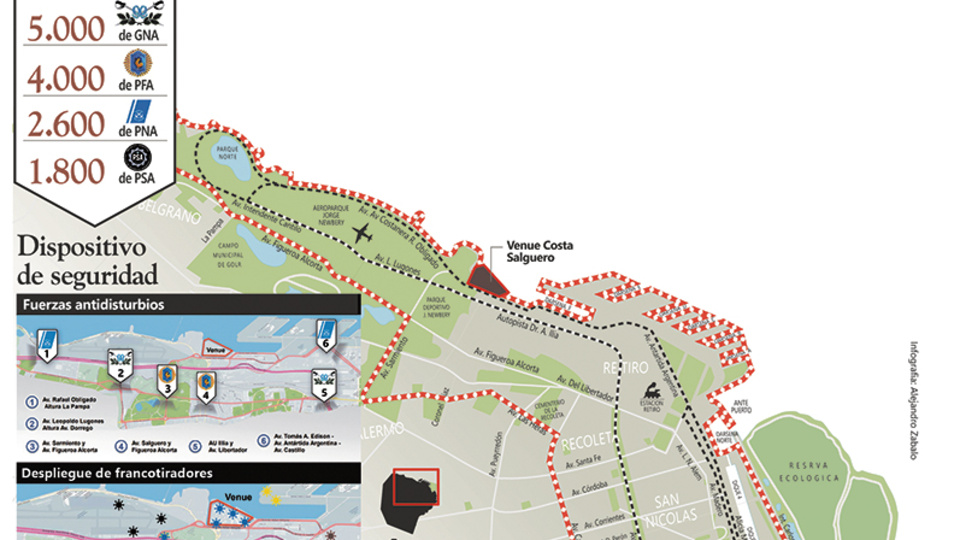 Tomorrow, the G-20 summit will be launched, bringing together leading world leaders, including Donald Trump and Vladimir Putin, and since then, cuts and some restrictions on transport services have begun to intensify.
The summit will take place on November 30 and December 1 in Costa Salguero, where a strong security operation will be deployed. Three safety circles will be deployed in the vicinity from today and will only be available to official vehicles. The gala dinner will be at Teatro Colón tomorrow. For this reason, Avenida 9 de Julio will be closed all day until Saturday 8th.
Mobility, transport and public services in different parts of the city will be affected between today and Sunday 2 December.
As the shipping secretariat said, the ribbon between the river and Av. Del Libertador and Figueroa Alcorta, from San Martino to Udaondo, will be closed from 15 May. Transit in the center of Buenos Aires will be cut off from 21 to Saturday at 22. On Saturday, from 6 to 15 pm, it will also close the circus around Malba. In addition, there will be Courts in Recoleta, Microcentro, Retiro, Puerto Madero, Palermo Chico and Bajo Porteño. The Illino, Cantilo and Lugones motorways will be closed from 15:00 to Sunday 2 at 12am today; the Corrientes Avenue between 9 de Julio and Madero will be closed today; Diagonal Norte between 9 de Julio and Bolívar and Madero-Huergo between Belgrano and Viamonte.
As far as transport services are concerned, from now on 15, it will be on B and H lines. Tomorrow and Saturday will not work on the Premetro metro and service. Trains will not work from tomorrow to Saturday; includes all rows: Sarmiento, Roca (all of its branches), Miter (all its branches), Belgrano Norte, Belgrano Sur, Urquiza and San Martín; and closing Retiro, Constitución, Sáenz, Chacarita and Once. The Retiro Bus Terminal will be closed from 15:00. Departures and arrivals will be transferred to the Dellepian terminal in Barracas.
All city teams will operate, but their routes will be regulated by security operations between Independencia, Entre Ríos, Callao, Las Heras, Sarmiento, Figueroa Alcorta and La Pampa. Metrobús Del Bajo will be on Saturdays from 15.00 to 22.00. 9 de Julio Metrobús will be cut off from May 21 to Metobús de 25 Mayo from Friday to Friday.
Aeroparque Jorge Newbery Airport and El Palomar Airport will be closed from 20 days to 22 hours on Saturday. Ministro Pistarini Airport (Ezeiza) will remain open, although it may have some effects. There will be no operation from San Francisco and Morón from 15 to 22 on Saturday. The Buenos Aires harbor and the Buquebús terminal will also be closed.
Source link