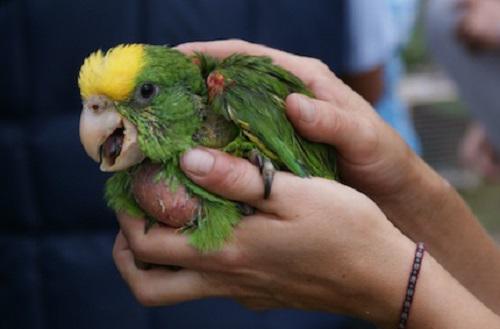 Given that in the summer season there is an increase in reporting of suspected cases of psittacosis – infectious diseases found in secretions of infected birds such as parrots, parrots, parrots, canaries and pigeons that carry the infection. People – from the San Luis Health Ministry, through the epidemiology program, provided preventive measures for this disease.
Epidemiologist leader Rodrigo Verdugo said that until now in 2019, six suspected cases were identified, none of which were confirmed and one was discarded. Four of them are from Pedernon and two from Juin.
Psittacosis is an acute and generalized infectious disease caused by Chlamydia psittaci, found in secretions of infected birds such as parrots, parrots, parrots, canaries and pigeons that transmit the infection to humans.
When ill, these birds eliminate bacteria into the environment by secretory eyes, dry scrubs, airway secretions, and feather dust. When dried they remain in the air and are sucked in by people who are infected.
Symptoms
The clinical picture of psittacosis may differ from infection without apparent disease to non-specific febrile illness and even pneumonia; the second begins with a picture of total discomfort: hyperthermia (hot body), permanent symptom of headache, total decay, fatigue and fatigue. Between 24 and 48 hours, the cough starts with insufficient expectoration, generally mucous and viscous. There may also be jaundice with yellowing of the skin, splenomegaly (splenic enlargement) and changes in perception. Although the disease is usually mild or moderate, it can sometimes be severe, especially in elderly and elderly patients who are not receiving treatment.
Therapy
People with psittacosis should receive antibiotics for 14 days. Contact contacts of the sick person, whether family or co-workers, must be inspected to identify the occurrence of symptoms in the initial phase.
If the respiratory symptoms are in contact with potentially diseased birds, you need to go to the nearest health center or hospital to have a proper consultation.
Precautionary measures for the conservation of birds in captivity
Clean the floor and any surface of the cage or surrounding area every day in contact with the fecal matter of birds. Always moisten with disinfectant solutions (2 tablespoons bleach diluted in one liter of water) to prevent aerosols from drying out.
Avoid all kinds of stress in birds, respect the vital space of each bird, feed them properly, and place them in an airy place.
Do not stay long in closed rooms where the birds are.
Note and photos: Press Ministry of Health.