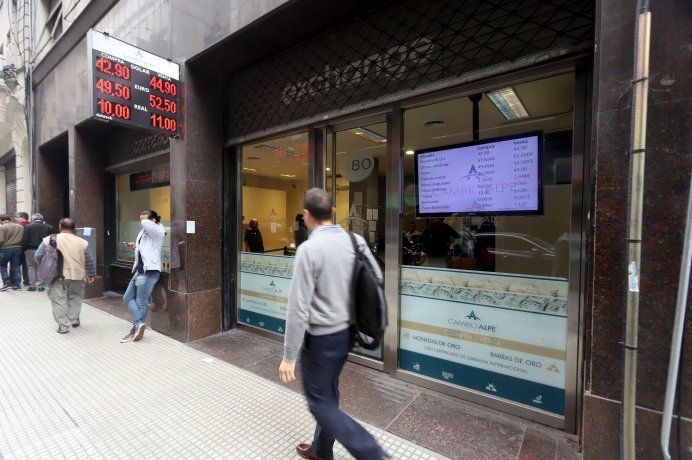 It occurs in accordance with Single and Free Stock Market (MULC)where the currency earns 25 cents and $ 45.15,
In the informal market blue open $ 46.10 According to a survey of this medium in caves in downtown Buenos Aires. Meanwhile, "contad con liqui" closed steadily at $ 44.92.
It should be remembered that yesterday, in a scenario without excessive price pressure, the currency closed almost stable on Wednesday at $ 46.05 (only a cent increased), while in the wholesale segment, the US currency rose by 13 cents to $ 44.90 in a round which had a route that alternated up and down.
"Some purchase orders triggered a price correction that left it lower than at the end of last week. The calm in the development of operations was again reflected in the traded volume (a decrease of 4.2%). A $ 611 million), which was the lowest mark of the last month and a half, a figure that seems to confirm the lower tensions that the stock market now represents, "said operator Gustavo Quintana.
Dollar in the world
On Thursday, the dollar rose and reached its highest level in a month when economic and political uncertainty spread across Europe and Asia, putting pressure on most major currencies, such as the euro and the yuan.
Germany's interest in production, the impact of the trade war on Asian economies, and the interest in Brexit and European parliamentary elections have reduced risk appetite and sent investors to assets perceived as safe haven. ,
The dollar index reached 98.262, which is the highest since April 26, when it reached a two-year high of 98.33, and if the trend continues for four consecutive months of progress. The euro fell to a monthly low of $ 1,1129 and then recovered slightly to $ 1.1135.
Leliq Awards
The central bank of the Argentine Republic has confirmed the Leliq rate cut by 23 basis points, ending with an average 70,985% for a total of $ 196,960 million.
This operation generated liquidity of $ 11,342 million.
In the first BCRA competition, she confirmed the liquidity letters for seven days at an average court rate of 70.961%, with $ 92,097 million declared.
In the second seven-day liquidity letter auction by BCRA, $ 104,863 million was allocated, with an average reduced rate of 71,006%, with a maximum rate of 71.2490% . at least 69.980%.
Finally BCRA's gross reserves reduced $ 52 million to $ 67,044 million on Wednesday.
Source link