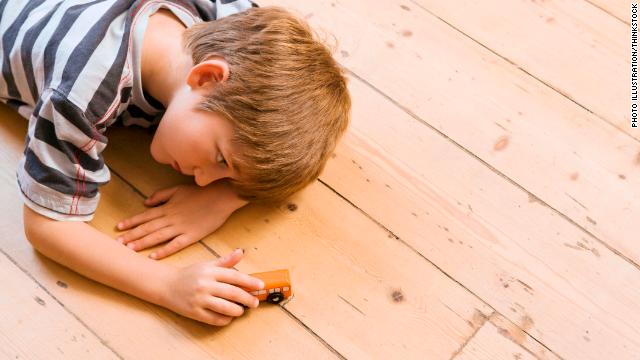 However, new data show that detection and diagnosis of autism can begin at 14 months with high accuracy, which could lead to autistic children being able to start treatment earlier, according to a study published in JAMA Pediatrics on Monday.
"This opens up a truly unprecedented opportunity to get them into early treatment – potentially early intensive treatments – and then check what impact it is when they reach school age," said Karen Pierce, professor of neuroscience and co-author of the University of California Autism Center of Excellence. , San Diego, who was the first author of a new study.
"The brain is very fast during early development and can be influenced by entry from the environment," she said. "The frontal cortex – especially the part of the brain necessary for the development of social skills – creates a large number of connections between brain cells in the first two years of life."
Historically, children with autism do not even begin their treatment until the age of 3 or 4, after much of that leadership has already happened, she said.
The American Academy of Pediatricians has recommended that all children be examined for autism spectrum disorders at the age of 18 and 24 months in conjunction with ongoing developmental screening. This recommendation was made in 2015.
In 2016, the US Preventive Services Task Force concluded that the current body of evidence is still insufficient to assess the balance of benefits and harm caused by screening for autism spectrum disorder in young children who have no signs or symptoms induced by parents or clinicians. The Working Group is an independent group of national medical experts who make recommendations that influence clinical practice.
Advantages of early screening
1,269 toddlers who were screened for autism spectrum disorder and overall developmental delay during doctor visits from 2006 to 2018 were enrolled in the study. After each evaluation visit, psychologists filled out a diagnostic form for each child and put it in the database.
Toddlers received the first diagnostic evaluation at 12 to 36 months of age, followed by at least one follow-up evaluation.
The study included over 3,000 toddler visits.
The researchers looked closely at how accurate and stable the diagnoses were among toddlers over time. For example, toddlers who were not diagnosed with autism at their first visit but were at their last were labeled to have "late-identified" autism.
Among toddlers, the initial autistic diagnosis, especially at screening around 14 months of age, was more stable than any other diagnosis, including typical development, the researchers wrote.
Overall, this data showed that 84% of the study toddlers who were initially diagnosed with autism during their first visit to the doctor maintained this diagnosis at the time they were 3 or 4 years old.
In addition, researchers found that 23.8% of toddlers diagnosed with autism in 3 to 4 year olds lost their autism diagnosis at their first evaluation visit.
The study had some limitations, including the fact that the evaluators were not blinded to whether they had previous diagnoses.
Looking ahead, researchers are going to carry out a follow-up study to find out what the results are in children who have been diagnosed in the current study.
"We now have a new grant that is being reviewed to see if we can all of these kids call JAMA Pediatrics when they reach school age and test them again to see what their results are because it's really Is important – that's all that matters in this sense, "Pierce said.
The new findings of the study did not surprise Michael Morrier, assistant professor and program director of screening and evaluation at Emory Autism Center at Emory University School of Medicine in Atlanta, which did not attend the study.
He said practitioners have long known that you can and should diagnose an autism spectrum disorder at a younger age.
"The greatest contribution to the diagnosis of pups is really twofold. One would prevent demanding behavior," he said.
Some of these behaviors may be when a child hits his head on a table to attract the attention of others or isolate himself from other people. Typically, these types of behavior develop over time.
"It's because they have learned over time that they don't communicate, and I start banging my head, that's a reaction," Morrier said.
So we diagnose in time, "you will probably prevent many such types of behavior from starting," he said. Secondly, for families, "we can give them the skills and give the child the skills they need to feel encouraged to leave the community and have real social experiences that all young children should have."
"My son was diagnosed"
Thomas Frazier, chief scientific officer of Autism Advocacy Autism Speaks, called the new study "very strong" and the study's interpretation that autism can be detected as "appropriate" at a younger age.
As the father of a 15-year-old boy who is on the autistic spectrum, Frazier knows too much the importance of reliable screening – and how it can lead to intervention efforts and therapies sooner than later.
"My son was diagnosed just before his second birthday. It was a difficult time because we knew we needed to figure out how to help him and get the necessary interventions that are not always easy to get," Frazier said. was not involved in the study.
"There are many convincing data from many studies that early intensive behavioral intervention is effective. Many children who receive early intensive behavioral intervention show significant improvements in cognitive functions, language and everyday life skills, as well as a reduction in autism symptoms," he said. "There are also some indications that starting treatment will improve results."
Source link