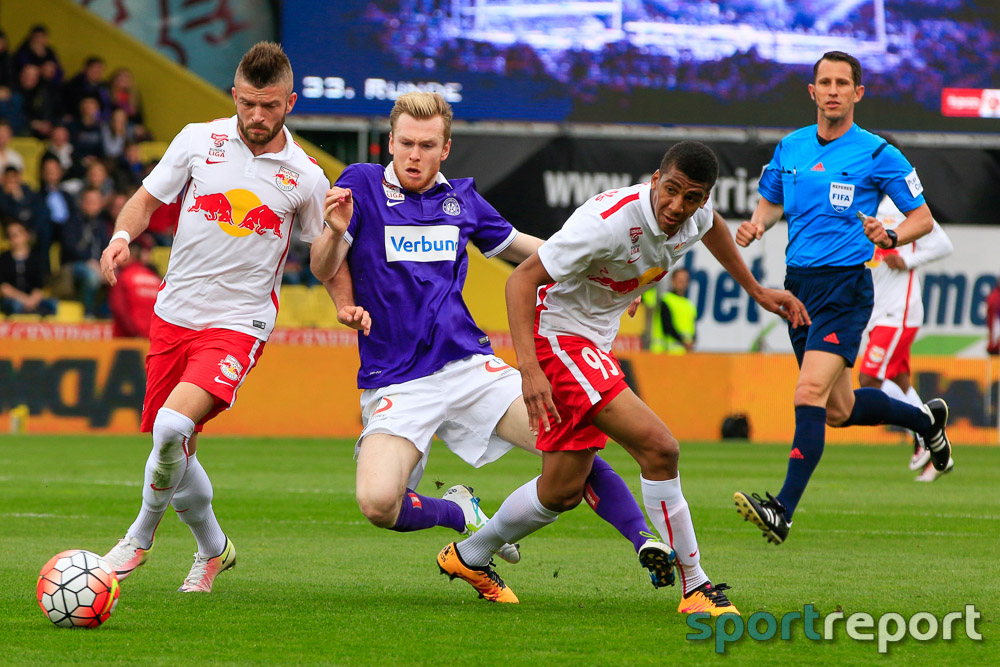 © sports report
On Sunday, Red Bull Salzburg celebrates the premiere in the new General Arena. The Red Bulls meet at the end of the 14th round of Tipico Bundesliga from 17:00 to Vienna. The match will be conducted by referee Robert Schörgenhofer.
• FC Red Bull Salzburg lost only two games in Tipico Bundesliga this year. One of these defeats put it in the 36th round of the presidency against FK Austria Vienna.
• Salzburg won 24 Bundesliga matches in 2018. The club record still lacks victory since 2017.
• Red Bulls this season won 35 points from the top 13 Tipico Bundesliga matches. The only one managed before FC Wacker Innsbruck 2001/02.
• With these 35 points, the Marco Rose team is currently 17 points ahead of the sixth Wieners (18 points in the championship).
• Dabbur, Gulbrandsen, Wolf & Co. scoring six times in injury in the Tipico Bundesliga season – the best. In the past season of Salzburg set the club record with eight goals after 90 minutes.
• Marco Rose faces his 50th game in Tipico Bundesliga as coach of FC Red Bull Salzburg. 36 of the previous 49 games won the city of Mozart. No other coach has scored so much victory in the first 49 matches.
personnel
Patrick Farkas, Jasper van der Werff (both knees), Kilian Ludewig (poison), Zlatko Junuzovic (Wade) and Reinhold Yabo (Wade) are injured due to injuries.
declaration
Marco Rose o …
… match in Austria Vienna and at the new stadium:
"It's always fun to play in the beautiful stadium – best when it's full, I've heard that you've really built a small jewel that's worth paying attention, we're looking forward to the game and looking forward to the stadium, and we hope that we can release all the energy to successfully complete this successful block. "
… about the opponents' situation in the table and the dangers of this match:
"As always, we hold on to wearing ourselves on top of others, of course, I am also dealing with Austria Wien because they are our other rivals, and I think they are already a team of high quality and good singles, and our own situation is more interesting for a week. Red Bull Salzburg, who just defeated Trondheim 5-2 and marched in the championship, all expecting to continue this style, but that's also a chance for opponents to call themselves "underdog." This is a situation where Austria has nothing to lose. "
Takumi Minamino o …
… the personal significance of his three goals and the (signed) match balls he took with him: "I will never forget this evening and this game, I am very proud of it, I have my teammates' signatures on the ball because I am very grateful for their support and their designs, and the ball will come with me. "
… Bundesliga: "As the coach said, it is very nice to play in the new stadium, and we look forward to it." We have so many games, so we have to concentrate on suspecting the fatigue of playing against Rosenborg. we do not really change: it is important for us to be well prepared for the match and to bring our usual performance so that we can again be successful against Austria in Vienna. "
Bundesliga against Austria Vienna
11.08.2018 FC Red Bull Salzburg – FK Austria Vienna 2: 0 (1: 0)
27.05.2018 FK Austria Wien – FC Red Bull Salzburg 4: 0 (2: 0)
18.03.2018 FC Red Bull Salzburg – FK Austria Vienna 5: 0 (1: 0)
03.12.2017 FK Austria Wien – FC Red Bull Salzburg 1: 1 (0: 0)
24.09.2017 FC Red Bull Salzburg – FK Austria Wien 0: 0 (0: 0)
25.05.2017 FK Austria Wien – FC Red Bull Salzburg 2: 3 (1: 2)
19.03.2017 FC Red Bull Salzburg – FK Austria Vienna 5: 0 (1: 0)
30.11.2016 FK Austria Wien – FC Red Bull Salzburg 1: 3 (0: 0)
18.09.2016 FC Red Bull Salzburg – FK Austria Wien 4: 1 (1: 0)
01.05.2016 FK Austria Wien – FC Red Bull Salzburg 0: 2 (0: 1)
28.02.2016 FC Red Bull Salzburg – FK Austria Wien 4: 1 (3: 1)
07.11.2015 FK Austria Wien – FC Red Bull Salzburg 1: 1 (0: 1)
23.08.2015 FC Red Bull Salzburg – FK Austria Vienna 2: 2 (1: 1)
In Vienna! All good things are 11
The Red Bulls Bundesliga game against Viennese Austria on Sunday 11.11. Passes by bus from Red Bull Arena (WEST stadium), which costs 11 Euros and starts at 11:11 AM More Details Below
https://www.redbullsalzburg.at/de/fans/fans-on-tour/national/fk-austria-wien.html
Media Information Red Bull Salzburg
09.11.2018
<! –
<! – NO TIPICO
->


<! – NO TIPICO
-><! – NO TIPICO
->
Source link