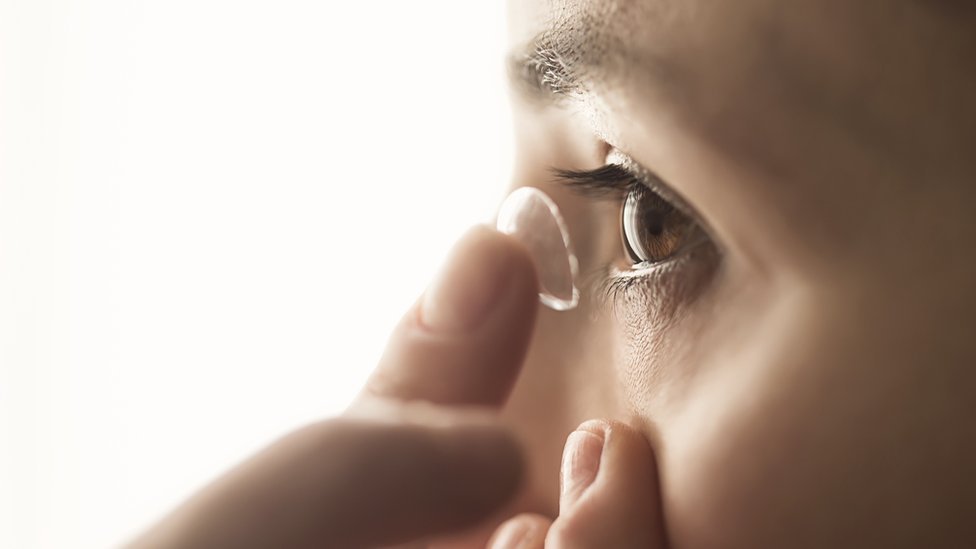 In 2016, the Indian team of Coppa Libertadorese in Atlético Mineiro, the Indian engineer, Kaell Braga, repeated in his everyday life a very common event: putting contact lenses.
Only then did he care for proper care – instead of using the right products for disinfection, he chose water from the water supply.
From there, it was more than two years of fighting against a rare and very serious disease, Acanthamoeba keratitis, chronic corneal infection caused by parasite protozoa Acanthamoeba spp.
"Before I did, I felt the discomfort in my left eye, I went to the hospital and the ophthalmologist who replied said that it was an epithelial defect in the outermost layer of the cornea, which I think was caused by a joke by a daughter," she remembers.
The doctor then directed him to use the ointment for five days, and during that time he exhausted the lens. However, three days later, on the day of the departure of the club, he decided with the tickets he had purchased to decide not to follow part of the recommendation and to change the class glasses through contact lenses.
"The discomfort I experienced before worsened, and my eye began to tear, and I returned ointments because I thought it was the same problem, but this time treatment did not work, referring to the specialist of the cornea," he remembers.
In June 2016 he received a difficult diagnosis, which is the result of the apparently harmless lens cleaning. What happens is that Acanthamoeba spp. is widespread in the environment, especially in water, whether sweet or salty, and it is not yet known why it "likes" contact lenses.
Braga treatment was initially performed using five different eye drops, which had to be dripping for almost an hour, even at dawn.
"My vision was totally impacted, I saw nothing, and I had an absurd pain in my eyes. I had to leave for a while."
After several months, he even managed to treat keratitis, but the prolonged use of such powerful drugs eventually severely damaged his cornea. There have been many attempts to recover it, such as the use of autologous serum produced from its own blood and implantation of the implantation membrane.
None of this has been solved and the ultimate solution was corneal transplantation. The surgery took place in March of this year, and for the time being it has managed to recover from a vision – its current visual acuity is partial in medical terminology 20/50 – a good index for your case.
The engineer still had to carry out surgery to treat cataracts, another Acanthamoeba spp. Due to these two procedures, he stayed for seven months.
"Now I can do basic activities and even drive." I also went back to work and my life finally went back to normal, "she celebrates.
The major risk factors for the development of Acanthamoeba keratitis are exposure to water, whether with shower, sea, bath, whirlpool and swimming pool, using a contact lens, especially a gelatin type. It is worth pointing out that since the parasite likes to live in this environment, each drop can pose a threat. Neglecting hands hygiene when handling the lens also helps in your grip.
Although these diseases are scarce, more and more professionals are concerned, worldwide. The latest alarm was recently described in the British Journal of Ophthalmology, an English scientific publication. When analyzing data ranging from 1984 to 2017, researchers found a focus in the country between 2011 and 2017.
Medical literature shows that cases were more common in the US and England in the 1980s. In Brazil, the first appeared about 30 years ago.
"Today we have two to three patients a week, which is a very high number," says Denise de Freitas, a member of the Brazilian Ophthalmology Board (CBO) and a professor at Escola Paulista de Medicina EPM, São Paulo, Unifesp ).
According to an expert, Acanthamoeba spp. has devastating potential and is the worst thing that can get in the eye. "It's so violent that it can lead to the loss of eyeball," he says.
In addition to having the worst prognosis, the most affected patients (about a quarter of the total) end up with less than 25% vision or become invisible after long-term treatment – can take up to 10 months. A total of 25% of cases require corneal transplantation. Still, there are situations where the eye bulb needs to be removed and replaced with an acrylic prosthesis and a glass eye.
The United States and England advocate that there is a greater chance of success when the infection begins to heal within the first two weeks.
"The problem is that in Brazil people are looking for a doctor after two months, so the onset of taking drugs is late," Denise says.
Symptoms and prevention
Symptoms of Acanthamoeba keratitis, which usually affect a young and economically active population, are treacherous, ranging from discomfort, burning, itching, photophobia and tearing to one or both eyes, making it easily confused with other eye diseases.
"Gradually, the situation gets worse and it causes severe pain after the infection. This person can not eat, sleep, work … it's tremendous suffering," says Professor EPM / Unifesp.
Keila Monteiro de Carvalho, professor of ophthalmology at the Faculty of Medical Sciences (FMC) at Campinas State University (Unicamp), claims that the diagnosis is difficult and the treatments available are long and not very effective – it is with eye drops and some do not exist in Brazil must be imported from Europe or from the United States and antibiotics.
"Treatment lasts for months and there is a possibility of recurrence. Unfortunately, corneal transplantation remains the last solution for serious infections. Acanthamoeba spp. to accelerate the identification of new pharmacological targets (sites in the structure of an infectious agent in which they can act). "
It is important to note that this type of infection can also have other consequences, such as glaucoma, cataracts, sclerosis and retinal inflammation, eyelids and blindness. Depression is a common occurrence.
To avoid Acanthamoeba keratitis, the most important thing is not exposure to water, if you have a contact lens, and when hygiene, you are very careful when placing.
Keila also recommends daily disinfection of the lens disinfectant solution, cleaning with fresh solution every day, changing the packs every three months, and changing lenses according to the manufacturer's specifications.
"Of course, frequent visits to the ophthalmologist are also crucial," he concludes.
Source link