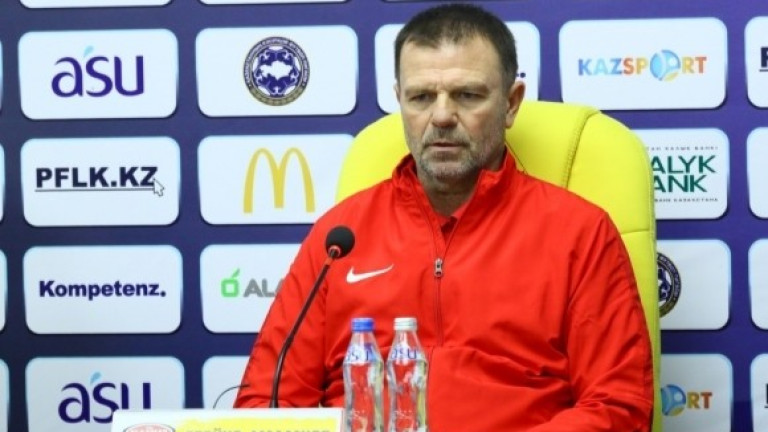 Kayser coach Stoycho Mladenov admitted that on Channel 3 he spoke twice about returning to Czechoslovakia. The specialist commented on the army processes and the money paid for the emblem.
"It was twice when we had talks, but in both of these cases I was involved in the contract, and the impossibility is just that I signed a contract and can not leave without a refund.
I said it and I will say it again, I always keep my words, it may even sound singular, but from the other end of the world I will return and return to ČSKA. But at this point it is so.
This is the act of Gancheva, who proves and shows his love for CSKA. I have said many times that it is not money that is welcome in the wind or how it was expressed in a channel. Maybe it meant something else, but it sounded like CSKA is the biggest brand.
There is no other Bulgarian brand, like CSKA, to sell at such a price. And the money he invested in CSKA is very important for CSKA to get its emblem. This is continuity. Secondly, it combines fans. Even those who have been separated for some reason will be recognized by CSKA, because buying an emblém gives the continuity we are talking about. And third, CSKA has a very high and high price. I am convinced that good management, a good transfer policy, this money returns ten times.
These are very personal things. I do not share them with the public. They all consider it necessary. That's money. Everyone has the right to use them in the way they deem appropriate. Who gave it, which he also did not give. For example, my team worked for 10 months without a reward. Do you think that at this moment someone asked me how I was. Or when I did a heart attack, someone came from CSKA to pay me the surgery. So many things are thin, so I prefer not to say anything. Do not ask me for such questions.
I undoubtedly said that there are no opinions, when buying this character, this continuity took place and from now on it is CSKA.
We are following processes that are right and that are wrong. Each of its prisms evaluates what is right and what is wrong. Once they decide in the club to do it, then it is right for them. Yes, if I'm in CSKA, I'm working my way. I would protect my position as an older coach and a sports and technical section with no one who would divide it. At the same time I did not share with anyone else. So when I decide to buy or sell a player. I bear the responsibility, "Mladenov said.