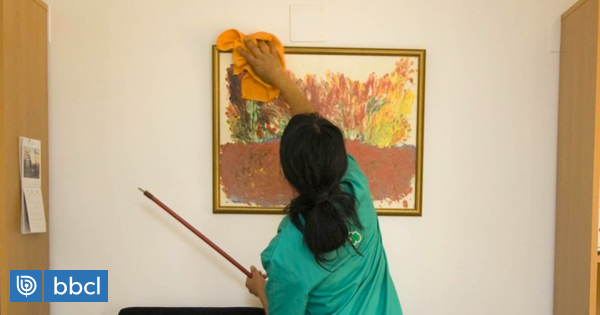 Two months after the entry into force of Act No. 21 269, which incorporated private domestic workers (TCP) Unemployment insurance has already been set up 145 569 individual unemployment accounts for them in AFC Chile.
Unemployed TCP, including those who are retired They now have access to unemployment insurance under the same conditions and requirements as any other worker with an employment contract which is governed by the Labor Code.
This is provided for by a law which entered into force on 1 October, which maintained a 4.11% allowance paid by the employer for this group and divided it into two parts: 3.0% for unemployment insurance administered by AFC Chile, and 1 11% to the Savings Compensation Account (CAI) for all events that are still listed in the AFP where the employee is affiliated.
What requirements need to be met?
To access unemployment insurance, TCP must meet the same requirements as any worker. This means that while the law setting out the requirements for access to this benefit applies, it must exist 3 ongoing offers before termination of the contract; or 6 continuous or intermittent monthly contributions for the last 12 monthsif the last two were continuous and with the same employer.
Similarly, a lack of unemployment insurance contributions does not necessarily preclude the receipt of a benefit if workers in private homes have accumulated contributions in their remuneration savings account (CAI) in all circumstances.
This is because while the employment relationship is valid and up to 30 September 2021 at the latest, TCP may transfer all or part of the contributions accumulated in this fund to unemployment insuranceto meet the minimum requirements.
How does the transfer work?
To request a transfer of funds to unemployment insurance, TCP must enter www.afc.cl with its unique password or AFC access code, which can be obtained from the same website.
Where can I apply for unemployment insurance?
At a virtual branch at afc.cl or in person at any of the branches or service points, with your ID card and a signed and ratified settlement or other valid document proving unemployment.
If the procedure is carried out in person, it is recommended to book an hour services on the same site.
Can domestic workers have access to the benefits of the Employment Protection Act?
Yes, they can benefit from the employment protection law according to the method of agreement on the suspension of the employment contract or temporary reduction of the working day. The Authority has announced an extension of this Regulation, which will take place by means of a Supreme Decree.