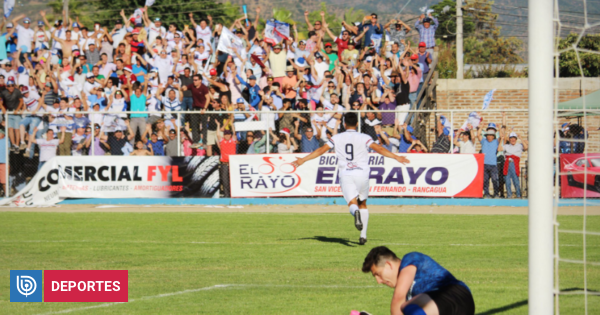 Did you find an error?
tell us
José Vera | Twitter @UnionSantaCruz
Celebrate the city of Santa Cruz. After 21 years, Sports Santa Cruz returned to First B after a 1-1 draw against General Velásquez in San Vicente de Tagua Tagua.
On a balanced meeting between the leader and his companion, visitors were able to make use of the space left by General Velásquez, who needed three points to extend the definition of the Second Division Championship to the last day.
After the first failure, 61 minutes Diego Huerta opened an account for Santa Cruz using a criminal launch, releasing the hullabaloo fans Unionistas, which accompanied his equipment.
When the meeting seemed to end with the triumph of the directors Osvaldo Hurtado, Milton Alegre reached parity with the aim of taking 92 minutes, indicating at the final moments the proportion of stress. But the time was not enough for the locals.
So with the final 1-1 and 18 points, Sport Santa Cruz was crowned champion of the second division tournament and closed his pass to the first B 2019.
The last day comes Deportes Santa Cruz Independently of the Cauquenes where they certainly celebrate their title with their fans.
In the meantime, General Velásquez added 14 units and remained second, subtracting the date to be played. On the last day you must visit Iberia from Los Angeles.