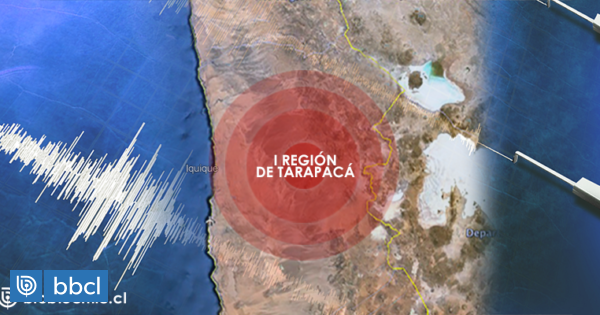 Tarapacá Region
Sunday 6 December 2020 13:54
A strong magnitude earthquake shook northern Chile

Three regions in the north of the country felt a strong earthquake a few moments ago.
According to the National Seismological Center, the quake occurred at 1:47 p.m. on Sunday and was magnitude 6.1 with an epicenter 30 kilometers northeast of Pico and a depth of 105.6 kilometers.
According to Onemi, tremor was felt in the regions of Arica and Parinacota, Tarapacá and Antofagasta.
The following are the intensities of Mercalli:
Arica and Parinacota region
Arica: IV
Code: IV
Who: IV
Pocon Chile: III
Tarapacá Region
Walk: VI
Colchane: III
Huara: VI
Iquique: VI
La Tirana: IV
Mother: V
Pisagua: V
Almonte Well: IV
Ujina: V
Antofagasta region
Calama: IV
Maria Elena: III
Quillagua: IV
Tocopilla: IV
The SHOA noted that the conditions for generating a coastal tsunami are not met.
"At the moment, no earthquakes, alterations to basic services or infrastructure have been reported as a result of the earthquake." Technical organizations, in turn, assess the regional situation, "added Onemi.