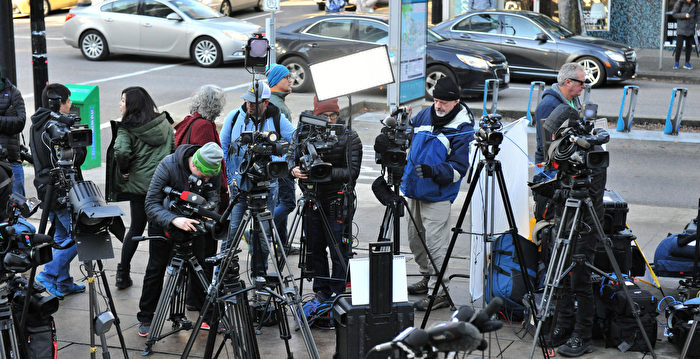 Epoch Times (9 December 2018) (Epoch Times reporter Su Jinghao) Huawei Chief Financial Officer (CFO) Meng Zhouzhou was arrested in Canada. On Friday (December 7), the Insurance will be reopened 10th. The former US federal prosecutor said that Meng's nightmare is expected to remain in jail and wait for the outcome of the release.
At a hearing on Friday, Canadian prosecutor John Gibb-Carsley told the judges that Meng Xizhou was accused of fraud because he lied to a number of banks, Huawei and said that Hong Kong Tiantong Technology Co., Ltd. (Skycom), which trades with Iran, has no relationship to avoid US sanctions against Iran between 2009 and 2014.
On Friday, the judge did not decide whether to pay the insurance, but said he would consider the causal conditions proposed by the parties at the weekend, and the next meeting would take place at 10 am 10 am.
According to Toronto Star, Vancouver, the former US Federal Prosecutor and Clinton's Special Advisor, Nelson Cunningham, said Meng Zhouzhou was to remain in prison waiting for her release.
"In a system I know, people like (Meng Zhouzhou) are likely to be detained while deciding on the case, and their risk of escaping is high and we know that if they leave Canada they will go, and China will not be able to get it," Cunningham said.
He said, "If he's released on bail, I'll be shocked."
Cunningham believes that the arrest of Meng Zhouzhou may be seen as a warning for those who ignore US sanctions relating to the Iranian shipping, finance and energy sectors.
Hearing may take days or even weeks
At the hearing, the Canadian prosecutor also told the judges that Meng Xizhou had a motive to flee, had no meaningful link with Vancouver. Due to her large source of financial resources, her bail would be negligible. Prosecution said the father's worth is $ 3.2 billion.
Gibb-Casley said the bail is based on "trust", Mrs Meng is not entitled to bail because she has "a large pattern of dishonesty." In addition, the prosecutor explicitly reminded the judges that there is no extradition treaty between China and Canada and the United States.
Canada's permanent residence, owned by Meng, expired in 2009. She was arrested while moving from Canada to travel from Hong Kong to Mexico.
It has two valid passports, one Hong Kong passport and one Chinese passport. Her Hong Kong passport was seized by the Canadian authorities, and another Chinese passport was handed over to the Royal Canadian police.
The case will continue on Monday. According to Vancouver's immigration lawyer Richard Kurland, this review will take several days, even weeks.
Arrested Meng Xiazhou, Canada, acts under a US-Israel extradition treaty
According to the Canadian Broadcasting Corporation (CBC), the Canadian official said Meng Xiazhou's arrest is "no choice" and must be based on a US-Canada extradition treaty.
Canadian Foreign Minister Chrystia Freeland stressed: "This case has nothing to do with politics."
Fang Huilan said Saturday that it was decided to issue a temporary arrest warrant at the request of the United States, which was dealt with by an "official class" and followed by a lawsuit in Canada.
She said that through Canadian ambassador to China, John McCalluma, told Beijing that Canada is conducting a lawful lawsuit, and that the Chinese Consulate (CCP) can represent China at night.
Many countries fear using the Huawei plant to threaten Guoan
The United States, Australia and New Zealand have banned Huawei from building a 5G network due to fears of national security issues, and the United States continues to exert pressure on Canada and the United Kingdom to ban Huawei. Canada and the United Kingdom are two other members of the "five eyes" coalition intelligence service.
Last month, they published a "weekend Australian" article quoting a secret intelligence report that showed Huawei has been under pressure from the CCP in some cases under the pressure of the CCP to provide passwords and network details to help infiltrate the CCP to foreign systems.
At the time, this report prompted Canadian experts to rethink Huawei's serious "bad" deal.
Former Canadian Prime Minister Harper told Fox News on Thursday he is increasingly worried about the intrusion of Huawei and the Chinese manufacturer of ZTE telecommunication devices into Western communications networks.
"These institutions (Huawei, etc.) are very closely linked to the Chinese (CCP) institutions, and we believe there are some real and serious problems." Harper said, "The United States is basically pushing Western allies to exclude Huawei from the new 5G networks, and I personally think it should do the Western countries as far as their own long-term security issues are concerned." #
Responsible Editor: Li Yuyu
Source link