The introductory image shows a GPU PCB equipped with eight GDDR memory slots, which corresponds to using a 256-bit bus and 8 or 16 GB of memory. It will depend on the particular model of the card, with the 16GB variant we will surely meet in the professional segment over time. First Navi, probably Navi 10is, according to all current information, tuned rather as a mainstream, that is, a price / performance oriented product. So for the game model it would make sense to mount 8 GB (more could be some refresh coming next year). In any case, 8 GB would now make sense, considering that 16 GB has Radeon VII, which will remain the top model this year.
GDDR positions are equipped with 180 BGA contacts, which clearly confirms the use of GDDR6. The GDDR5 has 170 contacts and GDDR5X 190 contacts. To give you an idea of ​​what chips AMD could use, I give a brief overview of the current offers of all three manufacturers:
Hynix: 10-12GHz, 12-14GHz
Micron: 10 GHz, 12 GHz, 13 GHz, 14 GHz
Samsung: 12 GHz, 14 GHz, 16 GHz
All models are available in 8Gb capacity (ie 8GB capacity is achieved with 8GB capacity). Samsung's 14GHz and 16GHz models are also available in 16Gb models.
The PCB card is equipped with eight GPU power phases and two memory phases. They can be supplied from two osmipine power connectors. On the one hand, it is not known whether it is a production or testing PCB, on the other hand, not even in the case of production PCB everything has to be installed and on the third it is clear that if the TDP of the forthcoming card should be below 150 watts, the card's power would not be 2, 5 times.
O Navi 10 we know that it is essentially designed as a substitute Polaris, ie mainstream. As such, it could initially be projected to 150W TDP, but as of the end of last year, the TSMC 7nm process, although the only 7th process the products are on the market, did not achieve the goals originally set by TSMC. The drop in consumption was about 10% less deep than expected and at the same time the attainable frequencies also ended up about 10% lower. Thus, if TDP were 10% higher due to the lack of announced savings, we would talk about 165 watts. Moreover, if AMD wanted to pull frequencies to the originally intended level regardless of consumption (say, 10% higher than those at which 165W TDP could be achieved), this could mean an additional 20% more on TDP, perhaps 200 watts.
It is clear that AMD will eventually be interested in building it Navi in the gaming segment against a very specific Nvidia product. If, for example, with the GeForce RTX 2060's performance in mind, and the GeForce RTX 2070 does not have much to compete with, it would not be surprising if, despite the increase in TDP to 225-250 watts, it would build this year's top-of-the-line Navi against GeForce RTX 270.
Expecting a higher TDP or consumption than 250 watts would be unrealistic, despite the PCB sizing up to 375 watts, because, with such a combination of consumption and performance, the card would have no better power / power ratio than the existing Radeon VII. On the one hand, such a product is not needed on the market (because it already has it on the AMD market) and it would mean that Navi achieved no improvement in terms of consumption / performance versus generation Vega, which is unlikely.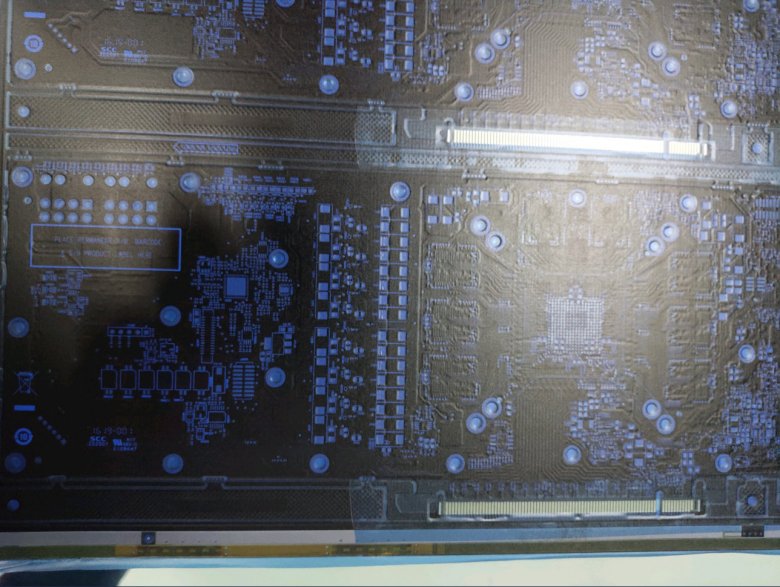 My personal tip (which may be completely out of reality and which you can boldly ignore, even twice as much as you like) is: Navi set to Radeon RX Vega 56 performance, then I would expect TDP around 165 watts. If it is Navi set as a competitor of GeForce RTX 2060, then I would expect a TDP of 180-200 watts. If set as a competitor to the GeForce RTX 2070, then I would expect a TDP of 225-250 watts. Everything else would be a pleasant or unpleasant surprise.
Furthermore, it is impossible to peek too much from the PCB. The combination of HDMI and DisplayPort outputs is in line with current trends. It also looks like a USB-C / V-Link position. The PCB is equipped to mount both centrifugal (radial) coolers and (of course) axial solutions with multiple possible fans. Quite surprising are some of the discussion responses that would be bad if AMD used a centrifugal cooler as a reference solution. Radeon VII has made it very clear that the axial solution is not necessarily better – with the same TDP with Radeon RX Vega 64, the noise is virtually the same as with the radial reference in Vega 64. If the same TDP is the same noise, I don't see much rational reasons to require axial cooler. Conversely, in such a situation, the blowing of heated air by the radial solution is an advantage. But personal preferences are not limited, and given the quite "normal" looking PCBs, there is no reason to expect the arrival of non-reference coolers to take several quarters, so a few months after release, the selection will be fairly wide.
In the end, we have to add that, apart from the PCB image, it seems to be Navi 10, there was still information about existence Navi 14that will head to the low-end. But this marking would be a bit unusual, it would be missing Navi 11, Navi 12 etc. But everything is possible. Next year is expected Navi 20, the biggest chip of this architecture that will go to the professional segment and maybe AMD – just like it Vega 20 – also covers high-end gaming.