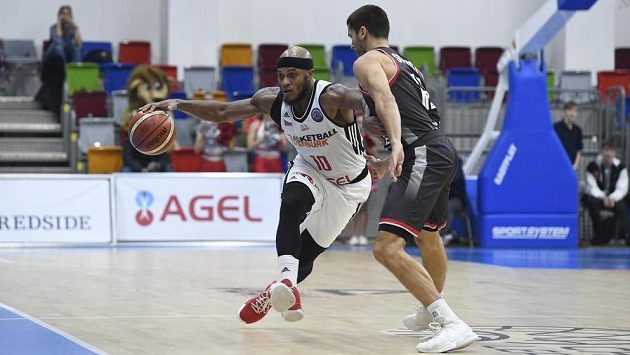 "The progressive situation is not pink, but today it was a defeat against the Euroleague team and the chances were balanced. The second half of the group will play more at home, really at home in Nymburk, so we do not put up guns and fight for progress," Vojtech Hruban said.
Nymburk was looking for a moment in Prague's asylum and losing nine points in the first quarter. Then Jaromír Bohačík and 9: 0 were compared. Since then a balanced match has been played in which the Czech champion was slightly ahead.
When in the third quarter, Martin Peterka with two troika started the Nymburk line of four three-point baskets, led the home even eight points. But then they ceased to succeed in the attack and Bamberg gradually regained leadership.
The German team benefited mainly from the game of strong pivots back to the basket. Elias Harris put two minutes before the end of the foul basket and sent Bamberg to a three-point lead.
Nymburk could still reverse the duel, but 20 seconds before the end of the one-point difference, Eugene Lawrence did not change the raid. In the final attempt at the equalizing trophy lost and deliberate foul, which the opponent used to further increase the score.
"We made bad decisions and the trouble was we could not shoot the last shot," Hruban regretted. "It's a complication, but there's still a half of the games in front of us, of course, we wanted to win some more, but we're going on, but now we have an important match with Dijon and we have to win. the pivot added Martin Peterka, who scored 13 points with Nymburk's second best scorer after Jaromir Bohacik, who scored 16 points.
The weakened Slave could not compete with the ska
Opava has lost a lot in the Pardubice league weekend and has also started in a weakened team without injuries Rostislav Dragoun, Václav Bujnoch and Filip Zbránka. In addition to this, he added to another marionette Martin Gniadek.
Without the four basic rotation players, the Skewers could not compete with the German team. Already in the first quarter they earned 32 points and Bonn gradually increased their lead by up to 43 points. The third quarter of Opava lost 19 points and allowed its opponents to score 39 points.
Opačně nepomohlo ani 22 bodů Luďka Jurečky, která změnila šest trojek. Miroslav Kvapil added 17 points. Bonn had seven two-digit shooters.
Basketball Champions League – Round 7, Group C:
Nymburk – Bamberg 78:84 (20:23, 46:43, 65:62)
Most points: Bohacik 16, Peterka 13, Wright 12, Hruban 9 – Rubit 22, Zisis 14, Harris 13, Jelovac and Rice after 9 Fouls: 22:24. Criminal feasts: 31/25 – 26/21. Triple: 7: 5. Doskoky: 40:34.
Table:
1.
Jerusalem
7
6
1
616: 539
13
2.
AEK Athens
7
6
1
566: 532
13
3.
Bamberg
7
4
3
583: 565
11
4.
Antwerp
7
3
4
570: 571
10
5.
Fuenlabrada
6
3
3
489: 512
9
6.
Nymburk
7
2
5
538: 582
9
7.
Lietkabelis
6
2
4
465: 467
8
8.
Dijon
7
1
6
498: 557
8
Group B:
Bonn – Opava 114: 77 (32:18, 58:40, 97:60)
Most points: Jackson 19, James 18, Mayo 14, Gibson 13 – Jurečka 22, Kvapil 17, Švandrlík 10. Fouls: 13:12. Crime: 14/10 – 11/9. Trojky: 16:12. Doskoky: 46:29.
Table:
1.
Tenerife
6
6
0
501: 381
12
2.
Venice
7
5
2
612: 576
12
3.
Hapoel Cholon
6
4
2
503: 478
10
4.
Bonn
7
3
4
580: 607
10
5.
PAOK Thessaloniki
6
3
3
491: 453
9
6.
Nanterre
6
3
3
483: 463
9
7.
Friborg
7
1
6
547: 630
8
8.
Opava
7
1
6
513: 642
8