<! –->
The world's largest automobile group has gone in the opposite direction after the diesel scandal. He has combined his destiny with electromobility and is taking on such a pace in the planning of further development that BMW, Daimler and, above all, many suppliers are talking. Schleswig-Holstein Transport Minister Bernd Buchholz (FDP) even warns that VW is leading a "high-risk gambling strategy".
Bet on (un) certainty
What will be the future of the car manufacturer? Definitely not the same as the present. It is clear. But must it be a turn of a hundred and eighty degrees? The Group plans to invest € 30 billion over the next five years – investing in new electromodels and production capacities. According to calculations published by the German magazine WirtschaftsWoche on the basis of information from company managers, another hundred billion will become the purchase of batteries and other components necessary for the production of e-cars.
According to Diesse chief, a course is set that cannot be changed: "We have invested billions of euros in electromobility over the past few years." Only the conversion of the first electric car plant in Zwickau cost 1.2 billion euros. And the other seven races are currently being rebuilt or completely rebuilt.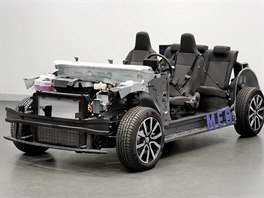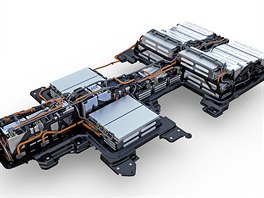 VW Group's MEB modular platform for electrified drive vehicles
But what if the upcoming strategy gets stuck or fails? What if new electric cars don't sell well? What if the time has not yet died? "There's no way back to the internal combustion engine," says one of the VW managers in an interview with the WirtschaftsWoche. "Such a reversal would not be economically or economically managed."
To put it another way: The Volkswagen Group, which is now coming to Wolfsburg, is playing in the electric car – and a large part of the German automotive industry. The role of VW in the German economy is crucial: every third car on German roads and every eighth in the world comes from here. If Diess introduces 70 electromodels on the market, as repeatedly stated, over the next ten years, then it will probably be the most risky bet any German company ever went to.
New models are being created at the Wolfsburg headquarters in VW, in the factory nicknamed Walhalla: Almost everyone has heard of it, but almost no one was inside. In the real Walhalle, which is the most important monument in Germany and is supposed to be the hall of fame of the German nation, fallen war heroes are buried. At the Walhalle in Wolfsburg, heroes are born – and bury. Every few weeks, the board members introduce new models here. In Walhalla, billions of projects are either going to travel, or they are going to fail. Colleagues are celebrated here or disgraced. It is here that decides where the group will go.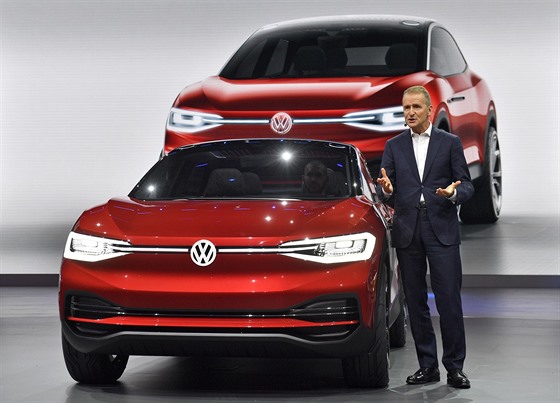 Herbert Diess bet all on one card with Volkswagen.
Diess's strategy is repentance for diesel scandals under the slogan: take responsibility. "We have calculated what share we have in global carbon dioxide emissions. And we came to the conclusion that for passenger cars it is one percent and for freight one more percent. Two percent, like Germany. Unfortunately, "says Michael Jost. The man who speaks as an environmental activist is the head of the company's strategy, close colleague Diess.
Therefore, the automaker has made a commitment: to produce a "car of the future". The group must respond to the Paris climate agreement. Therefore, all VW vehicles must be climatically neutral from 2050 onwards. This means that it will not be possible to sell any internal combustion engine from 2040, so the development department concerned should be closed within seven years.
For gasoline and diesel engine enthusiasts, suppliers, competitors, and the automotive industry association, VDA is like a clean sky shot. If the industry's largest manufacturer turns to electric cars, it will cripple the world of internal combustion engines and billions of investments. VW will force its suppliers to set the same course, and BMW and Daimler will look like gasoline fossils next to it, a German magazine writes.
Even Angela Merkel (CDU) herself, a few weeks ago, assured that the diesel will be used for decades, is a lobbyist from the past in the light of current events. Federal Finance Minister Olaf Scholz (SPD) is on the side of Diesse manager: he advocates extending the electromobility support by ten years.
A visionary forced
But basically, Diess only begins to realize what is inevitable. "A visionary who has no choice," says VW. Companies like Tesla are coming to the market with ever better electric cars. Cars with combustion engines swallow billions. After all, the VW Group itself has paid a ten-digit amount recently to adapt the models to the new EU emissions regulations. After 2023, the Euro 7 standard will be in place, representing a cost of € 5 billion to VW for the necessary technology upgrades. "Every car will cost a thousand to two thousand euros," says Jost. For large SUVs, customers may still be able to accept price increases. But in the small car class, the combustion engine variant will be absolutely absurd economically.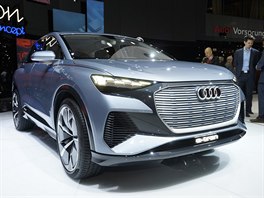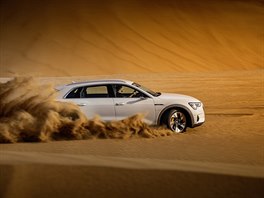 Audi, the premium brand of VW Group already offers electric vehicles.
And while old technologies are losing profitability and attractiveness, there is another danger to the concern: In 2018, Tesla sold five times more electric cars than VW, and more than 7,000 brand cars leave the factory weekly. And technologically, Tesla has at least five years ahead of VW. They are no longer bothered by the lead in Tesla and are hoping to be one of the market leaders. "We've been feeling like Cinderella for a long time," says Jost, head of the strategy. "We have a terrible journey."
The crucial breakthrough came on October 26, 2018. On this day, VW Board members discussed a variety of propulsion techniques throughout the day: the internal combustion engine, hybrid, gas, electric drive, hydrogen, synthetic materials. The result: only electric cars are promising, politically and socially acceptable in the foreseeable future. October 26, 2018 is the day when openness to technology was buried at VW.
What did it mean in practice? "Expect something that never comes (hydrogen car). Strategically wrong. However, to speak with pseudo-clean drives such as the plug-in-hybrid, which had a positive response to BMW and Daimler, they are referred to as 'somewhat pointless' in VW. In Wolfsburg, they are happy to be open to technology. That it is finally clear, "writes WirtschaftsWoche.
New beginning
In the coming years, Klaus Bischoff, Chief Designer at Volkswagen, will continue to focus less on existing models. On the contrary, it is a completely new car architecture, new materials, new features and uses. "Finally, the time when VW was considered a fraudulent company is gone. Finally, we are back at the start of something new, "says the Chief Designer.
In early 2020, the first Bischoff's model will be launched on the road. "The first electric car for widespread use will be called ID3," writes WirtschaftsWoche. In the world of electric cars, it should be what it is today Golf: a classic from VW for everyone, high quality, timeless design. By the end of 2020, two more models should follow: compact electric SUVs and SUVs. For 2022, Diess plans to revive the Bulli minibus as an electric car and launch a large e-limousine à la Passat on the market. One year later, a big e-SUV and a small car are on the agenda; it should cost less than 20,000 euros and more than 250 kilometers per recharge. And in parallel with the VW brand, there will be an increase in the offer of other brands of the group: Audi, Seat, Skoda and Porsche. Porsche wants to sell almost exclusively electric cars in 2030.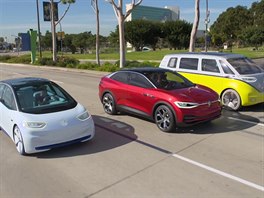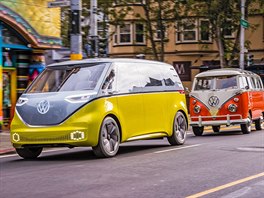 "Much can also be seen from commercials that illustrate the car's future: people in them represent how the Group understands itself. It expresses the desire to move forward, but at the same time humility and desire for normality, "notes the German magazine. "People in the spots are not exceptionally beautiful or overly rich or overly happy, but open and motivated: the modern" Volkswagen people ". They are human and honest, which are the qualities VW wants to build in the future. "As Bischoff says:" We want to be a real advertisement for the future. Not the perfect world. Retouching is taboo. "
WirtschaftsWoch's words and beautiful spots will be hard to do. Actions will be important. Which VW management, thanks to the emission scandal, understands very well. "If the new VW electric power supply proves to be a fraud, it could be fatal for the concern. VW will not have to survive the next à la dieselgate affair, "warns Larr Thompson, who oversees VW in the US after the dieselgate affair.
For this reason, VW is building a green ecosystem around its new electric cars. To ensure that cars are perfectly clean: not just when they are driving. The group wants to test suppliers using exploited raw materials and promises to pay particular attention to raw materials for battery production such as cobalt or manganese, which often violate human rights. VW has produced a catalog of questions about the environment, social issues and corruption, which will be presented to all suppliers. From summer, only companies will be able to deliver to VW to answer the questions and prove the "pure origin" of their products.
And something else: every car that VW hands over to a customer must not only be free of scandalous raw materials in the future, but also climatically neutral. For example, a Korean battery supplier, LG, must in future produce batteries for VW using renewable energy. If VW cannot avoid CO emissions2 with its suppliers or in its own production, compensate emissions by compensatory payments. According to estimates, the financial demands of the company could be enormous. So far, about 20 tons of CO are produced per vehicle2. If VW had to compensate ten tons of it, it would cost 250 euros per car.
However, the car can only be labeled "environmentally friendly" if it is powered by renewable energy. For this reason, VW lobbyists are now fighting in Berlin for an accelerated turn in energy production. VW plans to offer its customers who buy an electric car a home charging station for several hundred euros – and the green stream now has only three euros per 100 kilometers, according to the calculations of the VW marketing department. If the car is to be scrapped in the future, VW will recycle both the car and the battery, even for financial reasons.
According to Bischoff's statements, VW is serious about green mobility. But he wouldn't be the right designer if he wasn't even driving pleasure and aesthetic aspects of the "mobility revolution." It therefore highlights how much space customers get for their money. "A smaller electric motor, no gearbox, no exhaust system – that's not the case with an electric car." And a big battery? It's in the chassis of the car. Which comes in handy for customers who like to sit in a car – like in an SUV.
And the price-performance ratio? The ID3 with the size of golf is about 28,000 euros in basic equipment. While the customer, in terms of interior space, actually obtains the size of a Passat car. The electric "golf" will not be a car, but a "tablet on wheels" according to Bischoff's words.
VW is very popular with the tablet. It is intended to illustrate what revolution it is. The switch to electromobility cannot be expressed briefly by the formula: petrol engine and tank out, electric motor and battery inside. The electric car will be an electronic product that can drive and can do much more. VW will be able to download and save any update and upgrade tomorrow, as well as connect to other devices – customers will receive a special identification code as well as a mobile phone. Bischoff found a symbol for the transformation of VW from an auto-corporation into a "techkoncern" symbol: an arrow is depicted on the ID3 accelerator – a big "play" button as we know it from entertainment electronics. Two vertical bars are shown on the brake: "pause" button.
Electronics for VW users
The ID3 series production will break out at the end of 2019 – when everything runs smoothly. VW's leading tablet developer is Rolf Zöller, an electronics specialist who heads the team of around 1500 engineers and IT experts. Zöller ensures that the cars are user-friendly – so that drivers feel more like VW users.
Because of this, his team must adopt Silicon Valley working methods, be quick and agile. Unlike sheet metal benders, the electrician section cannot follow the exact steps. They must constantly try something new. They test their latest ideas on a virtual reality eyewear simulator. Every few weeks, members of the board of directors visit the development space to try everything out and take a tour of the Tuscan countryside in virtual reality. In the course of days, things that have been considered for several months have often been decided.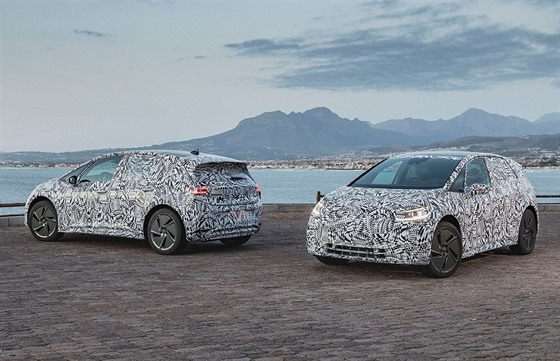 Masked Model Volkswagen I.D. Neo
Zöller estimates that the need for IT specialists in the Group will increase tenfold over the next three years. Not an easy task, good programmers go to Silicon Valley. Or to start-ups that attract more relaxed atmosphere and lucrative options on the stock market. VW is trying to score with young talents by working with IT greats like Microsoft and Amazon.
Exciting challenges await IT specialists in Wolfsburg: for example, the development of the new electronic platform E3, which will be deployed for the first time in ID3. "So far, there are up to 100 controllers in one car, like small computers," explains Zöller. "The new platform has only three to five central computers."
Three instead of hundreds of controllers whose software is programmed by suppliers – even here there is a great potential for savings. The same is true for the rest of the car. A conventional engine consists of more than 1200 parts to be assembled; electric motor of only two hundred. E-cars are simple, so their production can be very advantageous.
Increasing performance and reducing the complexity of production – the credo of a company can also be seen from a second perspective: as a reduction in the number of jobs. The transition to e-mobility is therefore a great policy in Wolfsburg. The group is a 20% federal state of Lower Saxony. That is why the important issues regarding VW production are among the best kept secrets: How many working hours do you lose when making one car? The factory source reveals: VW will build Golf in 26 hours. This is not very satisfactory. Competitors can produce comparable models in 20 hours. And the new ID3? It should be done in 16 hours. Production efficiency is about 30 percent higher for all electric vehicles. If we take the scenario to an end: out of 640,000 employees worldwide, 200,000 of them would be unnecessary after the transition to e-mobility.
Bearer of hope
The corporate council's hope now counts on VW launching its own battery production. To do this, VW would need to have the necessary know-how, which is now trying to create a battery center of about five kilometers from Wolfsburg. Frank Blome and his fast-growing team, which currently consists of 460 technicians, are trying to understand what no one cares about in the German car industry for decades: How to make a good battery?
But a lot of questions still remain open: should VW really start the battery production? And if so, what kind of go? Tesla combines small "pencil" batteries into one big one. VW, on the other hand, uses a long flat battery for ID3. The big advantage of Tesla is that the Americans were able to reduce the proportion of rare cobalt from more than ten to two percent in their batteries. Cobalt is not only very expensive, but is also often exploited under scandalous conditions in Africa. VW batteries, on the other hand, need 12 to 14 percent of cobalt – this is not yet the brand's record.
Meanwhile, Tesla is building a second huge battery plant in China. Her boss Elon Musk is able to adjust the number of employees to current needs during the week. Diess, on the other hand, will have to deal with the situation of thousands, perhaps even tens of thousands of employees in the future, as the VW and Lower Saxony Works Councils will not accept its austerity programs.
And what if the whole project, the transition to electromobility, fails? It will no longer be possible to return to the internal combustion engine, sounds from Wolfsburg. But who knows for sure? VW has decided to break the future. And he dared to take a decisive step. The race continues, the result is uncertain.
<! –->
Source link