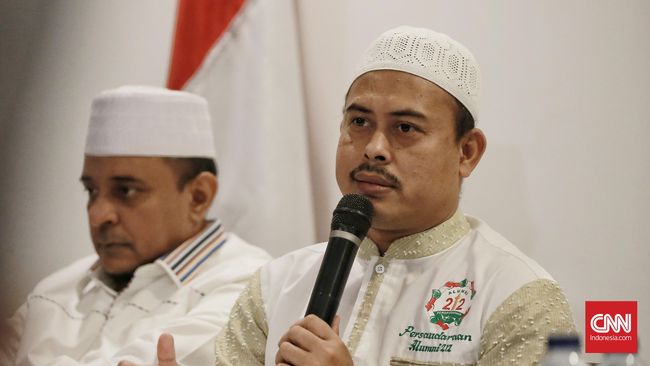 Jakarta, CNN Indonesia – Chairman of the Organizing Committee ijtima ulama and Number III, Slamet Maarif said that his party would invite all scholars and figures present in ijtima ulama I and II. Except scholars and characters during the event 2019 Presidential election already switched cebong.
"All invited to ulama ijtima one and two will be invited, except for those already made." cebong we will not invite, "said Slamet at Resto Hayam Wuruk, Jakarta, Monday (29/4).
The term cebong is a term for fans of candidate pair 01 Joko Widodo-Ma ruf Amin given to the candidate pair 02 Prabowo Subianto-Sandiaga Uno. While supporters of Prabowo-Sandi are called camouflage proponents of Jokowi-Ma.
Slamet said that ijtima and III were being held for a discussion of the frauds experienced by Candidate Pairs 02 in the 2019 presidential election. Therefore, his party gave BPN Prabowo-Sandi and his volunteers a "phase" to explain the presidential election fraud.
This was done because the results of I and II priests I and II recommended Prabowo as a presidential candidate in pairs with ulema.
"Then automatically those who will be present to show off about cheating or other explanations must be from the presidential and vice-presidential camps ijtima," he said.
In addition, Slamet was unable to ascertain ulama III ijtima will produce recommendations or not related to the presidential election of 2019. He claimed that the recommendation was a consensus agreement of the ijtima participants.
"You need a recommendation or not, it will be submitted later at the meeting," Slamet said.
As for the participants, Slamet was also reluctant to speculate how much. What is clear is not much different from ijtima ulama I and II, which predicts more than 1500 scientists and personalities from different regions.
"What is certain will not be far from one and two ijtim. About 1500 scholars and personalities," he said.
There is no need to fear Ijtimak
FPI Minister Shobri Lubis said he was questioning the parties that were frightened by Ulama III ijtima. Without mentioning who it means, he said that ulama ijtima is a forum for action.
"If there are people who are frightened of Ulemy's ijtima, it's weird. The priests want it deliberately, they're afraid, they're banned. What's going on," said Shobri.
Shobri said there was no party to ban the public from discussing. He said the act was guaranteed by law.
"Let's say someone wants a demonstration later. It's also guaranteed by our law. What should be afraid?"
More than that, he stressed that the movement carried out by the ulama would not come out of the constitution, although it included many masses.
"So don't worry, but if you're afraid, maybe the criminals will be afraid. It's natural," he said. (jps / osc)