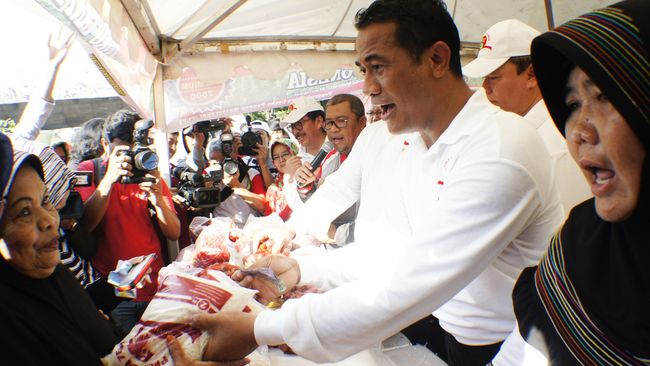 Jakarta, CNN Indonesia – Department of Agriculture (Kementan) claims a price increase rice medium quality is an anomaly because the stocks of rice in the warehouse belong to Perum Public Logistics Agency (Bulog) and the Cipinang Rice Main Market (PIBC) is considered sufficient.
The PIBC Administrator has in fact revealed that most of the rice deliveries in the main market or 80% are premium quality rice. The rest is only medium rice or only 20 percent.
Agriculture Minister Amran insisted that there is no reason for vendors to raise the price of medium-quality rice as a premium for rice. Amran said that the existing stocks of rice at PIBC are 50 thousand tons and Bulog is 2.7 million tons.
"The stock of 50,000 tons is more than enough, usually a standard of 20,000 tons, so there's no reason to increase prices," Amran said on Thursday (11/8).
According to the Amran price, the price of medium-quality rice is still around 8,500 Rp per kilogram (kg). In addition, the upcoming harvest period in January 2019 will also increase rice stocks.
At the same occasion, Arief Director Asp Prasetyo Adi of PIBC revealed that rice supplies are still relatively stable, especially in DKI Jakarta. However, most rice supplies are of high quality rice or up to 80 percent. This means that there are only 20 percent of medium rice in the PIBC.
In order to anticipate rising rice prices, the PIBC coordinates with the Ministry of Agriculture, the National Logistics Agency and the Ministry of Commerce the Market Operations (OP).
"This is not a production problem, there are no shortcomings," Arief said.
Previously, Arief admitted that the price of medium rice in the PIBC affected IDR 9,200 per kg. In fact, it is only Rp.8,600-Rp8,700 per kg. A supporting letter for medium spraying of rice was also delivered to the State Logistics Agency and the process arrived at the Ministry of Commerce.
Meanwhile, with reference to data from the Central Statistics Agency (BPS), in October 2018, the wholesale rice price increased by 0.22 percent and retail rice rose by 0.24 percent. This is consistent with a 0.98 percent increase in the price of harvested dry cereals (GKP) and a 1.26 percent price of ground dry rice (GKG).
(aud / lav)