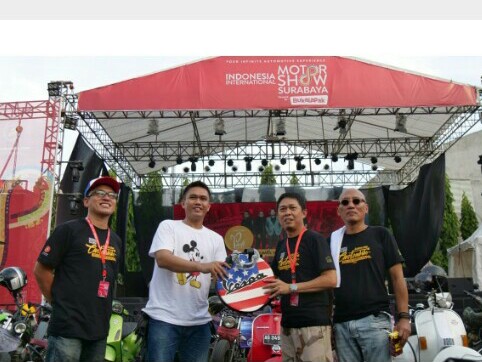 mobilinanews (Surabaya) – This weekend IIMS Surabaya 2018powered by Bukalapak is visited by lovers of cars and young families.
Not only do they search for the latest products and latest technologies, but also search for secondary needs, such as accessories.
Given that the IIMS Surabaya 2018 is also a new forum and activity for the creative economy industry, especially in the automotive industry, which attracts visitors.
Attractive promos are not just given brands only cars and motorcycles, accessories, as well as attractive promos.
In addition, HD Auto Film provides a 55% discount on maintenance with a 7-year warranty.
Minicon is extraelectronic power wagon, providing excellent products that can stabilize the car's tension and a 10-year warranty.
Rally RC, in collaboration with RC Rally Sahabat Kogu, invited visitors to the IIMS Surabaya 2018 to feel the excitement of the RC drift.
In addition, visitors can also learnSafe intelligent ride provided by McEasy Smart Tracker.
No less interesting, present at Share a session, Dwi Prasetyo of Customland, who participated in his own culture, was the fruit of industrial revolution, modernism and postmodernism, and Rich Richie's Eko told the beginning of how he designed and modified the bike café racer belongs to Gibran Rakabuming Raku, the eldest son of President Joko Widod.
As part of the Heroes Day, Im Garage also revived IIMS Surabaya 2018, with a programCoffee and riding.
Steam bikers startrally by taking coffee together at HRC Muhammad rally and complete at IIMS Surabaya 2018, in Grand City Surabaya.
Arrival bikers at IIMS Surabaya 2018, enjoying the introduction of community bands and DJ Febian. Along with the fun at the IIMS Stage, Holyvape began Christmas Competition for lovers of vapors.
This competition is judged by the thickness of smoke generated by steam.
At night startup from McEasySmart Tracker which represents technology smart tracker For motors that provide superiority, they can protect the engine from theft and have GPS devices.
OtoVlog competition continues from the first day and the winner will be selected on the last day.
Not only does it show the superiority of its products, brands–brands IIMS Surabaya 2018 participants also gaveentertainment in each of their regions.
Just like today's DFSK, which has entertained visitors with the performance of one of the bands in Surabaya.
Do not miss Datsun, Suzuki, Toyota, Tata Motors and MTF also entertain visitors and share some direct gift, the exhibition closes by the end of the hour.
"As the IIMS Surabaya 2018 differs from other car shows, it is in addition to the excellent production exhibitions of everyone brands, visitors and car lovers can also enjoy and winexperiences directly with various programs and entertainment programs from the first day to the last day, "said Tofani Blue, Branch Manager PT Dyandra Promosindo.
At the end of the event, Sunday, IIMS Surabaya 2018 will be open from 10:00 to 22:00 WIB with a ticket price of 25,000 RPS for regular tickets and 70,000 RPS for tickets.family package.
With a number of programs that will revive IIMS Surabaya 2018, such as the Heroes of TrafficAuto Gathering), Rally RC, Christmas Competition, winner announcementOtoVlog competition and Indonesian exhibitions and exhibitions Custombike(ICEC), as well as Night Awards for IIMS Surabaya 2018 participants (BS)