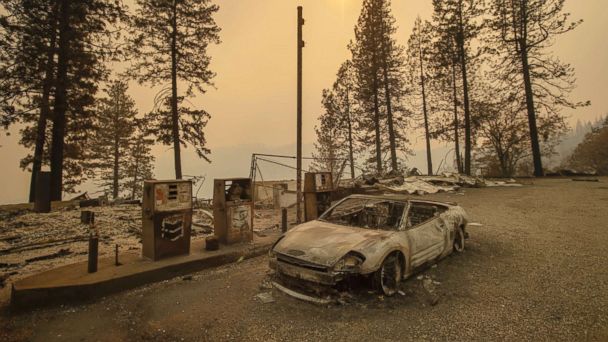 It's Tuesday, November 13, 2018. Thank you for choosing to start here.
Camp Fire killed at least 42
The number of casualties is rising as fires all over California burn thousands of homes on the ground.
More than 200 people lost after Camp Fire, which ravaged Butte County in northern California, compared the city of Paradise and claimed the lives of at least 42 people. Fire is the darkest and most destructive in state history.
We spoke to Melissa Schuster, a member of the city council, who fled the fire and destroyed her home.
"Within a few minutes," he remembers, "everything was black, it was darker than every midnight I ever came up with.
2. The Democrats gathered the seat of the Senate in Arizona
Democrat Kyrsten Sinema defeated Republican Martha McSally to become the first Arizona senator.
Sinema set up an uninterrupted lead in the race during the long state process to count ballot papers. On Sunday, 200,000 votes were counted.
"The Democrats had a fairly good election night, they had a very good week since then, and Arizona is a bit of icing on the cake," says Rick Klein, political director of ABC News.
McSally called Sinem last night and wished in the video "to be successful when he represents Arizona in the Senate."
Sinema, who will be followed by Republican Senator Jeff Flake, has called for a bipartisan in a winning speech, quoting late senator John McCain.
3. Israel and the Palestinians exchange lethal attacks
An inadequate Israeli intelligence operation triggered an escalation of attacks in Gaza after 10 Palestinian militants, including the Hamas military leader and one Israeli officer, were killed.
Palestinians fired hundreds of rockets from Gaza to Israel, and the Iron Dome missile defense system captured many Israeli troops. Israel remembered the air attacks.
"Hamas is currently avenging," says Jordan Miller, director of ABC News, based in Jerusalem. "It's their kind of compensation by racking down the rockets down to southern Israel. The question is, how much do they accept?"
4. Stan Lee dies in the 95s
Stan Lee, the superhero for Marvel Comics, died in 95.
From "The Fantastic Four" and "The Avengers" to "The Amazing Spider-Man" and "X-Men," a comic legend has brought a diverse group of heroes to life.
Michael Rothman, dedicated to culture and entertainment, reflects Marvel's long career.
Other news:
"I do not know what they will charge me": Former head of Washington, Infowars, told ABC News that he expects to be accused of a Russian probe by Robert Mueller.
"When we talk about sexual assault, words really matter": Uber announces a new system of sexual abuse.
"Tens of thousands of additional jobs and tens of billions of dollars": Amazon is expected to officially announce the location of HQ2 today.
"If he invited me to hang in public, I would first of all: The white candidate in a special election run in Mississippi says something that many people, including her African-American opponent, do not like.
From our partners on FiveThirtyEight:
We are tracking undetermined medium-term races
Last Nightline & # 39 ;:
California residents describe the loss, horrific leaks from deadly fires: Two massive fires killed at least 44 people and destroyed thousands of homes as depleted firefighters who fought against the containment sections.
An Incredible Link to Stan Lee: Marvel's former editor-in-chief and creator of beloved characters, including Spider-Man, Iron Man, X-Men and others, died at the age of 95.
Today in History:
13 November 2015 – Terrorist attacks in Paris.
Must See Photo:
Burned wagons can be seen on the side of the road in Paradise, California, after Camp Fire ripped the area. (photo credit: Josh Edelson / AFP / Getty Images)
For more great photos from all over the world, click HERE.
Hot on social:
This time zone shows the destructive Woolsey Fire spreading to Malibu, as seen on Venice Beach, about 20 kilometers away.
Okay, you're gone and you're running. You can always get the latest news on ABCNews.com and ABC News. For details on how to subscribe to a "Start Here" podcast, please see below. See you tomorrow!
"Start Here" is the flagship podcast from ABC News – a direct look at the best stories of the day in 20 minutes. Listen to Apple podcasts, podcasts, iHeartRadio, Spotify, Stitcher, TuneIn or ABC News for free every day. On Amazon Echo, ask Alex to play "Start Here Here" or add "Start Here" to your Flash Briefing. Watch @StartHereABC on Twitter, Facebook and Instagram for exclusive content, updates, and more.
Source link