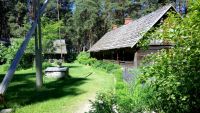 May 1 from 12.00 to 14.00 Latvian ethnographic open-air museums invite you to open the summer season. Also this year, in the museum, after long winter sleep, the buildings open to visitors, living craftsmen return to their fences, gardens begin to fill the first shoots and flowers and forests of bird trolls. This summer, we will celebrate mainly a two-storey barn built in 1819, and since 1971 it has been celebrated by Faron Fareli Deli Livonian Fisherman and celebrates his two hundred birthday.
A tribute to the barn and its beginnings this year will take place in the Liv building. The celebration of the museum begins with the Liv Livs "Līvlist" in Liv. When the songs are sung and this year's hammer – Liv Fisherman's Farmer Farm – has been visited, museum historian Iris Priedīte tells all those interested in the Liv Livs formation and various evidence of Liv's material culture in the open-air museum. The event will also be welcomed by Ieva Ernstreite, Union leader Livs.
During the celebrations we will also take care of the gourmets – Liv House hostess respects the guests with various Liv treats.