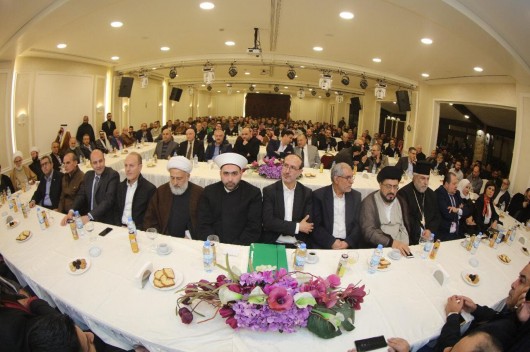 Representatives of Archbishop Joseph Moawad, Issam Darwish, and Antonius Al-Suri, representing Al-Marda's faction leader, "Suleiman Franjieh, clergy and activists.
Sheikh Ahmed Al-Qattan, President of the Assembly, stressed that "the conspirator of the resistance movement in Lebanon, Hezbollah is the one who plotted against Palestine and the resistance movement in Palestine."
"We want a government of resistance, a government that will not accept the foreign minister of the Zionist enemy, we want the resistance and resistance government to be strengthened," he said. The era of President Michel Aouna, we want a government of national unity that sees people's concerns, we fulfill slogans and full words and speeches. "
MP Moussawi further stressed that "Hezbollah's position with Sunni independent agents is not based on Sunni and Shiite but based on what has emerged from the results of the Proportional Elections Act," he said, "I refuse to name the Sunni node as a node, it is correct to represent people It is said that the node that defends and says that there are those who are harassing is rightly acquired that they have the right to fulfill and have the right that they give or forgive or prove, and we have determined that, what remains and proved.
President Sheikh Ali Khatib, President of the Supreme Islamic Shiite Council, "needs to make further efforts to prevent what the enemy is planning on a Palestinian issue, in particular the so-called century-and-homeland agreement," and urged "to hurry to take over the government to has fulfilled its obligations to revive the economy and has brought the country out of trouble;
Source: National Media Agency