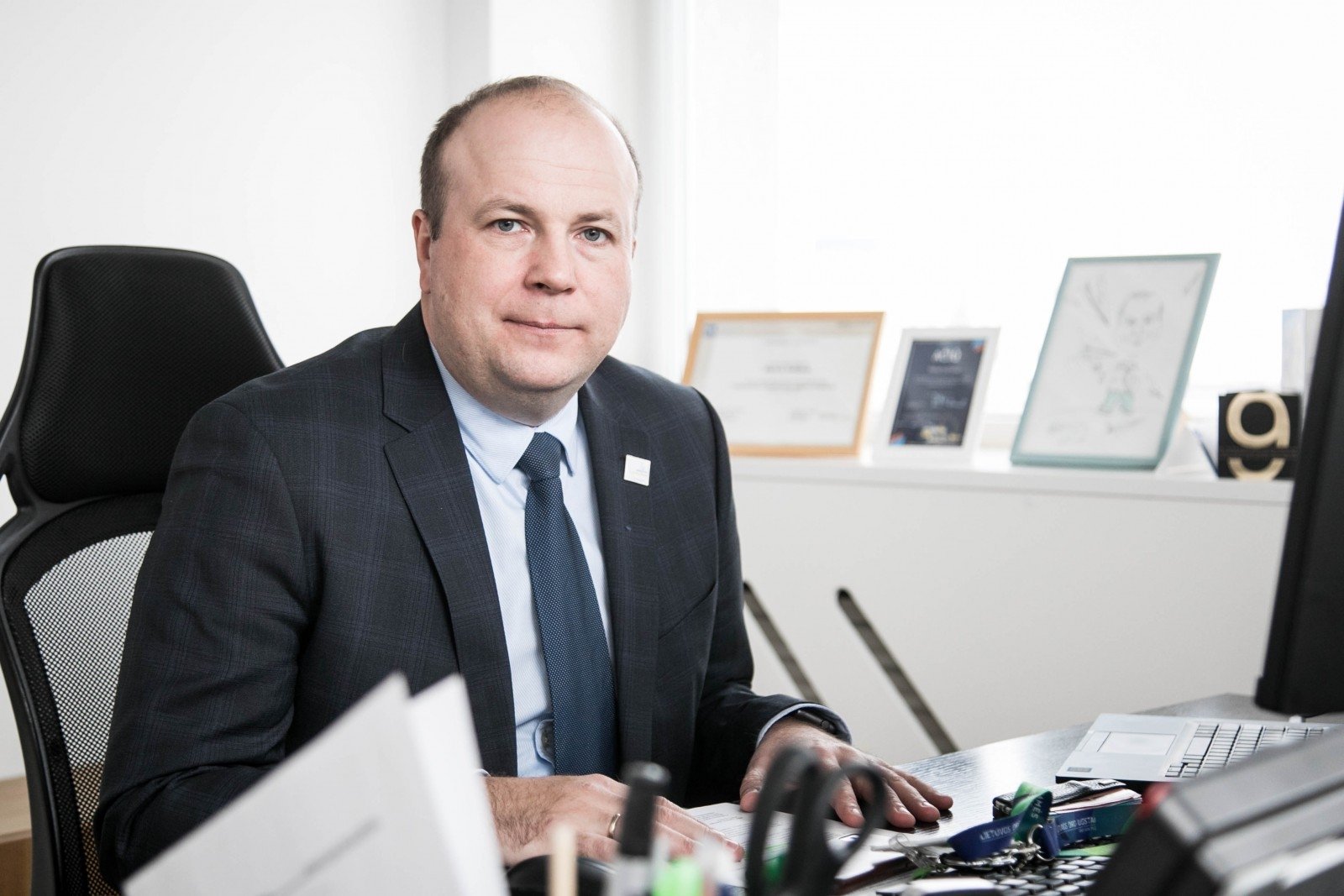 Marius Gelzinis, managing director of the Lithuanian airports, said in an interview with the DELFI delegation on how to prepare for the reconstruction of three existing airports in Lithuania, where there could be a national airport, what airlines and which directions are being discussed and what effect Brexit will have on flights.
– Let's talk about the plans for the reconstruction first. As for Vilnius Airport, what are the future plans for the reconstruction?
– Reconstruction of Vilnius consists of several stages. Now we have started to set up business zones in an existing terminal, then a new terminal T4 will be added to the existing terminal, which will be dedicated to the departure of passengers only. We will also manage access to the airport, ensure all traffic in and around the airport. Due to the increase in the number of passengers and the number of melters, access to public transport is needed.
– Keep in mind that short stops, parking will be restructured?
– Yes, both transport and parking sites are in the third phase of the reconstruction to be launched in 2020. Depending on how suppliers work, the entire project should be completed in 2021.
– Vilnius Airport is expanding, is a new terminal being added or can it be understood that the airport is the main airport of the country?
– Not that it is expanding, it is adapted to the needs. At present, demand in all three sectors exceeds supply. Given that Vilnius, Kaunas and Palanga airports were planned for a much smaller number of passengers. During this year, the number of passengers was 19 percent. has grown, and with the growth of the next year, there is such a demand that we can not do anything anymore. We need to expand to increase infrastructure for current demand.
– Do airport terminals Kaunas and Palanga expand?
– Palanga is the smallest airport, so the smallest. It plans to invest in the runway, since it has been over 15 years since it was not repaired, and the demonstrations of the cores already show that a few years later, Palanga Airport may be, but other erosion will do its own. It needs to be reconstructed to avoid the eye. It's not a big revision of the size that was in Vilnius, it's a cosmetic correction, but you have to do that. Also, the Palanga terminal itself was adapted to 300,000. now we have about 316 thousand passengers. passengers per year. Especially when two years, or God forbid, three by one, everything – the passengers are upset. So we think we need to increase the terminal by several square meters.
We may expand the terminal in Kaunas. We will try to adapt the terminal to 2 million. passengers because 800,000 were built. we already have 1 million passengers. passengers per year. We see that the number of passengers in Kaunas will continue to grow and therefore we want to adapt it.
At the time of construction, it was planned that Vilnius Airport would receive 3.5 million. and now we have 4.8 million passengers. passengers per year. We predict that we can freely spend 6-7 million. the passenger serves after completion of the reconstruction.
– When to renovate the Palanga and Kaunas airports?
– In practice, all three branches of the forecast will be in 2019, go to technical conditions, procurement, and by the end of this year or by 2020. We will have a supplier. We plan the reconstruction of the airplane at Palanga Airport in 2020 and at the airport terminal in Kaunas in 2021. This price is not yet clear as we still design and decide how much it could cost. Other projects at airports will cost more or less one or the other, for example, the repair of the Palanga track costs about 10-11 million. EUR.
– We are talking about the reconstruction of three airports, there will be plenty of investment. Does that mean that the objections to the national airport are rejected?
– These ideas are undeniable, they are constantly working. If you are talking about a new airport, we will not have at least 10-15 years. Let's say it's all 10-15 years of all other airports, the face of Lithuania itself may not look bad. During this time, we will have to be modern, innovative, beautiful, attractive, so that our passengers will not pick other airports that will not fly from Riga or Warsaw. We have to adapt because the number of passengers is growing and they can start running at other airports.
There are not many free zones in Lithuania that would suit the airport, but several options were considered. Many of them feature the name Elektrėnai. It would be advantageous between Vilnius and Kaunas.
Marius Gelžinis
– That's an idea, but are there specific projects or is there an exact location?
– Together with the Ministry of Transport and Communications, we commissioned studies where there were several places where we could be. There are not many free zones in Lithuania that would suit the airport, but several options were considered. Many of them feature the name Elektrėnai. It would be advantageous between Vilnius and Kaunas. It was and was around Vilnius.
In any case, it should cover the needs of Vilnius and Kaunas. The idea must be sold. We are currently working very intensely with the Ministry of Transport and Communications to accept this idea and help it to realize it. We are ready for every step. We are not limited to languages. Every scenario we have accepted would be ready for long-term development.
– Green light just from the ministry?
– First, the ministry and then the government. We are not yet on the table with final finalization, with the questions coming, we hope to answer as soon as possible all the questions: design, infrastructure, financial. This work is happening.
– As far as the reconstruction is concerned, you mentioned the adaptation for an increasing number of passengers, but the last news was disappointing. This is why Wizz Air has decided to cancel five routes from Vilnius Airport. What impact will it have on the airport?
– It is a continuous process – one direction opens, another is approaching. Similarly, Wizz Air looked at and calculated that the most unprofitable direction was closing, and we are now discussing the opening of other directions. Not necessarily 100 percent, the same airline will change the same five directions to other directions.
For example, Wizz Air is flying to Stockholm, while Norway has increased its number of flights. It's been years.
– Was it really because the flight was unprofitable, the passengers were not gathered, or they were airport charges? Because several years ago, the company said that Vilnius airport is increasing taxes.
– It is known that airlines would like to fly to a zero-rate airport. However, I believe we have demonstrated why these fees do not differ. They saw that for the second consecutive year the tolls have not changed, they have seen stability and we are trying to secure them at all Lithuanian airports so there is no upward and downward price. Stability is essential for airlines to plan their pricing over a long period of time.
– What is the exact price?
– Airport fees are usually around 7-10%. airlines. Another part includes fuel costs (approximately 50%), maintenance of aircraft (approximately 25%) and other variable costs such as crew salaries, rent, etc. (about 15%) There are two taxes, landing fees and passenger transport. For example, in Vilnius, non-transferable personal flights are subject to a tax of EUR 8.03.
– If Wizz Air reduces the choice of directions, can it be said that Ryanair is flying in Lithuania and becoming the leading airline?
– Ryanair is more oriented to the north and south, Wizz Air is more east-west. It is not necessarily a fight for every flight. It is not so that one issues and the other attracts.
– You mentioned that you are dealing with other airlines. Was it Wizz Air's solution – five directions are no longer needed?
– When we receive such information, we will immediately try to tell other carriers that the market is coming up and that if they fly to those airports, you see the potential and they are free, you can take it. In the case of Stockholm, Norwegian appeared immediately, the question of the airport in Rome is also running on Ryanair and I have no doubt that it will increase the number of flights. From April, flights to Tbilisi will start with Georgian Airways, talk to EasyJet and Eurowings.
Where most of EasyJet's development, Italy, France, Switzerland and can be agreed here. The largest expansion and base of Eurowings is in Germany, where it is also possible to provide flights in these countries.
Marius Gelžinis
– What are the directions?
– Where EasyJet makes the most developments, Italy, France, Switzerland, here can be agreed. The largest expansion and base of Eurowings is in Germany, where it is also possible to provide flights in these countries.
We are trying to revise the instructions that Wizz Air has removed. We would also like to add a new connection to both Switzerland and France. This is an ongoing process of negotiation.
– Do you have any knowledge that the airline is about to reduce the offer?
– Not at this moment. But I say business is alive, very sensitive, and the company seems to be running smoothly, and next week it will be bankruptcy.
– How is the reverse flight process: inform you in advance and try to negotiate the terms, or do you know only the decision?
– Mostly simply indicate their numbers and, for example, if the list is one hundred and Vilnius airport is the lowest in terms of profitability, then the manager defines the brand and removes these flights.
All negotiations take place before the direction is opened and, of course, if the airport provides one or the other support, it is valid for some time, and something new is not always possible.
– The small bankruptcy of Planet Airlines is likely to lead to a significant loss for the industry itself, but how much will be affected in real terms by the airport and the passengers?
– It's a shame because it's a Lithuanian society. But it's just unfortunate about it. Its location was immediately occupied by another airline, and passengers would not feel it. The charter of airlines is not a product maker. For us, it is more important that there are strong travel agencies in Lithuania that organize these excursions. It is important that we have either our own or indeed large, big travel agencies that organize trips because they order aircraft and then travel. Completely without loss.
– Last year, Small Planet Airlines had problems with the fact that flights were often delayed as if the aircraft were missing. How do you think this problem will now be solved or is it ready for a new holiday season?
– Not so many aircraft, but perhaps many markets are predicted. This new company, which has replaced Small Planet Airlines, is not concerned by Germany, Poland, Cambodia. They work exclusively on this market, they are miserable. Now there is always a replacement aircraft standing. GetJet is a new company that will surely be a great challenge for them, but so far it shows that it is very well managed.
– Vilnius airport is likely to compete with Riga airport. Do you feel tension and competition?
– We are forced to compete with Riga because they are neighbors and we can cope. We really compete with airports around the world because airlines are deciding on a huge airport network plan. A few years ago, when I was working at Palanga Airport, I mentioned an example of competing with a flight to Lisbon-London on a flight to Palanga-London. There is Palanga, where Lisbon is. We seem to compete with Riga, maybe with Talin or Minsk, but in fact with everyone, because there are no lakes, forests and the sea in the air. It is important that they profit and watch where they can get the most profit, fly there. In order to increase this gain, it is not enough to have a full aircraft, which is why the ministry, regions, municipalities, other companies that could contribute to flight support are paying for it. I'm glad to hear it for 2-3 years and it's not just a matter of ministry or airport. The first Klaipeda region began with the involvement of flights from Palanga to London, Dortmund. Kaunas, Vilnius, Lithuania Invest, etc. They are equally involved.
– Which new directions will be supported this year?
– Our program consists of several aspects. One direction from the Ministry of Transport is supported. Then we have our own network promotional program. For example, if the airline operates all three branches, a certain amount of passenger transportation charges will be refunded. Eventually, what matters to the region or municipality is to find a certain amount of money and support. This year, she received support from the city of Kaunas in Turku, Finland, Palanga – Dortmund and London, Vilnius – Tbilisi and London. London flights will be operated by LOT Polish Airlines twice a day. If Brexit does not mix all the cards, we will have a direct flight for business customers since May.
– Have any previously been instructed how survives Astana or St. Petersburg?
– No longer supported because this support is a flight introduction. If it turns out to be hopeless, it is off, and if it's profitable, support means to help get out of flight and later headaches to support the company.
They are determined to stay on average for up to three years. You have to look again at each case, whether it's support, or the whole package or just a part. Tbilisi and London, and for three years they have committed not to stop.
– Are there directions to be supported already in 2020?
– There's a look ahead, but now I could not name directions. Negotiations on the new direction take up to two years, not simple work, meetings, talk, week two, and opening. These things are tied up in advance of a year or two.
– Priority is Europe, financial centers or other directions such as Singapore?
– Of course, we focus on what we have and what we have, and we also talk to Middle Eastern companies in China. We hear what carriers want to do in these directions. They have a basic requirement to have a certain number of passengers. As for China or the USA, it should be secured from 70 thousand. passengers per year. It is 4-5 flights a week, 300 flights and full.
What do we hear from American carriers that they are not interested in flying our Lithuanian, is it important to force the American to fly and how to attract? Summer is good and how cold is it? And no company can make a seasonal flight. Like China. There are 70,000. the boundary from which the passengers begin. The example of Prague Airport has invested in marketing in China five years ago, starting with applications, advertising on Facebook, posters, etc. Five years later Chinese carriers have pointed out to Prague, they started to fly, then the passengers and so on.
– But does that mean that Lithuania can never expect such directions because of its size?
– Language never said. Maybe we could share with the other Baltic states, let's say some have New York, others have China, and so on. But to make everything from Lithuania, I do not know how we should try out of these 3 million. Become 6 million or more.
– Does it consider cooperation with other Baltic States?
– There are no such languages ​​yet, everyone looks at their own. It may not be necessary to cooperate here, but it is time to show this idea to air carriers and to show them that they will be able to attract the whole market and choose one or the other airport for that direction.
– AirBaltic is often cited as a success at Riga Airport. Does it not help you to think that your national carrier should be in Lithuania?
-This is practically 20 percent. the difference between passengers. Riga wins the number of passengers ahead of us, precisely because of the passenger who is collecting. Yes, a basic carrier would bring more added value, and it would also be possible to direct the state to pursue certain directions, focusing on the tendency to support the directions needed for the citizens of the states. This would be useful, but sometimes the need for a national and a basic carrier is confused. I would say that the parent carrier that keeps its aircraft is more important because one aircraft can generate more than several hundred thousand passengers a year. So it's important for the aircraft to actually be established here.
The national carrier is a controversial thing we hope to achieve. If the state was ready to allocate a certain budget and support certain directions, it is different models when the state intervenes in the activities of the airline. Examples show that projects are not very successful. This is an Estonian example with Nordic in Iceland.
– Have you noticed that if AirBaltic is planning a new direction, is it exactly what you plan on at Riga Airport?
– Yes, they are, of course, their basis and they are doing a double policy: from point to point and the "center" of politics.
– What are your other cast iron predictions?
– Growth will take place in 2019 and stagnation may occur at the end of the year. But not yet.
– You say stagnation at the end of the year. Why?
– It's just a forecast. We rely on external resources to see it. World trade slows somewhat, and all the external factors that happen in the world with the economy indicate that maybe everyone will go into the austerity regime, travel less. There is no need to understand that it will be minus immediately. Only grows, instead of 6-7 percent. growth will be 3%. growth. It will affect the growth of fuel prices, fear of the crisis, that we are supposed to be in pike and something must happen. These things stop some people.
– Will the airline fail to reduce its speed, which means reducing the number of directions?
– They will optimize. Maybe it will have some non-profit directions. Perhaps smaller aircraft will fly with larger aircraft and the number of passengers will not change.
– How can Brexit in Lithuania affect aviation and aviation?
– It depends on what the script will be. If there is no agreement, it will not be clear what is valid and what is not. This is the worst case scenario.
We hope that airlines will process their papers, papers and no interventions in their operations. They may have problems with flights to third countries. For example, it can be more difficult from the same London to Morocco. But here we can get the benefits.
Marius Gelžinis
– Is it possible to stop full-time flights between Lithuania and England?
– Maybe for a short time and it may be. We hope that airlines will process their papers, papers and no interventions in their operations. They may have problems with flights to third countries. For example, it can be more difficult from the same London to Morocco. But here we can get the benefits. Maybe we are not going there, we think we will go back to Europe for more flights.
– During the conversation, you have emphasized that airlines will cancel flights that are unprofitable. Are you looking for the cheapest flights from Lithuania and can you name them?
– We are tracking, but I could not name it at the moment (later precise instructions are not given due to a confidentiality agreement – DELFI). Let's take a look at why there is a small burden or why it's getting better. Usually, if you do not fill the plane, it will disappear.
These are the airlines own business, have their own sales system, marketing systems. We ask what we can do, but that "I know" is how to develop a business. We see how one or other company does, let's say we will accept one or another example, but here are their affairs how they make decisions.
– Will the number of limited airplanes be reduced by the fact that Wizz Air has reduced the number of routes?
– Wizz Air is the only aircraft.
– And other airlines increase or decrease the number of aircraft in Lithuania?
– So far, everything is stable. Ryanair is also stable. It is very important that we set up our planes because, as I said, it generates about a few hundred thousand. passengers per year.
– Thanks for the interview.
It is strictly forbidden to use the information published by DELFI on other websites, in the media or elsewhere, or to distribute our material in any form without consent and if DELFI is received, it is necessary to enter DELFI as the source.