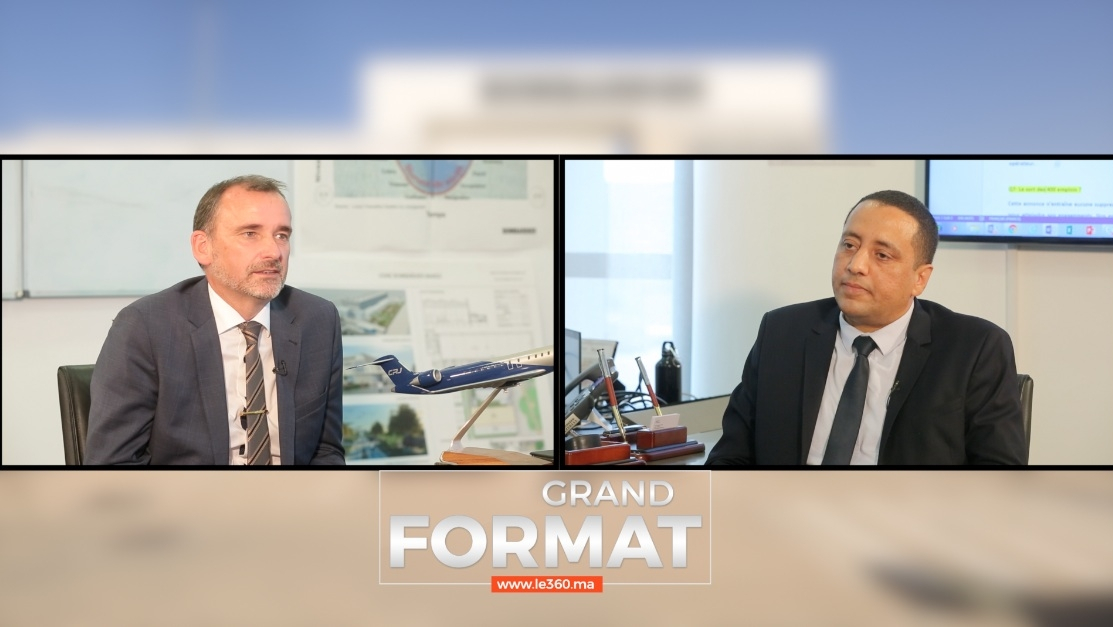 In this exclusive interview with Le360 Stephen Orr, Vice President and CEO of Bombardier Morocco, talks about the future of the Casablanca factory after its sale by the aircraft manufacturer, the fate of its 400 employees, commitments with the government, etc. Point in this large format.
"Bombardier leaves Morocco or Northern Ireland". It was with these last words that Stephen Orr, Bombardier Maroc's Vice President and Chief Executive Officer, wanted to respond to the flood of comments caused by the announcement on Thursday, May 2, of the sale of Canadian group air activities. Belfast (Northern Ireland) and Casablanca.
For its first release after this announcement, Bombardier Morocco has released an exclusive interview for large-format television, your talk show on Le360.
Stephen Orr is developing a new strategy for a Canadian aircraft manufacturer, now in financial trouble, whose recovery plan has reached its fourth year. Subsequently, Bombardier decided to consolidate its activities into two unique entities, Bombardier Transportation, which manufactures railway rolling stock and Bombardier Aviation, a new entity primarily focused on commercial aircraft. "To achieve this, we have decided to sell our aerostructures in Belfast and Casablanca locations in a single offer, with the intention of maintaining Bombardier products in both locations," says Stephen Orr.
Two factories in Casablanca (400 jobs) and Belfast (3600 jobs) will not be closed but will change ownership while continuing to feed the parent company.
"Bombardier and I are very pleased with our experience in Morocco. Under the leadership of His Majesty King Mohammed VI and the commitment of Moulay Hafid Elalamy, we have developed in a very favorable environment and under special conditions, "admits Stephen Orr. Government support was in line with the presence of specialized aeronautics education institutions and young, well-trained, talented and rapidly developing human capital, he added.
Another comparative advantage of the world's third largest aircraft manufacturer is the highly competitive Casablanca cost-of-production structure, which has helped economic capitals win together with Belfast. , a very important contract, that of the NEO A320 reverser (Airbus).
"Our presence in Morocco has allowed us to compete internationally. We want to continue developing our local supply chain to increase our competitiveness. Morocco will continue to play an important role in Bombardier's supply chain, "says Stephen Orr, for whom the development of Morocco's aviation is a sign that the kingdom has become a major player in the world. international.
Bombardier's CEO, Morocco, who asked about the Casablanca site buyer process, said his group had just announced its intention to release and that the process was still in its infancy.
"We will communicate as soon as the situation evolves. Given the size of these two locations in Casablanca and Belfast, the sales process will take a long time to find a responsible and serious buyer, "said Stephen Orr.
Industry and Trade Minister Moulay Hafid Elalamy said on a press conference on Monday, May 6, that a Canadian aircraft manufacturer had launched a call for proposals and the results would be within three weeks.
The responsible minister even revealed a list of industrialists interested in buying two factories in Bombardier. These are American Spirit (near Boeing), British GKN and Airbus.
Yesterday, Tuesday, May 14, Le 360 ​​learned that a Canadian investment fund called ONEX is also among the candidates interested in MidParc.
Asked about this, Stephen Orr, apparently bound by the confidentiality clause, did not confirm or deny this information. We will not learn more about the nature of the new development project that Bombardier will entrust to the future subcontractor of Casablanca (in addition to the current activities and what is planned in the inverter contract). Neo).
Asked about the commitments made in the Memorandum signed with the Moroccan authorities in 2011 (850 jobs, $ 200 million in investments, etc.) Stephen Orr believes that "Bombardier has committed a strong commitment to Morocco and remains on track to achieve its goals and commitments. With ongoing projects, he says, goals will be met, whether with Bombardier or with another actor.
And about 400 jobs in Casablanca? A representative of a Canadian aircraft manufacturer in Morocco is reassuring: "The sale does not include any suppression or reduction in staffing. Our employees are reassured and we continue to work with them and our social partners as usual, "said Stephen Orr, who is very proud of his teams and their performance in this period of change. "When I say that our site is world class, it means we deliver our products with a very high quality standard, 100% on time and within our financial goals." In addition, we have exceeded 2 years without accident, "says Bombardier Vice President Morocco.
For Stephen Orr, former Bombardier World Senior Vice President, the sale of Casablanca is an opportunity. "The site is equipped with talented people who will continue to play an important role in Bombardier's supply chain. We believe that the decision to sell is an opportunity for both sides that deserves to be developed by the buyer to help us achieve our full growth potential, "he says.
The contract signed with Airbus on the A320 Neo reversal promises great prospects. "Belfast's site will support construction and production; instead of Morocco, "is specified.
One of the tasks entrusted to Stephen Orr during his appointment in 2014 at the helm of Bombardier Morocco was to create a local supplier ecosystem. The aerospace industry today has 140 equipment manufacturers with a local integration rate of 34%, a level that exceeds the industrial acceleration target of 30%. Bombardier at Casablanca uses 1,600 parts references from local suppliers, with integration rates slightly below 20%.
In this regard, Stephen Orr promises that the Canadian aircraft manufacturer will continue to develop [sa] to increase the local supply chain [son] integration rate ".