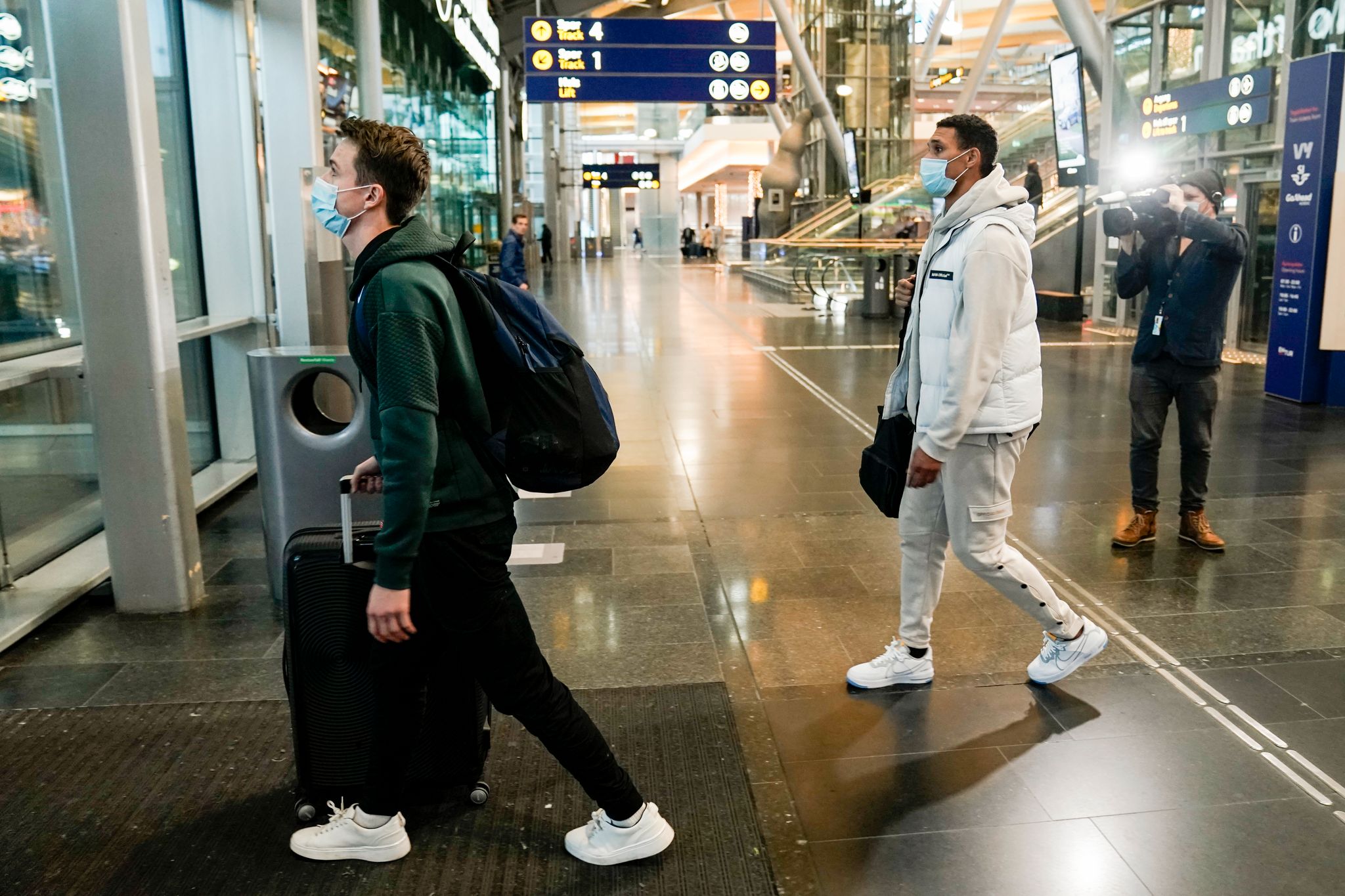 18 Norwegian players gathered at the airport hotel in Gardermoen. 13 of them have never played for national team A. On Tuesday they are going to Austria to win a football match for Norway.
Briefly about the case:
The original Norwegian national team was quarantined on Saturday after an infection on the Norwegian team.

As a result, they could not play League of Nations matches against Romania and Austria.

Now the NFF has formed a new team of 18 players who will meet Austria in Vienna on Wednesday.

With a victory with all numbers other than 1: 0, the "emergency national team" will ensure the victory of the Norwegian group. It could give Norway a World Cup playoffs.

Austria-Norway will be shown on TV 2 on Wednesday at 20.45.
---
On Monday morning is just over 11. Leif Gunnar Smerud has just been announced as the national team's substitute manager for the next 60 hours. Lars Lagerbäck was quarantined at home in Sweden.
The interim manager of the national team looks down at his laptop and reads the names shining on the screen:
Anders Kristiansen.
«Daniel Granli».
Veton Berisha.
– I'm sitting and looking at an Excel worksheet with many green frames. It was not given that this would be the case, he says a little funny.
They have more than 18 green names for Smerud's tables. There are also Tokmac Nguen, Thomas Rogne, Jo Inge Berget and many other Norwegian players with whom the Norwegian Football Association tried to contact from Sunday morning to late Sunday night.
Some were injured. Some club did not allow. Some refused for other reasons. In the end, however, Smerud was able to mark the eighteenth name green – and had a full-fledged national team.
also read
Big presentation: This is the Norwegian «national emergency team»
Travel rejection
It started to rain on Friday morning. The national team management was then informed that Omar Elabdellaoui had tested positive for covid-19.
It was supposed to be the beginning of one of the most dramatic weekends of the national team of all time. On Saturday, Gardermoen loaded luggage on the plane and the players were almost on their way to Romania. An hour before takeoff, the original Norwegian national team was denied. And so it was. The Norwegian health authorities were not completely vague in the report to the football association.
Consequence: The entire Norwegian national team unit is quarantined and has a joint travel denial.
Romania's match could be forgotten. In any case, they failed to test the new players within 48 hours before departure. But on Wednesday it was a new match with Austria.
So: Who will you call?
Smerud's hard work
Leif Gunnar Smerud and his under-21 team became the NFF Ghost busters in what for many felt more like science fiction than reality.
But it really was, and on Saturday night the phone came with a request:
"Can you imagine gathering a national team of Norwegian players abroad who are not part of today's national team for a match of Austria?"
It all happened so fast that the days for Smerud got worse, though what happened when. But a decision he needed at least a short time to think about.
– Then it was quite quick to get his team into rotation. Then there was the administration gang, where everyone did a great job, says Smerud.
"Team" means the national team of the Smerud U21 team, which has now grown in the ranks for a short time. Lars Lagerbäck was little involved in the process.
Big circle around
Smerud prepared a list of known and unknown names of the average Norwegian footballer. Now it was Smerud who scrolled through the list of contacts on the phone. Not to find ghosts, but potential players of the Norwegian national team.
A round of rounds all over Europe started on Sunday morning.
– It was hectic to get and bring a platoon, says Smerud.
For some players from the 18-member team, it was not so appropriate in the past that the NFF did not even have its own phone numbers. Therefore, among other things, former players of the national team were contacted at an age-specific level hunt for phone numbers.
– There are many small stories. It was a riddle. Small things, such as picking up football boots in countries with locks and curfews, posed challenges, says Smerud.
But the reaction of unlikely Norwegian representatives was positive. "Everyone" wanted to enter and help, but not everyone created the pieces of the puzzle.
– It was very nice to notice how the players reacted in a hectic situation, says Smerud.
On Sunday evening, he could watch a national team of 18 players. 13 of them are potential debutants.
However, getting players over the phone was not the only problem the NFF had to solve.
Then there was this testing …
One thing was that the players agreed to join and the clubs agreed to release them. Another thing was to make the whole operation purely practical.
– There were a lot of balls at once. Very many small and large obstacles, says Smerud.
Could the team meet in Austria? When did they have to be tested for viruses? What happens if one of the new players on the national team tests positive?
First, the NFF had to go back to page 10 of the UEFA protocol.
He says:
"Sampling and testing must take place before leaving the home country."
Players had to be tested in Norway first. And no later than Monday. At the same time, the current challenging corona situation in Austria makes it difficult to join from 11 different nations.
Now the NFF needed the green light from the Norwegian health authorities to fly home 17 foreign professionals for a day before they could fly on. They could breathe a sigh of relief as the thumb returned quickly. In the end, it was possible to book 18 tickets.
At 11pm on Sunday night, the puzzle was complete. In less than a day, the Austrian battle was saved.
The ongoing struggle against time
One by one, they appeared on Monday in the Arrivals Hall in Gardermoen to go directly to the airport hotel – in solitude – before the test results were available.
On Tuesday, a charter flight with 18 players will start from Gardermoen towards Vienna. Then several players meet for the first time. 20.45 On Wednesday evening he will play against Austria.
There, Leif Gunnar Smerud and his 18 selected players may become the most unlikely Norwegian football heroes in history.