2019-01-31
18:22
Piotr Koźmiński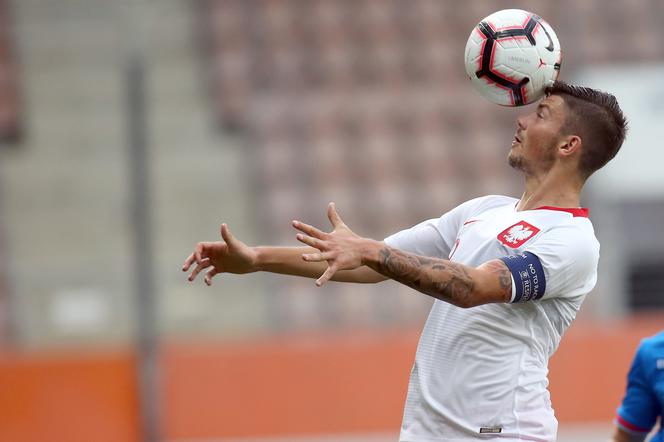 Dawid Kownacki (22 years old) breathed relief. At the last minute, just before the window shutdown, Polák was loaned from Sampdorka Genoa to Fortuna Düsseldorf and in the spring he would see him in the fields of the Bundesliga.
"Super Express": – Can you say that the last weeks have been most nervous in your career?
Dawid Kownacki: – It was so. I was nervous because I did not know what would happen to me. I wanted to leave for Fortune, but, as you know, the negotiations were very long. Fortunately we succeeded. And now the pressure dropped. I'm happy because I can now concentrate on the ball, just thinking about playing. That's what I meant …
– The transfer was announced at 16:55, an hour and five minutes before the closing of the Bundesliga circuit. Finally was he nervous?
– I'll say it: when I boarded an airplane from Milan to Düsseldorf yesterday at 18:00, I calmed down. I was sure nothing was wrong. Today, since the morning I passed the medical tests, of course I passed them without difficulty. Then we were waiting for the documents from Jan. The afternoons were signed and went to Fortuna. So the last few hours were not so nervous. It was even worse.
– Motivation to prove yourself, to prove something that will not be yours …
– There is not a lack of motivation, I'm very hungry for the game, but I have no intention of anyone to prove to anyone. I've been able to play soccer several times. For me, the most important thing is to show Fortune that it is worth believing in me. So they believed it was very constructive for me. I have missed a lack of trust recently in Genoa.
– On Saturday, Fortuna of Hoffenheim will play. Wystąpisz?
– I do not know yet. I spoke briefly today with the coach, but he has no decision yet. Tomorrow I have my first training with the team, to be sure I will find out after him. I think he is likely to appear on Wednesday in the German Cup with Schalk, but of course, if the coach wanted to take me to Hoffenheim, I am available.
– In the Loan Agreement, there is a possibility that if Fortuna wants to buy you, Sampdoria has the right to take countermeasures to buy …
– Such measures have been taken. But now I do not think so. I want to play again. I rely on Fortuna's coach and supporters. I want to show what I can do, and I'm calm because I can do a lot. The last time it was, as though it were, but let's forget it. There is a new challenge ahead of us, until the end of the season is too long, so you have to work and show off in good shape in the Bundesliga. And I'm so excited!
Source link