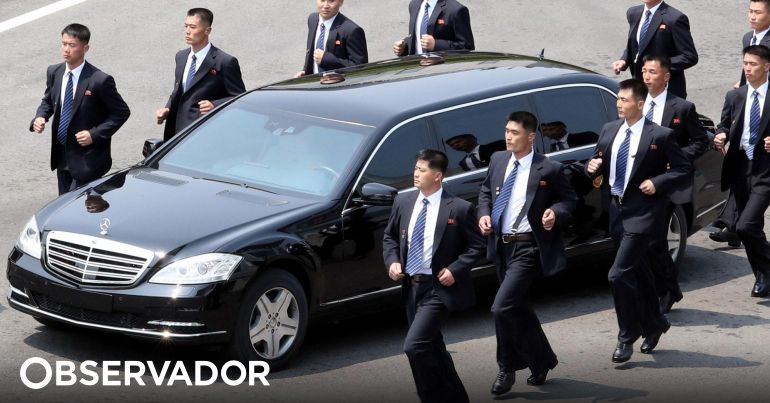 Kim Jong-un has a problem with cars. Like other world leaders, Mercedes limousines are also preferred, but unlike their colleagues, they cannot afford them in the usual way. This is because the embargo imposed by the US and the European Union on North Korea prevents manufacturers from exporting their vehicles there.
Last year, Kim Jong-Un was seen several times using Rolls-Royce Phantom Armor, one of the most expensive armored limousines on the market, in a country where revenue is per capita around $ 1,800, against 33,000 Portuguese.
However, at this year's visit to Russia, Kim appeared on the Mercedes Maybach S600 Pullman Guard, which is identical to Mercedes export worldwide, but not to North Korea. A new acquisition of the "great leader" has caused astonishment, similar to what happened to Phantom, which forced Daimler's spokesman Silke Mockert to say that "Mercedes has no idea how the vehicle went North Korea," he added that the German group wants "to respect the laws applicable when selling their vehicles ".
"With this country, we have been out of business for more than 15 years, and we have meticulously adhered to the embargoes adopted by the United States and the European Union, not only in relation to North Korea, but also to one of its embassies," Mockert said.
As to how Kim could get a limo, Daimler admits that he "cannot control the sale of used cars, let alone buying new vehicles by personally buying a person or a more creative method." That's why Kim Jong-Un continues to ride in a limousine, accompanied by a battalion of bodyguards in a racing step next to the vehicle.
Compare up to four, among all the cars available on the market, side by side.
Try it now
function loginGoogle(){ gapi.load('auth2', function () { auth2 = gapi.auth2.init({ client_id: '439313482366-dvdj8tsff9tpi5csb410roen1r9g3m5q.apps.googleusercontent.com', cookiepolicy: 'single_host_origin', }); auth2.signIn().then( function (googleUser) { onGoogleSignIn(googleUser) }, function (error) { console.error(JSON.stringify(error)); })
}); } var reautorize = false; function loginFacebook(){ settings = {scope: ["public_profile","email","user_friends"],return_scopes: true}; if(reautorize){ settings["auth_type"] = 'rerequest'; } if(!document.getElementById("fbsdk")){ //If not loaded, load now, and return now var fbsdk = document.createElement("script") fbsdk.id ="fbsdk" fbsdk.src="https://connect.facebook.net/pt_PT/sdk.js#xfbml=1&version=v3.2&appId=1388666054753245&autoLogAppEvents=1" fbsdk.setAttribute("onload","loginFacebook()") document.body.insertAdjacentElement("beforeend",fbsdk) return; } //if the function did not returned early, it means the script is already loaded FB.login(function (response) { if (response.authResponse) {
var res = response.authResponse; var s = res.grantedScopes.split(","); if(s.indexOf("email") < 0 || s.indexOf("public_profile") < 0 ) { reautorize = true; $("form").find(".error-text.general-error").html('Para prosseguir é obrigatório partilhar o seu endereço de email. Volte a tentar'); } else { // Get and display the user profile data*/ onFacebookLogin(response.authResponse.accessToken); } }else { console.log('User cancelled login or did not fully authorize.'); } }, settings); }
Source link