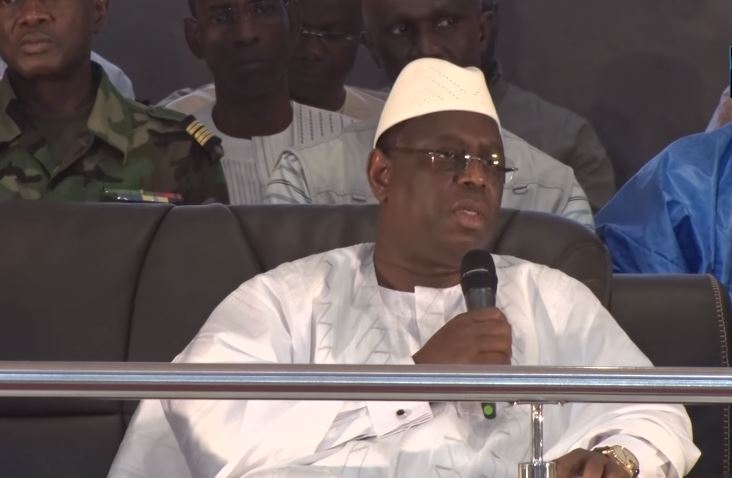 President Macky Sall reaffirmed his willingness to support Muslim fraternity and Islam on Wednesday in Tivaouan if he is in business, APS noted.
A visit to a religious city, as a prelude to the Gamma celebration commemorating the birth of Prophet Muhammad (PSL), Macky Sall, accompanied by his wife Marième Faye Sall and Delegation of Ministers, Prime Minister Mahamad Boun Abdallah Dionne, headed by deputies, Enger Others, arrived shortly after 18 hours in the auditorium complex that you realized.
, 'I reaffirm my intention to support fraternity and Islam as long as I am there"He said in Wolof, the head of state in a packed house, built as part of his program of modernizing religious towns.
The President also announced further works in Tivaouan and other religious cities in the country without further details.
Regarding the Gamas arrangement scheduled for Sunday, the head of state noted that the government is doing everything in its power to meet all the organization-related needs expressed by the Caliph of Tidianes.
These requests are intended to satisfy the believers who arrive in Tivaouan and not the Caliph, he said, not without the wish of khalifa Mbaye Sy Mansour to bring happiness to the Tidian Brotherhood, the time he spends on his head.
Macky Sall took part in the event's celebration to give tribute to the predecessors of the current Caliph, the late Abdul Aziz Sy Al Amin, whose praise was praised. He emphasized the special mobilization caused by the Maouloud celebration in Senegal, whose name in this country is associated with the name of Tivaouan.
Kalif Tidianes, who had several members of his family at his side, told the president that he was happy with all he had done to Tivaouane and the realization of this flagship in Elhadji. Malick Sy, who popularized Gama.
He prayed for the lasting peace that makes Senegal famous, calling everyone to work in this direction, cultivating a sense of respect for others, humility and forgiveness.
, 'Senegal knew only charity ""He said, he believed that whatever would happen," "the property will not leave Senegal"Due to the deeds of his devout ancestors.
Kalifa's spokesman, Pope Malick Sy, has been told by him that there are solutions in the country that refer to invasions, defamation, murder, and mistrust.
, 'Peace is words and deeds"" However, he said a tidiane religious guide, concluding his statement with a verse from the Qur'an to call attention to a court which, if it occurs, will not only have an unfavorable impact on the unjust among men.
APS
Source link