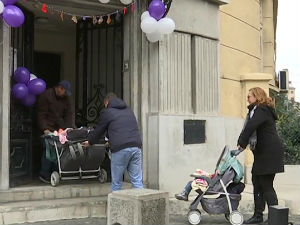 Little fighters and great heroes and their parents marked an important day at Belgrade's Neonatology Institute.
All other children born less than 1500 grams, treatment and daily struggle continue at the Neonatology Institute in Belgrade. Every year more than 900 children are cared for and there are 110 small fighters.
"I have to say that the smallest child was at the beginning of this year and that she had 350 grams, she went home and she is good, it is our shorter patient. The doctor progresses, the institute follows trends, educated staff, doctors and nurses, team work leads to amazing results, "says Katarina Lazić of the Institute of Neonatology.
Vera Bikicki Ivezić of the Mali div association says that more than 20 cities in Serbia this year will be light violet, in the color of prematurely born children because it is a color with bright incubators.
Every tenth or eleventh child in the world is ahead of time, so admission to the Department of Neonatology and Socks of Normal Size, but also small, to support small giants and great heroes.
Source link