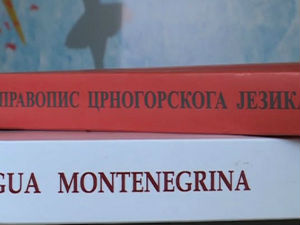 Lingvista Sanja Orlandic believes that language law is necessary for Montenegro because it should "specify what is defined as an official language in the constitution in relation to what is known as an official language," said RTCG.
Her colleague, linguist Rajko Glušica, says that "it is completely wrong to introduce some laws, regulations, orders, because restrictions, laws and penalties can not be achieved in the language."
Chairman of the Board of the Faculty of Montenegro and Literature, believes that the Montenegrin language law, as well as in all the regulated countries that have it, is also needed in Montenegro.
Asked what it means and what are the specific reasons why the Montenegrin language law is needed, Petrovic says, "Firstly, to properly regulate the issue of linguistic politics as an extremely important part of the overall state policy, developing Montenegrin culture as a culture, and ultimately avoids the negative process of language culture or better says non-culture. "
However, Orlandić mentions in the Slovenian language an example stating that a foreign name must also be named in the Slovenian language and that it should not be less visible than the name of the alien.
"Serbia has also imposed heavy fines on those who do not respect the use of Serbian and Cyrillic," says Orlandic.
Such solutions, some linguists, are considered alphabetical purges.
"Local police forces can order all Montenegrin citizens to travel," Glušic stressed, while Orlandic emphasized that the law would not require someone to use a jotted version of the Montenegrin language that is spell-regulated and where this is solved twice.
The Montenegrin language as an official is one of the fundamental constitutional determinants of identity.
"There should be no political question in Montenegro, but it is necessary to protect the Montenegrin language as much as possible, while language culture and awareness remain in the field of education," Orlandic said.
Whether the language is threatened or not, we should deal with its development and improvement because the intelligent state does not leave the language spontaneous, Orlandic concludes.
Source link