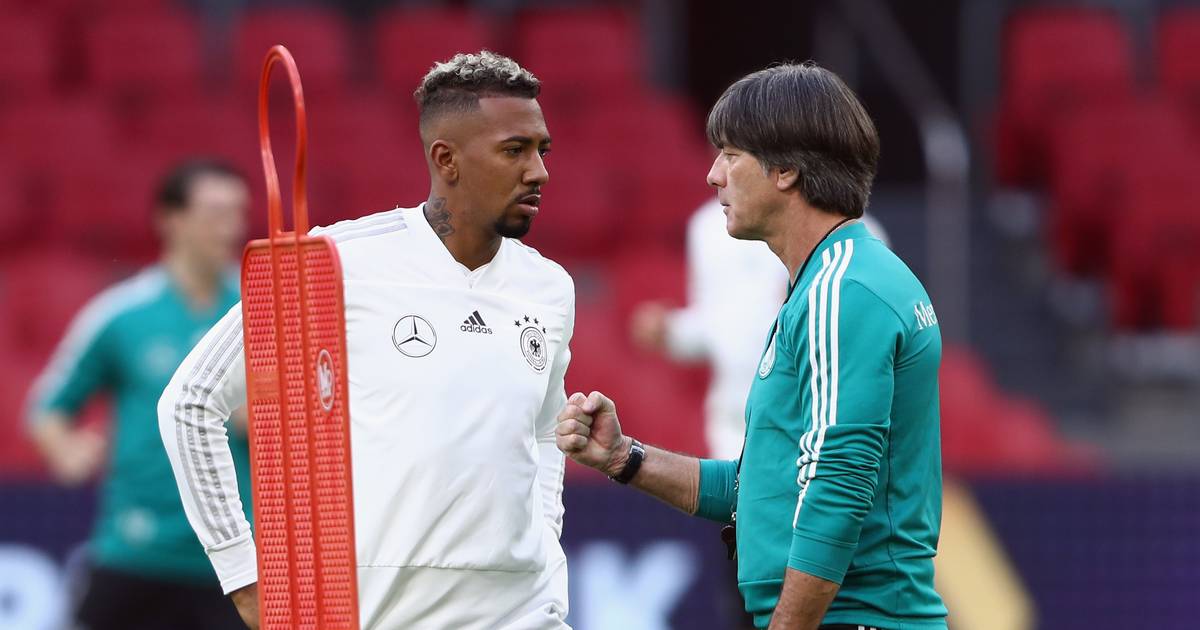 Without a longtime defender of Jerome Boateng and other newcomers, the German national team has been finishing the weakest international league year since its inception.
Bayern's professional player, Boateng, is surprisingly missing in the national coach team Joachim Loew for a duel with Russia on November 15, and four days later in the League of Nations with arch-rivals Netherlands.
"I have spoken to Jerome Boatenge, I am convinced that he is enjoying himself at the moment," said the coach and said he would not play Bayern.
But who in Löws reads another justification between the lines should conclude that Boateng after 76 international matches like Sami Khedira is only a national alert player. "I told him that we also have many alternatives in his position, especially with younger players who, of course, have to prove they can reach the Jerome level."
Kovac still believes in Boateng
Bayern's Niko Kovac did not want to go that far. "That's new, but that does not mean he will not come back in the future," Kovac said of Boateng, who was one of the best performers in the 2014 World Cup triumph: "I do not think it's Jerome's ending in the national team."
Boateng himself commented on Twitter: "After a very good and trusted interview with the national coach we are allowed to take a break after a tough year for two upcoming internationals and continue my work in Munich."
He wanted his team to do all the best for the next two games, he said center-back, and gave "thanks to the national coach!" added.
There was also Ter Stegen
Goalie Marc-Andre ter Stegen (FC Barcelona) will also miss Löw, while Ilkay Gündogan (Manchester City) is missing after recovering from a strike in strokes.
"Marc has been playing great in Barcelona for weeks, but he's already having trouble with his shoulders and he's been debated with Andy Köpk on an international game because he needs a few days off, so it's a long season." Loew, why Stegen is not in the team.
Toni Kroos (Real Madrid) joins the Oranje duel team.
"After the World Cup, I had several interviews with Toni, and of course I knew he had been extremely stressed for years," Löw said. "Toni is incredibly professional and would have been ready for the two games without any of these, but he told me by phone, but a couple of days of regeneration would do it well and it was important for me to be fully functional against the Netherlands."
AD: League of Nations UEFA live and on demand at DAZN – now a safe test month
There is a finale against the descent from the League of Nations. If Oranje lost to France's world champion on November 16th, the DFB team could avert the B-League crash with a win.
Overall, the national coach nominated 24 players on Friday to meet in Leipzig and Gelsenkirchen. Again after the breaks in October are Captain Dortmund Marco Reus, Leon Goretzka (Bayern Munich) and Kai Havertz (Bayer Leverkusen).
Löw's opinion is in 2020
German success would also be important for qualifying for the European Championship qualifying on December 2 in Dublin as a group leader.
DISPLAY: Now secure the national team team jersey – click here for the store!
For Löw, qualifying matches are "much more important" than the League of Nations, as he repeatedly emphasized: "For us, it is a strong team on the European Championship course in 2020."
A spectator fiasco is at a meeting in the Red Bull Arena: not yet 25,000 tickets have been sold. Also the Veltins Arena on Schalke is not sold out.
Team of the German National Team:
Tor: Manuel Neuer (Bayern Munich), Bernd Leno (Arsenal), Kevin Trapp (Eintracht Frankfurt)
defense: Mattas Ginter (Borussia Mönchengladbach), Jonas Hector (1. FC Cologne), Mats Hummels (Bayern Munich), Thilo Kehrer (Paris St. Germain), Antonio Rüdiger (Chelsea), Nico Schulz (TSG Hoffenheim), Niklas Süle Munich ), Jonathan Tah (Bayer Leverkusen)
Central / Attack: Julián Brandt (Bayer Leverkusen), Julian Draxler (Paris St Germain), Serge Gnabry (Bayern Munich), Leon Goretzka (Bayern Munich), Kai Havertz (Bayer Leverkusen), Joshua Kimmich, Thomas Müller (Bayern Munich) Dortmund), Sebastian Rudy (Schalke 04), Leroy Sane (Manchester City), Mark Uth (Schalke 04), Timo Werner (RB Leipzig)

Source link