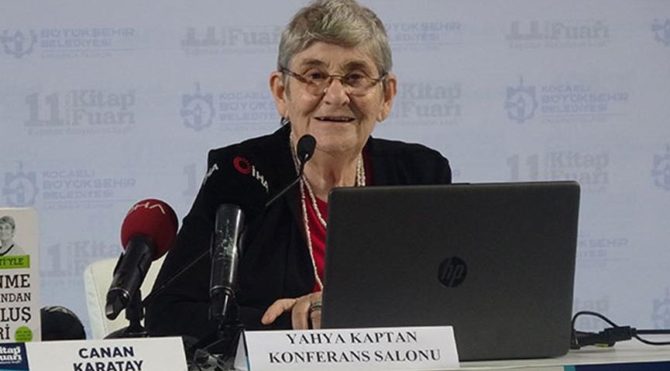 The 11th annual Kocaeli Book Fair, organized by Kocaeli Metropolitan Municipality, continues in the International Exhibition Center Izmit. Professor at the Dr. Canan Karatay, after drinking tea in butter instead of sugar suggested to be thrown.
EC DANGEROUS SUGAR INSTALLATION "
Explaining the Damage Caused by Sugar Loading During Pregnancy Canan Karatay, "Pregnancy sugar is dangerous. Preventive measures must be taken. I'm telling her. It is dangerous to wait 6 months after conception and then to load sugar. You have no right to do this to a pregnant woman. Pregnancy is the happiest time, the happiest time of mother, father. Meanwhile, we do not have the right to grind mother. A box of corn syrup, ie Cola, increased the risk of developing diabetes by 22% when drunk, increased the risk of heart disease by 30%, turned into the most important metaphors in 2012 and 2014. They are small children who come to me. They consume only 1 liter, 2 liters a day. Lollipops don't touch the candy we give to the children we call sugar. Ants, flies don't fall into real sugar? The insects we gave the children to dull the children, the confused children, died. Then we won't give them these kids
RELATED NEWS

Canan Karatay: Lahmacun's Healthy Fast Food
"IF YOU HAVE UT"
Karatay continued his recommendations as follows:
They won't eat toast, they won't eat chips, they won't eat dry and wet cake, they won't eat starch-based sugar. Shame on these children. They are also the cause of cancer. Fruit juice also fats the liver. Alcohol of our children. Recent studies have shown that the cause of the disease is called uric acid, gout. It is not yet known to have a protein that has been accepted yet, but it is a disorder of sugar metabolism. If you have gout, you know that uric acid is high when you have no gout, it is a sign of sugar poisoning in your body. Fructose poisoning is known to have started in your body. We don't give children juice. There is no benefit in juice. It's a shame, Zarar
RELATED NEWS

Dr. Psychiatrist Mansur Beyazyürek tied to Canan Karatay
FRUIT JUICE WARNING
He said that juices made by children are preparing the ground for diabetes. Dr. Karatay said: "There are many useful things that are the source of vitamin C. 1 pinch of parsley 1 glass of orange juice is much more vitamin C. No candy at the same time. Vitamin C into the cell. Vitamin C actually protects. 50% as an antioxidant. But when vitamin C is in the same environment as sugar, like fruit juice, there is fructose and vitamin C. Fructose prevents vitamin C from entering the cells. Do not put juice for children who take vitamin C for it, he said.
"LONG TERM ENERGY"
Karatay said it is healthier to throw butter instead of sugar while drinking Ey Tea to prevent the absorption of iron we eat at dinner. I've been saying this for years, "How do we drink sugar-free tea?" And I say, "Give the butter." In western countries like England, butter is put into tea as cream. We also used sugar as sugar before confectionery production. There are still people who practice it. It's pieces, not something new. Of course, when I say it, the new ones, something new to see the apocalypse, was broken. In Tibet, Tibetan guides lead the way to climbing climbers on Everest and take their energy from butter tea. The energy given by hot and butter takes a long time, is continuous, keeps you energetic, keeps you young. You can eat lots of butter, he said. DHA