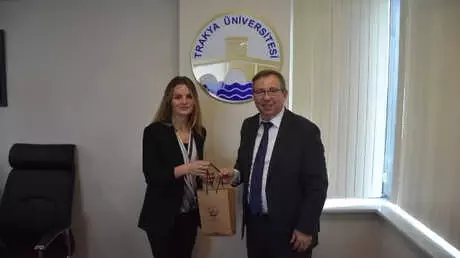 (22), diabetic grandmother, Halima Inspired The same sweet parts from friend Bashir Sefa Mumay (22) with the Turkish Diabetes Foundation and organized by the pharmaceutical company, "You Find Diabetes Simplify" took part in the competition. Ergüven and Mumay have won the first prize for providing 3D education to people with diabetes.
Edirne was attended by students at Trakya University Ömrüm Ergüven and Beşir Sefa Muma, the Turkish Diabetic Foundation for Diabetes Patients and the Pharmaceutical Society, together with the ileri You Find Diabetes competition, with the award of £ 10,000 of the VR Supported Diabetes Education üven. Ergüven and Sefa participated in a competition organized to facilitate the lives of diabetics. After receiving the award, Rector of Trakya University. Dr. Erhan Tabakoglu received project information.
DIABETES EDUCATION WITH 3D SIMULATION
Inspired by Grandmother's Disease, the project was prepared by a grandmother inspired by her grandmother, saying: "Thanks to my grandmother, diabetes has resulted in type 2 diabetes suffered a loss of vision due to diabetes, I saw him as well as someone I know very well. so three-dimensional simulations will provide education in the area of ​​diabetes, "he said.
REACH ALL DATA DATA
Besir Sefa also reported on the project: "This project is the first, a virtual reality system will be used in patient education, with pre-defined images in public areas, diabetic patients know where they go when they wear glasses and materials associated with diabetes, describes shelves for diabetic medicines, defines types of insulin, provides information on when to use it and what part of the body you should use, "he said.
In the "Alo Diabetes" competition, the Hilal Acae students, Utku Erbaşi, informed about projects by setting up a special project that provides services to diabetics. Students preparing projects contributing to science, Rector of Trakya University. Dr. Erhan Tabakoglu, who highlights students' success: "We have a very good working environment at our university, and our students know innovation and scientific development very well." Although our faculty of pharmacy is a new faculty, we have done great work. In recent years, the awards have also won beautiful projects. When we have created the right environment, we get seedlings and achievements, "he said.
After rehearsal, Rector Tabakoglu gave students a poster.
– Edirne
Trakya University
Source link