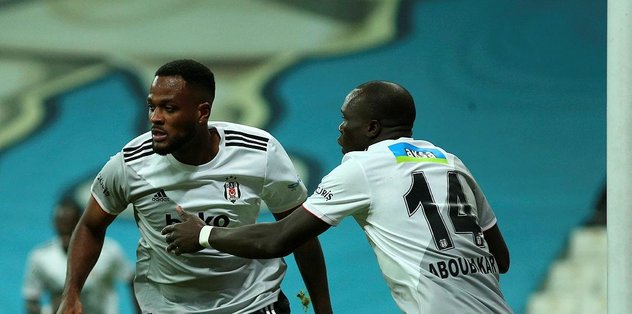 In Beşiktaş, which has won the Super League in the last 6 weeks, strikers Vincent Aboubakar and Cyle Larin made a significant contribution to this success. Beşiktaş, who in recent seasons has been trying to get the performance expected from his great powers, has made a big contribution in the ranking with the contributions of Aboubakar and Larin. Aboubakar and Larin, who aired the net five times on behalf of Beşiktaş, scored 10 goals in 10 matches.
LAST CENTRAL SEASON They have 6 goals in 10 MATCHES
Beşiktaş managed to find only 6 goals in the first 10 Super League matches with his players who took part in the center last season. Burak Yılmaz, Güven Yalçın and Umut Nayir, who were in the cadre, managed to score two goals for their teams.
2018-2019'DA 7 GOALS
The names of black and white shooters appeared 7 times in a 10-week episode in 2018–2020. Vagner Love 3, Mustafa Pektemek and Alvaro Negredo, who participated in the season, broadcast the networks twice.
5 OBJECTIVES IN THE PERIOD 2017-2018
In the 2017-2018 season, the Beşiktaş strikers could only have 5 goals in 10 matches. Cenk Tosun could score 4 goals, while Negredo contributed only one goal.
8 GOALS IN THE SEASON 2016-2017
Cenk Tosun and Ömer Şişmanoğlu, as well as Vincent Aboubakar, participated in the Beşiktaş Center for the 2016-2017 season. While Aboubakar scored a goal when he started a similar start as this season and showed a slow performance, Cenk Tosun 5 and Ömer aerated the nets twice in that episode. Three names scored 8 goals in the first 10 matches.
THE BEST PERFORMANCE WITH GOMEZ IN 2015-2016
In the 2015–2016 season, Beşiktaş made the most of his great powers. In addition to German footballer Maria Gomez, he contributed his prizes to the Cenk Tosun championship season. While Gomez broadcast the net 8 times in a period of 10 matches, Cenk also enjoyed 5 goals.
THE LARGEST SHARE IN THE ESTABLISHMENT OF ABOUBAKAR AND LARIN
Aboubakar and Larin drew attention especially to their performances in the last 6 games, where Beşiktaş was on the rise. In the first 4 matches of the season, Larin scored only once and then scored 4 goals in 5 matches. The Canadian footballer, who played in the middle of the game in the first four games, was able to contribute to his team in the next 5 matches, even though he played on the left wing.
They left the stars behind
Aboubakar, who joined the team late and started playing İttifak Holding Konyaspor, also had an important performance in the last 6 weeks. The Cameroonian player has scored all five goals in the last 6 weeks of rising matches. With this performance of the black and white team, the attackers survived the other attackers who had participated in the previous 4 seasons.
Source link