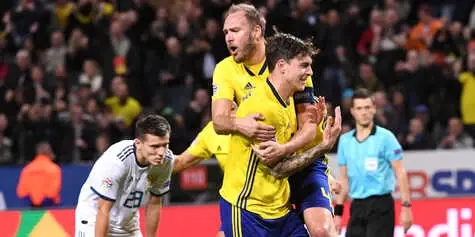 UEFA also Turkey's International League 2 Sweden in Group B, emerged as the leader of the league.
In the last match in the group, Sweden, 41 minutes Victor Lindelöf and 72 minutes goals Marcus Berg 2-0 Russia defeated.
The average leader has ended
With this result, by achieving 7 points, Sweden, the group completed the leader before Russia, the group wrote the name A League.
Group C Champions League to observe the fall of Turkey, the match against Russia lost with the result of 2-1 and 2-0. Nationalists defeated Sweden by 3-2, 1-0 defeated their opponent at home.
Group games are over
UEFA League League Matches Won matches completed. In the sixth week of the new UEFA national league, A total of 7 matches were played in A, B, C and D.
The leading semi-final in Group A Group 3 is Portugal 1: 1 with Poland.
B League fell to lower league Turkey stayed second in group 2. In Sweden, Russia was defeated 2-0 at home. Sweden, Russia from both teams scored points obsolete and battles in A League.
Scotland in Group C Group 1 beat Israel 3-2. With this result, 9 points, Scotland, B League, Outing. Albania, the group with 3 points last fell to the League.
Serbia beat Lithuania 4-1 in group C of group 4 and reached 14 points and printed its name in the B League. In Serbia, football player Adem Ljajic scored the last goal of the team. Lithuania in the last round without points in the group went into the lower league.
In Group 3 League 3, Azerbaijan achieved a score of 4-0, which increased the score to 14 and became a league team C.
The results are as follows:
League A
Group: Portugal-Poland: 1-1
Liga B
Group 2: Sweden-Russia: 2-0
League C
Group 1: Scotland-Israel: 3-2
4. Group: Serbia-Lithuania: 4-1
4. Group: Montenegro-Romania: 0-1
Liga D
Group: Malta-Faroe Islands: 1-1
3. Group: Kosovo-Azerbaijan: 4-0