UAE Vice President, Prime Minister and Governor of Dubai His Highness Sheikh Mohammed bin Rashid Al Maktoum has emphasized the importance of the role of lucky and positive heroes in the happiness of sellers and what they inspire and model for their colleagues. Wider horizons will please sellers and make their lives easier.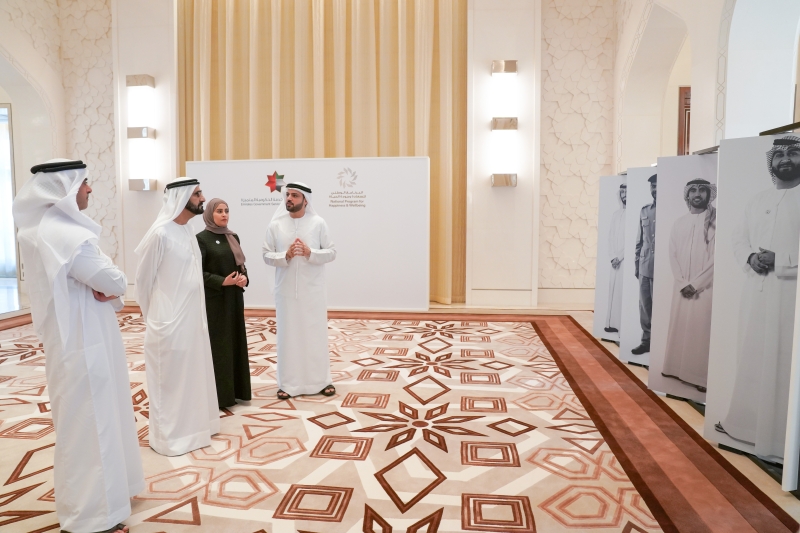 His Highness Sheikh Saif bin Zayed Al Nahyan, Deputy Prime Minister and Minister of Interior and HH Sheikh Mansour bin Rashid Al Maktoum, Vice President of the UAE and Prime Minister and Prime Minister of Dubai His Highness Sheikh Mohammed bin Rashid Al Maktoum, Deputy Prime Minister and Minister of Presidential Affairs, HE Mohammed Abdullah Al Gergawi, Minister of Cabinet Affairs and Future, and HE Ouhoud Bint Khalfan Al Roumi, UAE Minister of Health and Quality of Life, Director General of the Prime Minister's Office.
His Highness Sheikh Mohammed Bin Rashid Al Maktoum emphasized that the United Arab Emirates has based the government's advanced model to achieve human happiness and improve the quality of life in all areas, to believe in the importance of this human value in stimulating society's development and country prosperity.
His Highness Sheikh Mohammed bin Rashid Al Maktoum said: "Focusing on customers and enabling them to achieve a unique service experience is a key issue in government development. Successful government agencies are the ones that motivate their employees to provide the best, and encourage them to create services that will please and please people. "
He added: "Congratulations to the heroes of happiness and the positive recognition of this honor. I urge them to step up their efforts and continue to work in this positive spirit. We want to be all members of the heroes of our government team of happiness and positive … And officials in the authorities to strengthen this spirit, who is characterized by serving people and celebrating them to become their peers, the success of these agencies is measured the amount of happiness they have achieved for clients.
The Heroes of Happiness and the Positive Medal, which is an opportunity to honor employees in the dealership center, aims to broaden the concepts of positive work among government employees and move the customer satisfaction culture to advanced stages and make them a daily practice in the regions to achieve the best services around the world and achieve the objectives of the program. National center for happiness and quality of life to improve community quality of life.
The lucky and positive heroes after the subsequent and accurate evaluation of the services and the exceptional work they provide in the dealer centers, in a simple and exceptional way and professionalism, contribute to creating positive impressions of government agencies, reflecting a civilized picture of a clear state and building on the future of government work.
Fatima Al-Doubi, Ministry of Culture and Knowledge Development at Umm Al Quwain, Hamad Mirdas of the Interior Ministry, General Directorate of the Ajman Police Office, Ismail Al-Bayraq, Member of the Federal Identity and Citizenship Office of Dubai and Kenwa Al-Mesmari of the Ministry of Human Resources Adel Al Yahmadi, a member of the Telecommunications Regulatory Authority (TRA) in Abu Dhabi, and Al-Buraiki of the Zakat Fund in Abu Dhabi.
Ahmed Al Amiri, an employee of the Emirates Post Holding Group in Dibba Al Hasn, Zainab Al Baloushi Department of Health and Community Protection in Sharjah, Saleh Al Buraiki Ministry of Urban Development in Abu Dhabi and Salah Al Awadi Department of Human Resources and Emigration in Sharjah.
Customer smile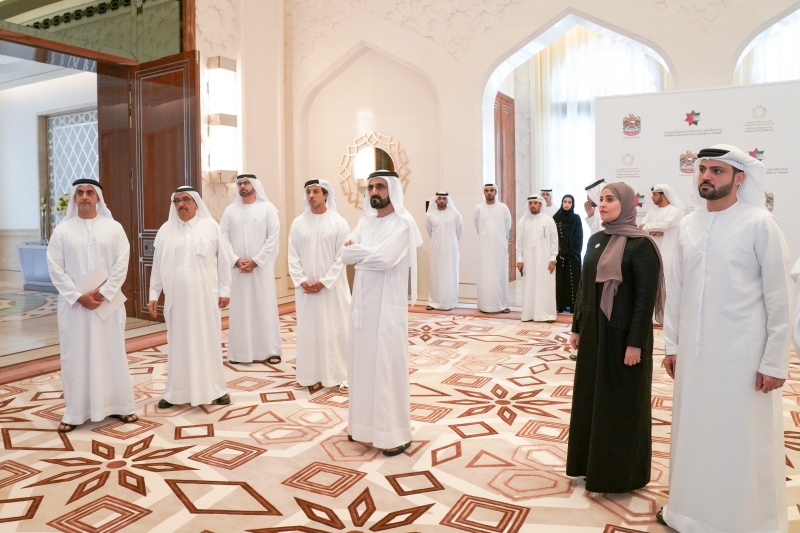 The winners of the Heroes of Happiness and Positive Medal have expressed their gratitude and appreciation for the wise leadership for their unlimited support for everything that enhances community members' quality of life and enables employees to provide the best. His treatment was done easily and easily and the smile was marked on his face.
They will continue to work hard and faithfully to achieve more achievements that support the development of government work, and will serve as a good model and inspire their colleagues to deliver the best service, contributing to the realization of Vision 2021 and UAE 2071.
Fatima Doubi
Fatima Al-Doubi has pointed out that providing quality government services to clients is beyond expectation and is the most effective way to achieve customer satisfaction and improve performance in government agencies.
Over the past nine years, she has been able to work on the pattern of providing above-standard customer service beyond expectations and has spoken of one of the stories she has experienced during her work.
What was recorded in the absence of a senior was to visit the Cultural Center to read books, permanently, which led them to ask him to find out that he was sick, organized a visit with a sales team to his home, checked it and provided a library containing his favorite books, Symbolic for Center Workers had no good impact on the same old dealer.
Hamad Murdas
Deputy Foreign Minister Hamad Hammadas, who works for the General Command of the Amani Police, stressed the importance of the employee being a mirror reflecting his employer's image of honor and an active participant in promoting the vision and mission of the Ajman Police. It is a supportive and real tool for developing government work, and moving it to advanced stages, meeting ambitions, and helping to achieve the UAE vision.
He pointed out that, thanks to his work with the police, he realized that the work of security personnel in the UAE would not stop at the pursuers, but went beyond anything that preserves the safety and cohesion of society and protects society from any negative or threats it may face . He has filed a complaint against his wife as a result of the differences between them, to reassure the husband and to convince the wife to resolve the problem in an amicable way, to protect the interests of their children and the coherence of their family, to persuade him to resolve the matter amicably.
Ismail al-Bayraq
Ismail Al-Bayraq has confirmed that the client expects a civil servant to provide him with quality and fast service.
He said that the dealers' center at the Office set a number of transactions for its employees, but his belief in the importance of speeding up the transaction led to a doubling of the number needed to achieve it in a gesture to reduce pressure on his other colleagues. Transactions in the shortest possible time, which reflects the happiness and satisfaction of sellers. He is very interested in providing services to clients exceptionally, even when out of service.
Saleh Al Breiki
Saleh Al-Buraiki pointed out that the application of the Saudization equation is a guarantee of employee success in customer centers and has highlighted the importance of the employee's role in transforming work from a service location to a source of happiness and positive impressions.
Al-Buraiki pointed out that during his work he continued to interact with all clients, responded to their questions and provided the services they needed, especially seniors, divorced, widows and interest owners, and other community development program beneficiaries. Traditional.
Zainab Al Balushi
Zainab Balochi pointed out that the boundaries of work and the provision of services that are not confined to the workplace but outside the hours of office hours were a humanitarian and moral duty.
She said it was a human sense and a moral professional duty that always motivated her to use her ambulance experience whenever necessary, regardless of time and place.
She said that one day she went through a road accident during her work and saw a number of wounded and stopped without hesitation to provide first aid to the injured before the arrival of police cars and ambulance, bearing in mind her experience in this area that helped to save their lives and alleviate The pain of their injuries, noting that the lucky sellers area is reflected in their personal qualities, which has a positive impact on their personal and practical lives.
She pointed out that the happiness of traders and facilitates their procedures and allows them to quickly and easily complete their transactions, a task that employees must handle to improve the performance of government agencies. She has succeeded in reshaping her 21-year experience of positive energy, forcing her to give more.
It sought to find practical solutions to problems outside the Centre's activities, such as processing a set of private sector employment system transactions, which initiated an easy solution, and therefore the service was completed in one day and one place, which has a positive impact on customers. And he is always thrilled to have a permanent vision of leadership in field work.
His Eminence Al Breiki
She stressed that access to government services to a new level requires the promotion of a culture of happiness among employees based on a sense of customer needs and finding what increases the level of happiness and quality of life.
She said that the human sense and passion for work and the belief that the role of an employee does not end at the boundaries of his responsibility are the cornerstones in the formula of the composition of a positive and distinctive personality of workers primarily in dealer centers who record their experience with humanitarian cases in Zakat Fund, Students who are not included in the Fund's grants and are provided through Community Initiatives.
Ahmed Al Amiri
Ahmed Al Amiri stressed that the spirit of initiative and building a strong customer relationship is based on human values, and the employee's enjoyment of the true spirit of citizenship is an essential factor in achieving the happiness of society members and fulfilling their ambitions according to the vision of the state and its goals in providing the best government services to clients .
Al Amiri said that during his time at the Emirates Post in Dibba, Al Hasn was willing to provide unexpected service to the residents of the area and hurried to open the center door after business hours and weekends to allow people in the city to complete their transactions. Send home for personal reasons to make it easier for them, increase their level of satisfaction and satisfaction with the services they receive.
He pointed out that he had overcome the normal relationship with the vendors, after making life easier for them, and provided what they could for their convenience and service when he talked about his experiences with older clients, was the center monthly to send his servant's salary to one from States, Visits receive payment for transfer and then return for delivery.
Salah Al – Awadhi
In the same context, Salah Al-Awadhi stressed that moral and humanitarian responsibility to others and providing a positive and positive image of the reality of government services in the country is a major catalyst for employees, providing excellent services that improve government efforts to develop performance levels.
Al-Awadhi pointed out that the happiness of the customer is a source of happiness for the employees, which happened to him when he took the service of a pensioner who came in a wheelchair to solve the issue of fishing boat licensing, which is his only source of income.
Where he quickly provided service beyond his duties and scope of work and tried to complete the transaction in less than two hours, he shortened the client's long journey, extended to six days, for the number of requests and approvals required to reach.
Adel Elhammy
Mr. Adel Al Yahmadi said vendors are a national duty for employees and is interested in a positive image of the work of the UAE government, leading him to work as a front line employee at Saeed Traders Center.
He pointed out that during the FIFA World Cup UAE World Cup hosting, the day before its start, the company responsible for the exclusive TV broadcast of the tournament could not enter the equipment that had been booked by the customs authorities to postpone the acquisition of the required permits. Through intelligent channels and helped the company create a special account at the Commission site, which resulted in the completion of the permit requirements and the application for the issue of customs documents in one hour, while it was more than four business days.
His Majesty: We want all members of our team to be heroes of happiness and positive, and officials will strengthen this spirit
* Focusing on customer happiness and enabling them to achieve a remarkable service experience is a key goal of government development
Successful government agencies motivate their employees to deliver the best results and promote positive business
* Congratulations to the heroes on this honor and urge them to step up their efforts and continue to work in this spirit
Source link