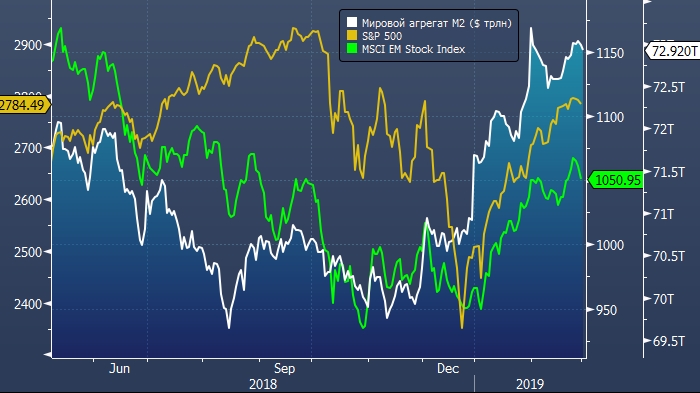 Growth in stock market records …
2019 marks a record rise in the global stock market over many years. In January-February, the MSCI EM share index in developing countries rose to a maximum from 2012 (+ 10%), and the US stock market (S & P 500) fully set 32-year growth by 12% (maximum since the beginning of 1987). The Chinese stock market has the best performance since 2000.
… to close short positions and print money
Interestingly, the world stock market is growing against the backdrop of a sharp deterioration in macroeconomic statistics, offset by the growth in world money supply, which was restored in November * (see graph above). Keep in mind that the EM share market is much more correlated with the dynamics of the global aggregator M2 than with the S & P 500.
In February, experts from several banks included Bank of America, wrote that the main reason for the rapid recovery of the S & P 500 (between equity funding from mutual fund and exchange (ETF)) after the December collapse was the extreme bear market position. The second reason now appears: hot money.
Interestingly, the internal indicators of this "crazy belly" speak for the fact that at least the growth of the stock market in developing countries is healthy. This is where short positions and significant inflows of funds are closed to the relevant equity funds.
For example, the flow of funds to iShares Core MSCI Emerging Markets (NYSE: IEMG) amounted to a record $ 4.2 billion in February, with a market value of $ 59 billion. the history of statistics since 2003), of which $ 1.1 billion came to the assets of developing countries.
Now the stock market is heavily overbought
As a result of these events, most documents turned out to be in a crowded zone. At the end of February, record values ​​of shares with a daily RSI of more than 70 reached, as well as the number of traded securities over 50, 100 and 200 days.
Within the rising equity indices, EM stock market volatility has fluctuated for the fourth consecutive month, which has not happened since June 2014. And the correlation between the stock market dynamics of EM and gold, which persisted for most of last year, has reached the highest negative values ​​since November 2016. Oleg Syrovatkin
* ProFinance.ru: Global M2 aggregator contains data for the euro area, USA, Japan, South Korea, Australia, Canada, Brazil, Switzerland, Mexico, Russia and Taiwan.
By topic:
Bank of America: US stock market will grow by another 5% and then collapse
The Russian stock market declined by 252 billion due to increased sanctioning risks
How to make money on shares 19 400% per day and then lose everything
HSBC recommends selling EM shares and buying EM bonds.
Experts said how to make money on the US stock market only trading a few hours a day.
Source link