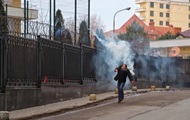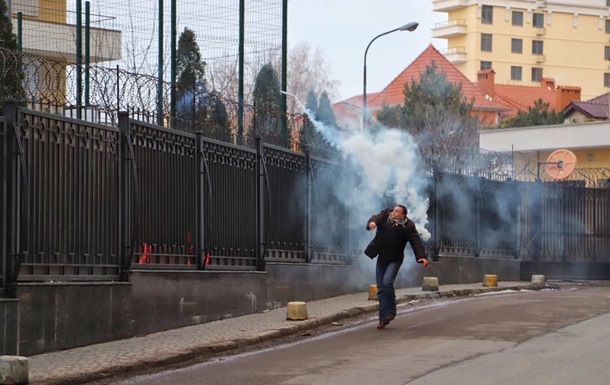 Photo: Duma
Todor Panovský throws flares into the building of the Russian Consulate General
Todor Panovsky managed to speed up three rumors at the Russian consulate, then detained by police officers.
In Odessa the police detained ex-self-defense, opera singer Todor Panovsky, near the Consulate General of the Russian Federation on Gagarin's plateau. News about her Dumskaya on Tuesday, January 15th.
"The Patriot Opera Singer has decided to end the action to support captured Ukrainian sailors who were interrupted by the police but was prevented again," the report said.
Todor Panovský managed to bring three flares to the consulate, after which he was detained by patrol officers.
Recall that Tuesday morning the police used force on participants in the Odessa event to support the captured Ukrainian sailors, which took place at the Russian Consulate General. Demonstrators wanted to color the fence and gate of the diplomatic mission with red color, symbolizing blood, but the police did not allow them. As a result, the paint spilled on asphalt and protesting. Two activists were detained, including Panovsky.
As you know, on November 25, Russian special forces detained three Ukrainian ships on their way to the Kerch Strait. 24 Ukrainian sailors were arrested for allegations of "illegal crossing of the border of the Russian Federation". Seafarers say they are prisoners of war.
News from Correspondent.net in a telegram. Sign in to our channel https://t.me/korrespondentnet
Source link