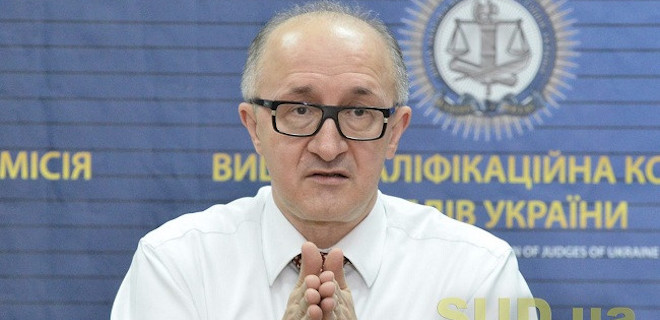 Sergei Koziakov (photo – sud.ua)
The attackers fled
completed
The unidentified attacked the head of the Judge's Qualification Committee, Sergei Koziakov, in Kiev, and poured a green color on him. He says it Legal and legal newspapers.
According to one of the attackers' papers, Zelenko drew Kozyakov's face and the other picked up his clothes. It happened when the chairman of the Business Owners Conference left the hotel where the Seventh Judicial Forum took place.
The Seventh Judicial Forum is held in Kiev on 15 and 16 November. Organized by the Ukrainian Bar Association together with the Council of Europe. According to the SCCS, Commission representatives at the forum discussed the procedures that the commission implements in the framework of the judicial reform.
The police press service reports that the incident took place on the Taras Shevchenko Boulevard. Medical assistance to victims was provided on site. Militiamen are looking for intruders. Shevchenko police investigation department began criminal proceedings under Article 346 (threat or violence against the state or the public) of the Criminal Code.
October 4 in Kyiv City Council hit head and blurred with green paint Deputy Team "Kiev team", former head of "self-help" faction Sergei Gusovsky.
<! –
Log in to your LIGA.net account at
Twitter
, Facebook, Instagram: In One Feeding – All You Need to Know About Politics, Economics, Business and Finance.
->