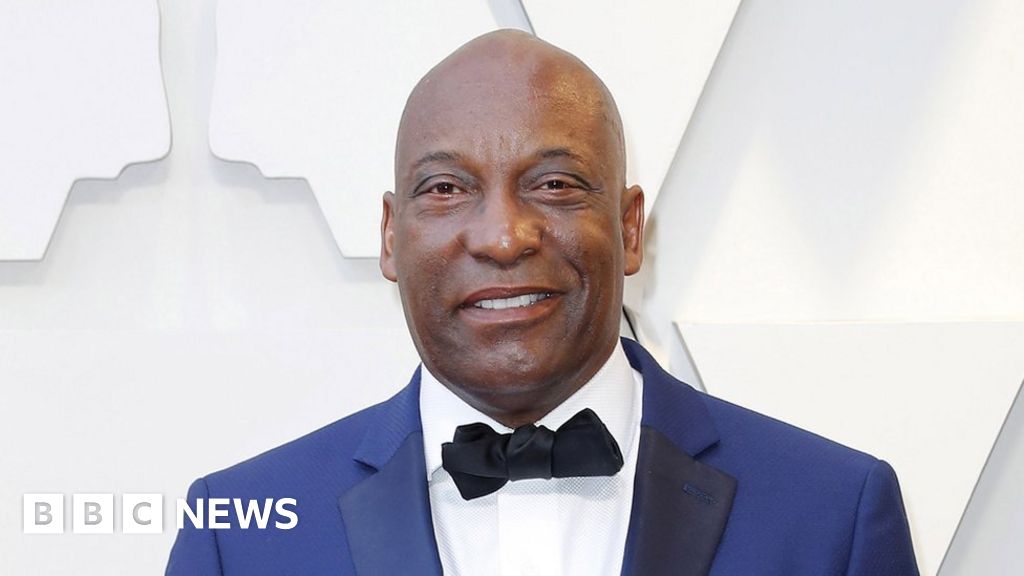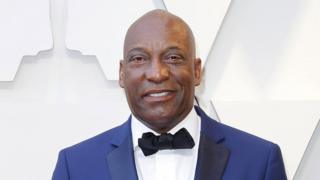 Oscar-nominated director John Singleton – known for films including Boyz N The Hood and his remake of the detective movie Shaft – has died at age 51.
A family statement confirmed the influential filmmaker had "passed away peacefully" shortly after being removed from life support in Los Angeles.
Singleton had been in intensive care following a stroke.
Born in LA, Singleton was considered a trailblazer for African-American directors in the 1990s.
In 1992, he was the first African-American filmmaker to be nominated for Best Director Oscar with his debut feature Boyz N The Hood.
Fresh out of college, he also became the youngest ever director to be nominated for the accolade.
He received a second nomination for the best screenplay for the film.
'Agonising decision'
Early on Monday, the director's family announced they had taken the "aggressive decision" to remove him from life-support.
"We are grateful to his fans, friends and colleagues for the outpour of love and prayers during this incredibly difficult time," they said.
"We want to thank all the doctors at Cedars Sinai for the special care he received."
Later, and spokesperson for the family confirmed the father-of-seven had died surrounded by friends and family.
In their statements, the family also took the opportunity to raise awareness around hypertension, or high blood pressure, in the African-American community.
They said the director had "silently struggled" with the condition, and urged people to familiarize themselves with symptoms.
'A brave artist'
Filmmaker Jordan Peele, who is behind titles like Get Out and Us, was among those who reacted to the news of Singleton's death.
"John was a brave artist and true inspiration. His vision changed everything," he said in a tweet.
Spike Lee posted and touched Instagram tribute to the late director, in which he recalled his meeting while he was a film student.
"With His Passion, His Heart, The Way He Talked About His Love For Cinema And Black Folks I Could See It Happen,"
Recent Best Actress Oscar-Winner Regina King, who worked with Singleton on a number of films, shared an old photograph of the pair in her tribute.
Samuel L Jackson also paid tribute on Twitter, saying the 51-year-old had "gone way too soon".
Breakout success
Singleton was born in 1968 and grew up in South Central Los Angeles. He told the Hollywood Reporter in 2014 his snake made him "more of a fighter, more of it, and I really appreciate life in a different way as a storyteller".
After studying at a high school in Pasadena, Singleton went on to get a job at the USC School of Cinematic Arts.
Less than a month after graduation, he was making his formative Boyz N the Hood alongside producer Steve Nicolaides.
The film, inspired by his childhood, explored themes of youth and friendship with the backdrop of inner-city violence in Los Angeles.
The film was made with high-praise on its Cannes debut and went on to become a box-office success.
It offers breakout roles for actors including Angela Bassett, Nia Long and Cuba Gooding Jr. It also offers the rapper Ice Cube his acting debut.
Outspoken critic
Alongside the Shaft remake in 2000, Singleton's other credits include Higher Learning and 1993's Poetic Justice, starring Janet Jackson and Tupac Shakur.
He also directed 2003's 2 Fast 2 Furious and Michael Jackson's video for Remember the Time.
More recently, he had focused on TV projects, directing episodes of Empire and American Crime Story, as well as creator and executive producer on 2017's Snowfall.
In interviews, Singleton has been accused by Hollywood of trying to "homogenise" black film-making.
"They want black people to be who they want to be, as opposed to what they are. The black films now – so-called black films now – they're great. , "he said in 2014.
"They're not moving the bar forward creatively… when you try to make it homogenized, when you try to make it appeal to everybody, then you don't have anything that's special."
Follow us on Facebook, on Twitter @BBCNewsEntsor on Instagram at bbcnewsents. If you have a story suggestion email entertainment.news@bbc.co.uk.