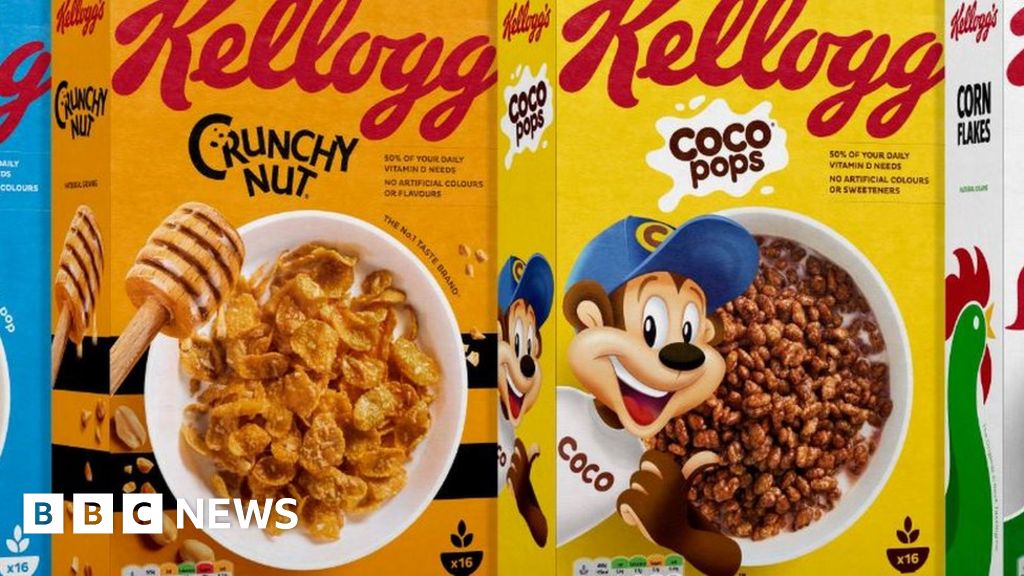 Kellogg's designation marks the "traffic light" mark on most cereal packages that have been sold in the UK since January, and they have previously refused.
The voluntary UK government regime introduced in 2013 indicates how many foods contain salt, sugar or fats.
Kellogg says he made the change after listening to consumers, governments and retailers.
Consumer organization What? it is a "positive step" but should apply to all cereals, not just to some.
The "traffic light" system means green, orange or red foods to help consumers easily identify products that have a low, medium or high level of salt, fat and sugar.
Kellogg's new brand will be launched in January 2019 on Coco Pops, Crunchy Nut, Corn Flakes, Rice Krispies, Frosties and Special K. The launch will be completed early in 2020.
"We are changing because the people who bought our food told us we should." Following our announcement late last year about our grain repair in the UK, we decided to look again at the labels, "Kellogg said in his statement.
Kellogg's British Chief Executive Officer, Oli Morton, said the decision was followed by a survey of 2,000 British people who asked them about their labeling stances.
Mr. Morton said: "Simply put, we said that we should change and move on to the full-bodied solution because they want to help make decisions in a healthy way." We have listened and now we are talking. "
& Quot; Chaos & quot;
However, the "semaphore" designation will not be used in Kellogg's multilingual cartons, which are shared in several European countries where the system is not well known or appear on packages with individual services.
As a result, less than 80% of Kellogg cereal packages sold in the UK and Ireland carry new labels.
Until now, Kellogg has adhered to the so-called "Referential Reception" scheme, which is shown in monochrome colors on the packaging. It shows the maximum amount of calories and nutrients people should eat daily.
Now, however, he said, "Times have changed, changing color marks is a reaction to what consumers and governments need in the UK."
Many supermarkets have voluntarily adopted a "semaphore" system for their own brands, while competing cereal manufacturers Nestlé have introduced a "traffic light" system on their grain brands, including the Shreddies and Cheerios brands in 2017. Weetabix has been using it since 2016.
Earlier this year? called on the government to set the "chaos" of food labeling standards when the UK leaves the EU.
& Quot; At a glance & quot;
Under EU rules, the designation "traffic light" is voluntary, so some manufacturers do not use it.
Who? said it should be mandatory.
Sue Davies's strategic adviser said the organization believes that the light-signaling system helped people compare at first sight how much sugar, salt and fat the product contained, and was "an effective way to help them make healthier foods."
"While this is a very positive step from Kellogg, it should apply to all brand products sold in the UK and Ireland, not just 80% of them.
"The government should now use Brexit as an opportunity to introduce legislation that will mark the traffic light as a mandatory component of a high food standards approach aimed at enhancing the health and well-being of the nation," added Davies.
Source link