January 30, 2019 07:02
| |
Updated on January 30, 2019 19:05

Apple's CEO, Tim Cook, said the company may reduce iPhone prices in some countries.
It is one of the solutions that the company proposes to address the phenomenon that some analysts have been warning for some time: iPhone sales are fruitful.
Latest quarter-on-quarter earnings reported on Tuesday show Apple's smartphone sales drop 15% year-on-year.
This is the first time the benefits that the company gains through the iPhone have been reduced since the device was marketed more than a decade ago.
Total sales of the company fell by 5% compared to the previous year and amounted to 84,300 million USD. This is the first quarterly drop in the company since 2016.
Apple was already expecting this autumn, so it warned its investors earlier this month, in which he blamed China: "We did not know how to predict the extent of the economic slowdown, especially in China," Cook said earlier this month. ,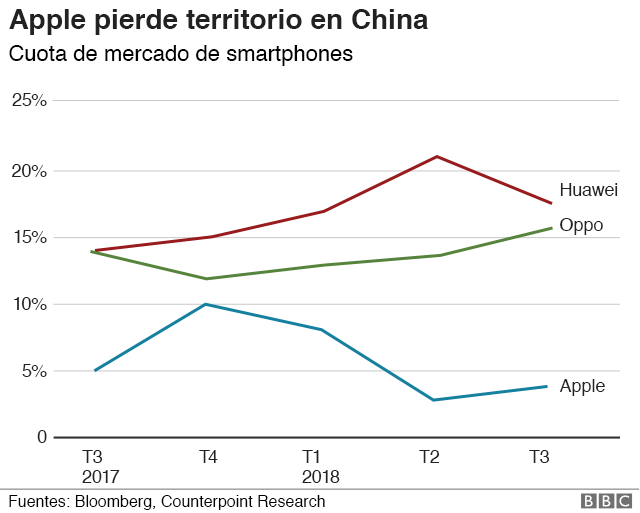 Emerging Markets
But the company director this time said that high iPhone prices pose a problem for their customers.
He said that the strength of the dollar, which makes its products relatively more expensive, has damaged sales in emerging markets.
Cook also said that the technology giant began this month in January to reduce its smartphone prices to protect its customers from fluctuating currencies.
"What we have done in January in some areas and for some products has essentially absorbed partially or completely foreign currency movements compared to last year," he said.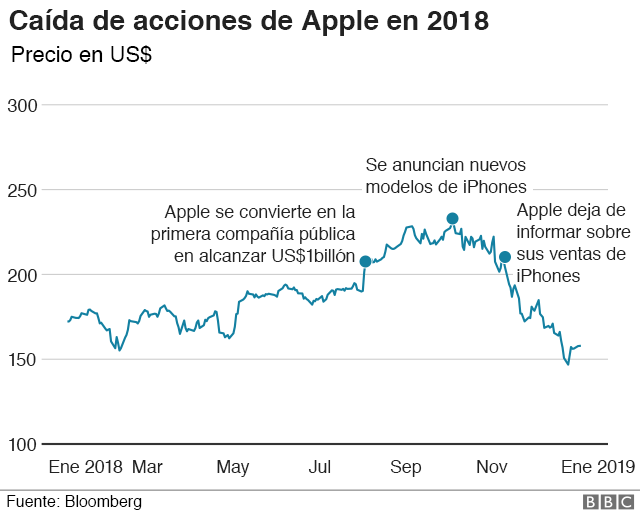 But Apple's directors said they expected the company to continue to face new challenges.
Apple predicts revenue for the first three months of the year – up to March 31 – at $ 55 billion, indicating a year-on-year decline of at least 3.4%.
"The macroeconomic environment, especially in emerging markets, will continue to be there," said Luca Mestri, chief financial officer of Apple.
Apple is not the only company that has this problem. Global supplies of smartphones dropped by 5% in 2018, Canalys said.
However, Apple's stock price has fallen by a third since October, due to investor concerns about the lack of interest of customers in buying new iPhone.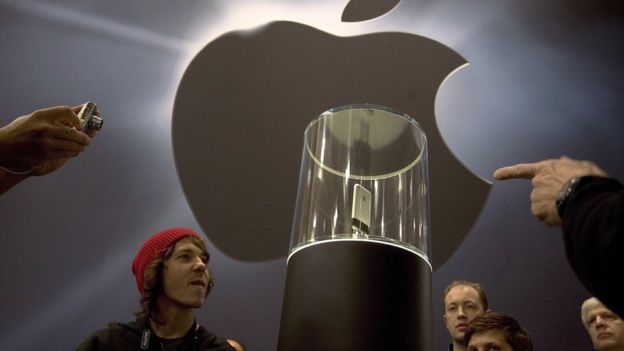 The Golden Age iPhone may end up. Photo: DAVID PAUL MORRIS / GETTY IMAGES
"Strength"
Concerns increased when the company said it would stop reporting the number of iPhones, iPads and Macs sold each quarter.
However, Apple's shares grew by more than 4% on Tuesday, during the so-called "Hourly Trading" (post-closure orders that are launched the next day), indicating that the company resisted more than expected.
Quarterly sales have fallen by more than 25% since last year in China, where Apple includes areas like Hong Kong and Taiwan.
In Europe it was 3%
But in the United States, the company remains strong: sales grew by almost 5%. Thus, iPhone price cuts would not affect the region.
Revenues from other services also rose by 19%, reaching a record $ 10,900 million this quarter, which ended on December 31.
Cook said he had confidence in the company, highlighting the strong sales of iPad, Macs and services such as Apple Pay.
"Although we were disappointed to lose our sales estimates, we have succeeded Apple for a long time and the results of this quarter show that the strength of our business is deep and wide," he said.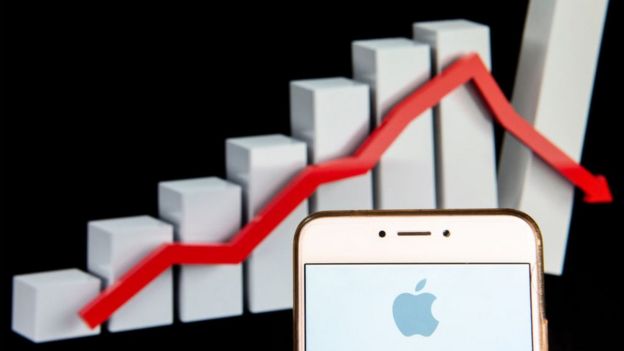 Apple stocks are down for months. Photo: GETTY IMAGES