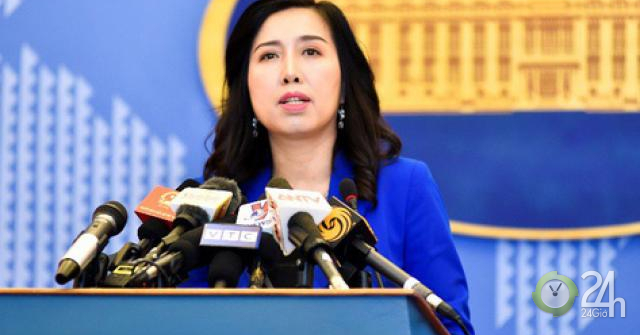 Thursday, 08/11/2018 18:00 (GMT + 7)
In the afternoon of November 8, spokesman Le Thi Hang Hang answered questions about "talks about Trinh Xuan Thanh" between Vietnam and Germany.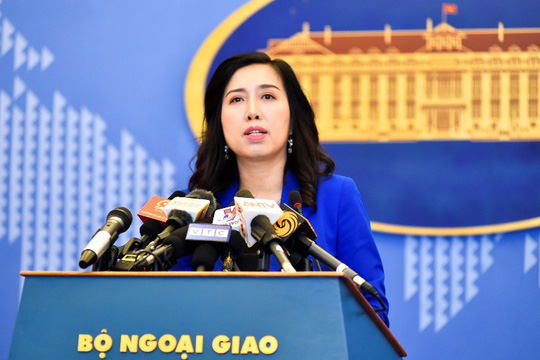 Foreign Ministry spokesman Le Thi Thu Hang has confirmed that Vietnam always attaches great importance to strengthening and developing good relations with Germany.
At the Foreign Ministry's regular press conference on the afternoon of 8 November, Foreign Ministry spokesman Le Thi Thu Hang responded to foreign media issues that talks between Vietnam and Germany about Trinh Xuan Thanh are taking place.
A foreign affairs spokesman confirmed that Vietnam has always attached great importance to consolidating and developing good relations with Germany for the benefit of the people of both countries. Recently both parties exchanged and contacted to support bilateral relations.
"Trinh Xuan Thanh violated the Vietnamese law, was publicly tried in accordance with the law of Vietnam and is currently in the process of punishment," – said Le Thi Thu Hang.
Trinh Xuan Thanh (SN 1966) was former chairman of Petrovietnam Construction Joint Stock Corporation – PVC, former Hau Giang People's Deputy Chairman. Incident o Trinh Xuan Thanh began to gain public attention in early 2016 when Trinh Xuan Thanh, then Vice Chairman of the Hau Giang People's Committee, used Lexus private cars to mount green numbers urgently to the public. Later, the Central Party Office on June 9, 2016 sent official reports to Secretary General Nguyen Phu Trong on the request for speedy control and closure of a "private green card".
In July 2007, Trinh Xuan Thanh and the Standing Committee of the Party Committee, the Board of Directors and the Board of Directors of PVC was not responsible, leaving management, management, lack of supervision, supervision, contrary to the provisions of the Finance Act, so many errors and losses of nearly 3.3 trillion.
July 18, 2016: Secretary-General Nguyen Phu Trong has assigned the Standing Committee of the Central Police Party to drive troops to investigate the loss of nearly 3.3 billion PVC.
Late July -2016: Trinh Xuan Thanh says he will leave Vietnam.
On September 15, 2016, the CSO issued a decision on prosecution of a criminal case "knowingly acting in violation of the state-of-the-art business regulations that cause serious consequences" in PVC and its units. member. Many PVC workers have been prosecuted. The Ministry of Public Security also issued a decision to prosecute the defendant against Trinh Xuan Thanh. After detecting the person who fled, the investigating police agency issued an international decision with a red order.
On March 15, 2017 at the Court of Appeal hearing the defendants in the fraud to sell land of almost 500 customers in Thanh Ha A (Hanoi) project, the High Council in Hanoi, Trinh Xuan Thanh was involved in the decision to prosecute this person for "misuse of property".
On 31 July 2017, information from the Department of Public Security revealed that Trinh Xuan Thanh was convicted after nearly ten months of international search.
Trinh Xuan Thanh wrote: "I was afraid of my end of the violation and was responsible for the loss of the PVC head. During this time, life was avoided, was insecure, frightened and encouraged by my family and friends, I went back to Vietnam and I gave up the agency for security, to investigate the leniency of a party, state and law "
On August 3, 2017, spokeswoman for the Foreign Ministry spokesman, Le Thi Thu Hang, said she regretted the spokesman for the German Foreign Ministry on August 2, 2017 that the official representative of the Vietnamese embassy in Germany related to Trinh Xuan Thanh. It is being investigated by the authorities of Vietnam. Vietnam always attaches great importance to developing a strategic partnership between Vietnam and Germany.
On 22 January 2018, at a first stage, a deliberate act of violating the State's economic governance rules that caused the serious consequences and misappropriations of assets occurred in the Vietnamese Petroleum and Gas Group (PVN) and the Petrochemical Construction Company of Vietnam (PVC), the Hanoi People's Party the court has accused Trinh Xuan Thanh of 14 years in prison for deliberate misconduct, life imprisonment for property misappropriation, life imprisonment. Trịnh Xuân Thanh later appealed to the Appeals Court and the Supreme Court accepted the appeal.
On February 5, 2018, a property leak occurred at a court of law at Petrovietnam Power Company (PVP Land). The Hanoi People's Court sentenced Trinh Xuan Thanh to life imprisonment, another fine of 50 million dong.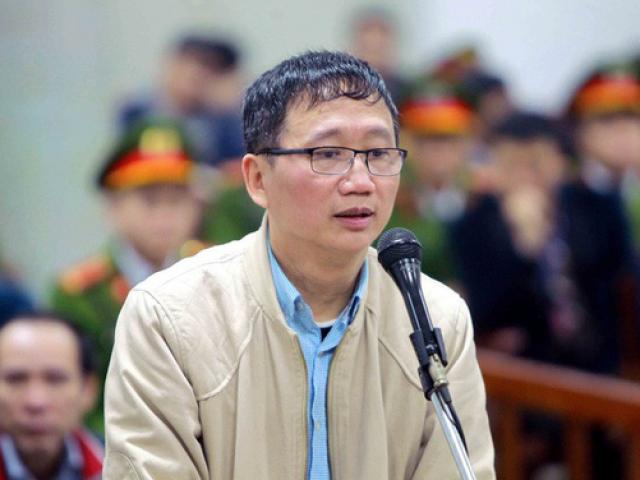 As for the case of Trinh Xuan Thanh, Vietnamese Foreign Ministry spokesman 17.5. In the afternoon he said Vietnam is now …