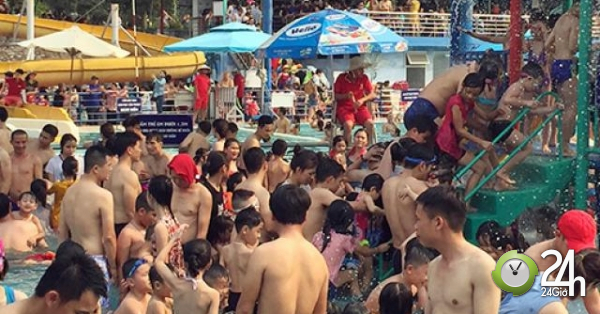 Monday 29 April 201 21:00 (GMT + 7)
Thousands of people in Hanoi and Ho Chi Minh City flock to amusement parks and water parks to visit and play, making these places crowded like wedges.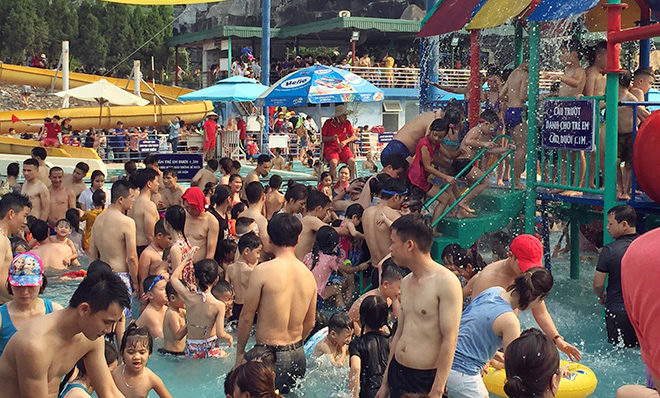 On April 29, on the occasion of Feast April 30 and May 1, thousands of people in Hanoi and Ho Chi Minh City flocked to the parks and amusement parks to "relax" making these places crowded with people. . Mostly family members, kids go on vacation.
The pool at Bao Son Paradise Park (Hoai Duc, Hanoi) is always crowded with guests. "Ha Noi is so hot, so I'll take a vacation to take my son on tour and let him practice swimming. It's fun, but because the number of tourists arriving here is so crowded, they have to go swimming together, "said Nguyen Van Tuan (of Hoai Duc).
Many families in the neighboring provinces, such as Vinh Phuc and Bac Ninh, have also taken the holiday to bring their children to Bao Son Paradise to have fun. Due to the hot sun, all the trees and grass in the park lie around. "I won't be with my family these days these days. Just tired and tired. Going on holiday "takes a break" but the breed goes "deadly" too, "said Tran Thi Luyen of Vinh Phuc.
Meanwhile, in Dam Sen Park (District 11, Ho Chi Minh City) people also rush to return to the game. At the entrance to the parking lot, people have to enter the parking lot for more than 30 minutes.
He hasn't entered the field yet, but many people have to be unhappy about waiting in the parking lot. Children who are taken away by parents are also helpless, tired of the heat.
Dam Sen Aquapark attracts many people and visitors to swimming and playing games. "I'm not going home to go on vacation, not traveling, so I'm going to the water park to have fun with friends," said Pham Thi Nhung of Tan Phu District.
In order to participate in the games at Dam Sen Park, people have to wait in the queue and wait a few hours.
The most crowded is the "duck boat" swimming game, people have queues for long lines to wait for their turn to join. Hot sun, many people are tired.
In the evening, Dam Sen Park is still very crowded the same day, parking at the gates are full. On this occasion, the Zoo and Zoo (District 1) and Suoi Tien Cultural Park (District 9) thousands of people also flock here to have fun.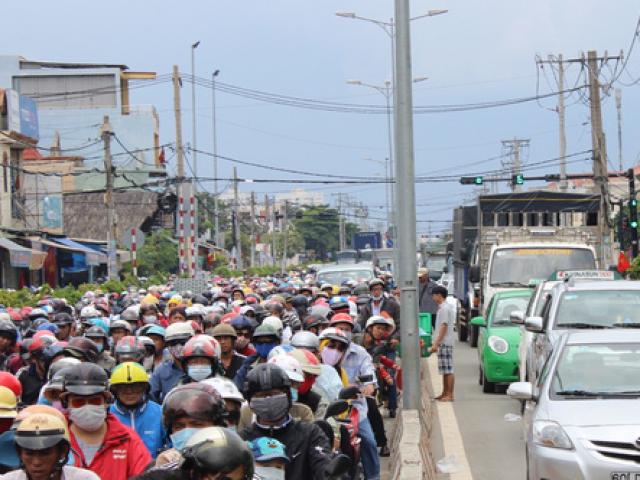 Ho Chi Minh City – Long Thanh – The Dau Giay Highway is seriously overloaded, causing many vehicles to go to Cat Lai Ferry to Dong Nai Province, …