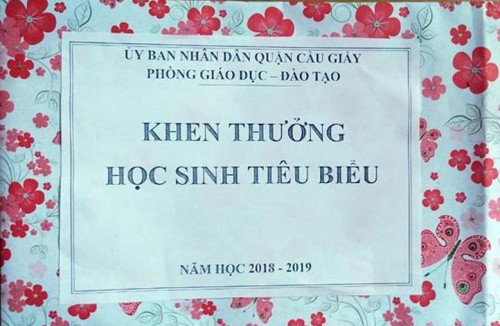 According to Mr. Ngoc Anha, at a ceremony to commemorate and reward good students of the 2018-2019 school year of Cau Giay District alongside typical students, he received high prizes in exams of all degrees Merit Certificates from the Chairman of the Cau Giay District Human Rights Committee. , The Department of Education and Education has awards that symbolize on stage for typical students in education and school education.
Gift boxes are awarded to typical students in the Cau Giay district
Noteworthy When students go home eagerly to open a gifted package, they are surprised because inside there is only one sheet of A4 paper, there is no content. The incident was caused by many parents when their children thought they were rewarded in this way.
The honors of outstanding class and school students are an honor and require an effort for the whole process of students in the school year. Not to mention district level rewards is much more proud.
The little gift is still encouraging, but giving gifts with only a white book inside is really shocking for the recipient because of the formality and disrespect for the recipient.
Inside the reward is paper without content
Mr. Ngoc Anh explained that student bonuses were sent to schools by the Ministry of Education and Training to prevent students from losing students before the ceremony. However, some schools have not yet sent students bonuses and have not notified them to their parents.
According to Mr. Ngoc Anh, this incident unintentionally caused the parents frustration about the method of awarding education and training in the district.
Through an open letter, Cau Giay Pham Ngoc Anh, education and training manager, apologized to parents and students and looks forward to sympathy and sharing. According to Mr. Pham Ngoc Anh, this is the lesson he needs to draw on the experience of organizing programs, he hopes to gain coordination and companion for parents and students in the future.
The fact that many people reward reward is merely a form of education rather than encouragement, respect for student efforts.