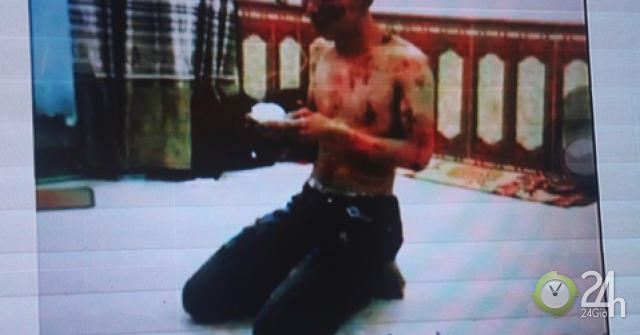 Thursday 29 November 2012 11:30 (GMT + 7)
When the victim was caught, the largest black credit bureaucracy, which had ever worked in all 63 provinces and cities with similar overdue loans, tortured victims as a medieval, made a choice between a rice bowl and a bowl of dirty waste.
On 29 November, the Thanh Hoa Police Department held a press conference on the results of the fight against black credit institutions operating in 63 provinces and cities in cooperation with the Criminal Police Department (Public Security). throughout the country. This is the largest black credit group in the country was destroyed.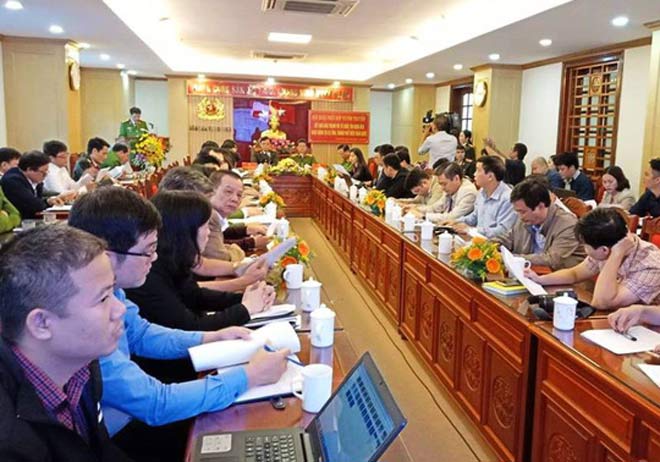 A press conference scene to destroy the largest black credit institution at all
According to the investigation, on 19 July, Thanh Hoa General Hospital underwent a critical emergency at the Ministry of Emergency, and died shortly afterwards. When it was known that the victim had died, the victim was taken away.
Thanh Hoa Police Detection Agency has investigated and identified a victim as Nguyen Van Minh (SN 1999, living in Lien Tan, Bo Ha, province of Bac Giang Province), is an employee of the company. Nam Long is located in Ho Chi Minh City. Mr Minh works for a company in Bac Kan province to collect debt from the borrowers of Nam Long Company.
According to a survey in July 2018, Mr. Minh collected money from guests, but did not pay a branch and also promised a motorbike to spend 20 million spent, then fled. Nguyen Duc Thanh, director of Nam Long Financial Company, ordered younger Mr. Minh to demand money. At 9-7, Minh was arrested in this group in the Soc Son district of Hanoi.
Colonel Khuong Duy Oanh, Deputy Chief of Police Department Thanh Hoa, Project Information
Later Mr Minh was defeated by the council, taken to the base of the company in Hanoi, held a meeting of "discipline", asked Minh to apologize to the company, asked for signatures for each person by law. At the same time, the group introduced a bowl of rice and a dirty waste bowl, arrested it ten times. When victims are crawling into a bowl, they are harassed and defeated in the Middle Ages.
On July 10, Minh was taken to Thanh Hoa and died later.
Establish that this is a particularly serious case involving organized crime, black credit and professional nature, wide range, complicated relationships, and shadowing of businesses. , there are many new tactics, sophisticated, so the Thanh Hoa Province police have told the Department of Public Safety to prepare specialized projects to fight this organization.
The results of the original investigation have shown that Nam Long Financial Company does not have any business firm that specializes in overdelivery credit transactions up to 100% per year. By the time of its discovery, more than 200 customers were captured by a black loan and the total transaction volume was over 510 billion. When debtors fail, those who are willing to attack, threaten and blackmail their assets are more than the amount of debt.
Brigadier General Nguyen Hai Trung, Chief of Thanh Hoa Police Department, on behalf of the Ministry of Public Security, cordially appreciated the 4 units that participated in the case
The Nam Long Black Credit has 26 branches in 63 provinces and cities nationwide. Each branch is entrusted with two to five provinces led by a manager. syllabus of debt processing, syllabus evaluation and customer classification. For employees, the company has also set up a system of internal regulations, strict regulations for discipline, strict binding employees with companies, such as a fine of 50 to 100 million if the contract is to tighten your finger if you break the rules; or willingly accept the risk of kidnapping, threats and abuse of the family and of oneself. This hard discipline is the main reason that led to the death of Nguyen Van Minh.
Ổ black credit group, interest was arrested by the police
After four months of police investigation, the CSO Thanh Hoa issued a decision to prosecute a criminal case "deliberately causing injuries, keeping illegal people and lending heavier interest in civilian businesses." The prosecutors arrested nine men in a group led by Nguyen Duke Thanh (SN 1988, kidnapped by Cau.Cho Ward, District 1, HCMC).
"Chief" Nguyen Duc Thanh at the police
In which Thanh was accused of "deliberately causing injuries that are of great interest in civilian transactions"; Ngo Van Chuong (SN 1988 living in Chuong My district, Hanoi) on charges of "holding illegal persons, borrowing interest rates in civilian businesses"; Tran Van Phien (SN 1989, Thinh Long) and Doan Minh Cuong (SN 1989, Hai Ly), Hai Hau, Nam Dinh province for "deliberately injuring"; Nguyen Thanh Long (SN 1998), Vu Van Thanh (SN 1989; Uong Bi City, Quang Ninh Province), Bui Van Chung (SN 1992, Kien An District, Hai Phong City); No. 15) and Tran Hong Phong (SN 1985, Unit 11), District 10, City of Ho Chi Minh City on charges of "great interest in civilian transactions.
The image of Nguyen Van Minh was tortured as a medieval
Currently, Thanh Hoa detention center is detained for 4 months with 7 accused, arrested by 2 accused Nguyen Cao Thang and Tran Hong Phong. The case is being investigated by provincial police Thanh Hoa and the Criminal Police Department (Ministry of Public Security).
At a press conference on 29 November, the Ministry of Public Security awarded 4 Thanh Hoa police units and a criminal police every 10 million pieces.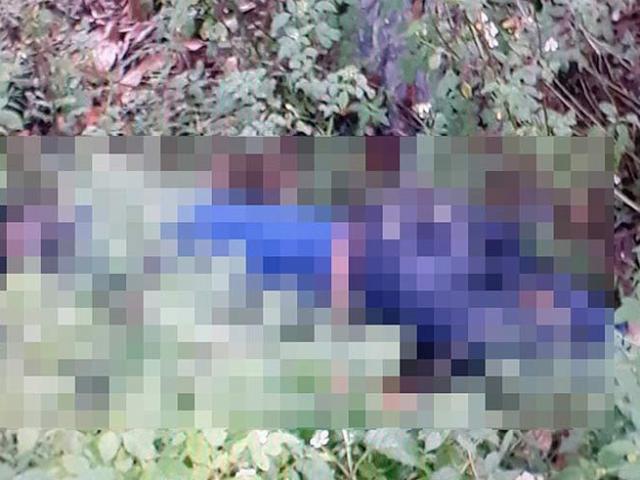 When the couple are in the cottage, a group of young men will start and take them.