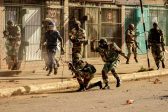 Zimbabwean Supreme Court Judge has imprisoned Vice President Constantine Chiwengo in the deadly gunmen of unarmed civilians by the army after the election in the capital on August 1.
The army fired civilian ammunition and killed six people.
On Wednesday's verdict, Judge David Mangota dismissed the case where Allison Charles and the Department of Counseling Services (CSU) took President Emmerson Mnangagwu to a court seeking to lift an investigative investigation into an incident by former South African President Kgalem Motlanthe.
Charles and CSU argued that Mnangagwa was conflicting, saying he had constitutional powers to deploy soldiers, and could not set up a commission of inquiry for his behavior.
The Mangota has decided to say that Mnangagwa was in contradiction, were "frivolous" and "unsubstantiated facts" and added that the facts and the law weakened him.
"The circumstances of the August 1, 2018 events unfold in a way that is clear as the day after," he said.
They run in the following order: (a) the upheaval began in Harare's central business district; (b) the District Officer, assessing the magnitude of the disturbance as measured by the strength of the staff at his disposal; c) turned to the General Police Commissioner, whom he learned about what he had received; d) the General Police Commissioner turned to the minister under his supervision; e) the Minister turned to his counterpart in the Ministry of Defense; (f) Gradually dispatched members of the Defense Forces who worked under the authority of the Harare County Regulatory Authority. "
Mangota said that the above "reveals the misstatement of the applicants' syllogism".
– African News Agency (ANA)
To get more news, download Citizen for iOS and Android.